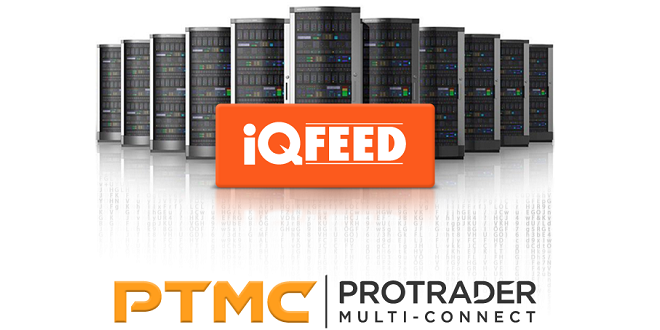 Protrader Multi-Connect (PTMC), a trading platform developed by software company PFSOFT, said on Tuesday it now offers connection through IQFeed, a supplier of real-time market data for exchange and over-the-counter (OTC) markets.
The IQFeed connection will enable data exchange without time delays. IQFeed offers real-time tick-by-tick data from numerous exchanges, historical tick, minute, and daily data. It provides streaming news and data for forex, futures, indices, and stock instruments. Historic data is displayed for intervals of one month, one year, 500 weeks, and even 1,000 days.
The new addition will provide clients with a number of benefits, including depth of market functionality, which allows the work with Level 2 data and the full usage of volumetric analysis tools in the PTMC platform.
PTMC added IQFeed connection after it received a number of requests from users for data without time delays. The platform has also partnered to provide connection with Quandl, which supports the instruments forex, futures, stocks, and indices.
Another reason to include IQFeed connection is that it will is "a  key step for our subsequent integration with Interactive Brokers, which is already in development," according to the notice.
The developer has asked traders to vote for their favorite broker which they would like to see offering PTMC platform. Currently, the platform is available with Forex Capital Markets (FXCM), LMax Exchange, Protrader, and Oanda. A few more are in the waiting list, including Interactive Brokers.
In order to start receiving real-time market data from IQFeed, PTMC users need to take the following steps:
Download IQFeed Client, which allows connecting to selected Data Feed;
Open demo or real account on IQFeed website with data acquisition presetting from the relevant exchanges;
Set up connection to IQFeed in PTMC platform;
Use 100% stock data for your trading.
The PTMC platform was launched in the beginning of 2016. The PTMC trading platform technology allows the connection to any operating broker via an Application Program Interface (API). It is available for desktop computers, mobile devises with iOS and Android operating systems, and web browsers, as well as as an Application Program Interface (API) or Multi Account Manager (MAM).
Source: PTMC