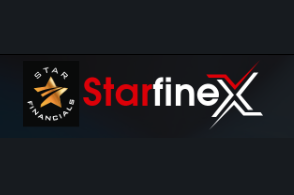 Beware! StarFinex is an offshore broker! Your investment may be at risk.
RECOMMENDED FOREX BROKERS
Don't put all your eggs in one basket. Open trading accounts with at least two brokers.
StarFinex is an offshore forex brokerage with a wide range of trading products, including cryptos. Clients may choose from different trading platforms, including the MetaTrader 4 and MetaTrader 5.  The spread of 3 pips on EUR/USD is twice the industry average and the generous leverage extended to traders goes up to 1:500. The required minimum deposit is especially small – traders have to risk only $5 to get a taste of real-money trading.
StarFinex regulation & safety of funds
StarFinex does not state on its website to fall under any regulatory oversight which isn't surprising given the staggering lack of clarity regarding the company behind the brokerage. Although we find a Hong Kong address in the "contact us" section of the website, right next to it we see a picture of a map showing the country Thailand. Such irregularities regarding the most crucial aspects of a brokerage are usually the sign of a scammer. Although the trading conditions of Starfinex are certainly favorable, we must underline the missing regulation, because it is the most important criteria in judging a brokerage. Without it potential clients of the brokerage may be exposed to a number of risks.
Regulatory bodies such as the NFA or CySec force a broker to comply with a number of strict rules that lower the risk of fraud and give assurance for the safety of the clients funds.
One such rule is the segregation of accounts which forces the brokerage to handle the finances of the clients separately from their own and greatly lowers the risk of commingling. Another is a requirement for a starting capital of € 730 000 which weeds out scammers.
StarFinex deposit/withdrawal methods and fees
Potential clients of the brokerage may deposit or withdraw via Visa, Mastercard, Maestro, wire transfer, Bitcoin, Skrill, Neteller. We should say that in the Terms and Conditions of the brokerage we did not find disturbing things as is usually the case with unregulated brokerages. There are no withdrawal processing fees of any kinds, but there are minimum withdrawal amounts of just $5 which is pretty negligible. Even so, we advise traders to always test a brokerage by first investing as little as is permitted and afterwards attempt to withdraw in order to see whether unexpected fees will come up. If they do – traders can rest assured that they have a shady brokerage on their hands.
How does the scam work?
Everyone who engages in forex trading, whether they know it or not, willingly exposes himself to the risk of fraud. That is why we believe traders should be well aware of this fact and all the details. Put it in another way -you might as well be prepared, because scammers will make an attempt on you regardless of how informed you are. Here is how a typical scam would unfold:
Through an ad that appeals to your desire for easy and quick money you will end up looking at a website like The Bitcoin Compass or Bitcoin Malay System with a high-budget trailer video. The video will tell you that you need only register and give away your address, phone number and email. However, no money turns up, only phone calls from brokers who have just been sent your personal data. They succeed in persuading you to put up $250. You may not realize it straight away – but through your deposit the broker on the phone gets a fat commission of $50.
After the initial deposit, "retention" follows, and senior scammers begin wearing you down, until you finally invest even more money. They would elaborate how it's the only way to profit from trading even more. After making the mistake of investing even further, you'll begin wanting to get out of this and withdraw what you have left.
Unfortunately, closing the account with scammers never is an easy thing to pull of. Stating you with to do so will get you the the "recovery department" where yet another representative will have some other trading opportunities to share with you. His game is pretty simple – he has to mislead you into waiting six months or more so that you may not file a chargeback with your bank and get your money back. That possibility forever closes when six months pass after the initial deposit with the broker.
What to do if scammed?
A scam could happen to anyone, including you, and, in such a case, it would be best to know what options are still available to you.
You may contact your bank or credit card provider and file a chargeback, but only within six months of the initial deposit, as was noted above.
If however you have provided the broker with your credit card details, immediately cancel your credit card.
If you have given information regarding your online banking pass – you should change it asap!
Scammed traders should take notice not to trust any so-called "recovery agencies"! Such agencies prey on vulnerable traders with talk of recovering their money in exchange for an "up-front payment". After receiving the payment, the trader won't hear from them again.