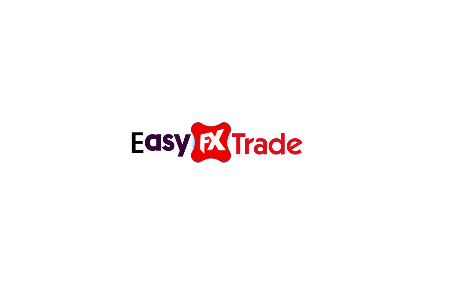 Beware! Easy FX Trade is an offshore broker! Your investment may be at risk.
RECOMMENDED FOREX BROKERS
Don't put all your eggs in one basket. Open trading accounts with at least two brokers.
Easy FX Trade claim to be a leading, forex and CFD broker, offering plenty of currency pairs and various CFDs with competitive spreads and the MetarTrader4 platform. They also say to have more than 27 years of experience and to be regulated by the Financial Conduct Authority (FCA) in the UK and the Australian Securities and Investments Commission (ASIC).
All that, however, turned out to be a scam, as the web site is simply a clone of a legit broker licensed by the FCA.
Easy FX Trade regulation & safety of funds
FCA published its warning against Easy FX Trade on December 5th. According to the regulator the website falsely uses details of a legitly authorized company to defraud customers. FCA advises traders always to confirm the authenticity of the broker by checking the register of the regulator, they are claiming to have a license with.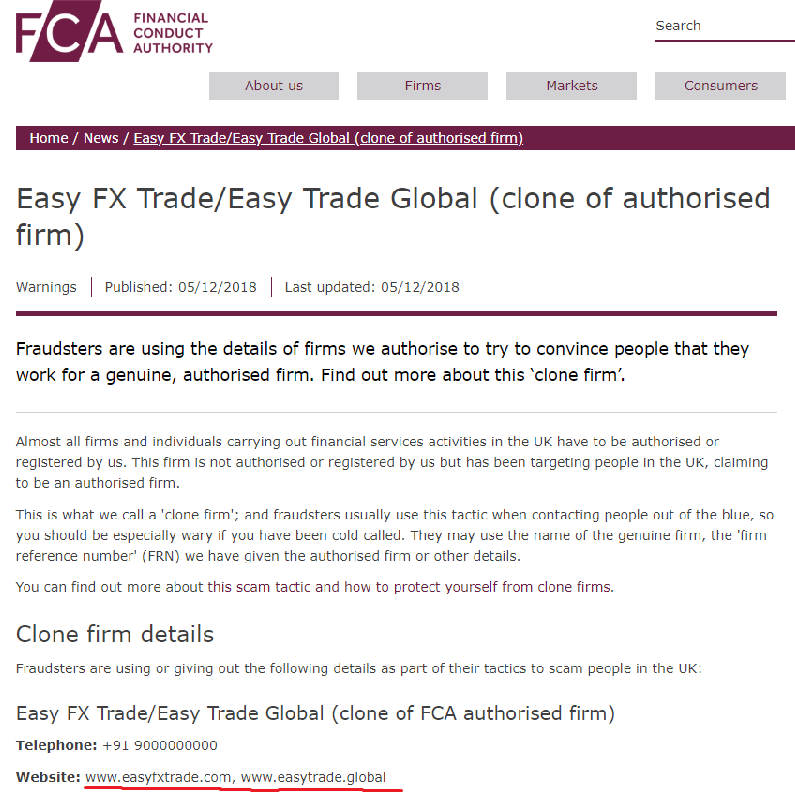 Have in mind as well that proper regulation is the single most important factor for securing your investment with any retail forex broker.
Traders with FCA regulated brokers, for example, are protected by the Financial Services Compensation Scheme (FSCS) that guarantees up to 50 000 GBP of your funds in case your FCA broker files for bankruptcy.
Easy FX Trade deposit/withdrawal methods and fees
We shall not discuss the payment methods of a scam website like Easy FX Trade. Just have in mind that most legit brokers accept payments with major credit cards like VISA and MasterCard, as well as bank wire and e-wallets like Neteller, Skrill and PayPal.
Also, we should note that as a part of their anti-scam campaign Skrill no longer provides its services to brokers that can not show a legit forex license.
How does the scam work?
Among the many tools scammers use to hook for victims are the so called robo scam websites like Crypto Revolt and Bitcoin Evolution. They are especially designed to hook investors with a promise of easy and risk free returns – and all you have to do is fill a simple registration form, leaving your e-mail and phone.
And if you get hooked and register, you will be promptly transferred to the web page of a unregulated, offshore broker, where if you open a trading account with let say 250 USD, the people running the robo scam website will get their commission.
And do not be surprised when your first trades turn out to be so profitable – the truth is your account will be manipulated, so that you will be more easily fooled to invest a more substantial amount. And you will get a phone call as well. It will be from "your senior account manager", who will expertly advise you to invest at least 10 000 USD, if you want to start making real money and change your life for good.
And probably you will invest those money as well, without ever realizing you have been scammed until the moment you decide to withdraw some of your funds – your withdraw request will be refused, because of some minimum trade volume requirement you have not met, probably linked to the trading bonus you have so naively accepted in the first place. The pretext might be different, but the result the same – you will not see a single dollar back.
What to do if scammed?
The only chance you have to get your money back is to file for a charge back with your credit card company. The good news is that with their new anti- scam policy now VISA and MasterCard allow you to do that within 540 days.
Possibly scammers might have tricked you to tell them your credit card number and online banking password. If that is the case immediately block your credit card and change your online banking password.
In case scammers have stolen money from you, do not loose your time with the so called recovery agencies. They will simply take an upfront payment, leaving you even deeper in to the red.
Rich Snippet Data
Reviewer
Review Date
Reviewed Broker
Broker Rating