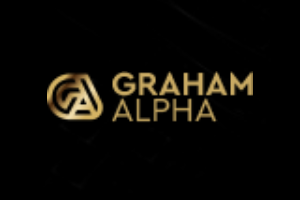 Beware! Grahamalpha is an offshore broker! Your investment may be at risk.
RECOMMENDED FOREX BROKERS
Don't put all your eggs in one basket. Open trading accounts with at least two brokers.
Grahamalpha claims some convincing things, but we are not sure they are entirely sure. The trading conditions would not reveals themselves to us, even though we registered and has access to the client area. The broker claims to offer an Activ8 platform but fails to deliver.
GRAHAMALPHA REGULATION AND SAFETY OF FUNDS
The footer claims that the brokerage firm is located in Sofia, Bulgaria. In Bulgaria, the license issuer is the Financial Supervision Commission (FSC). The agency is not the most renowned, and Bulgaria is known to host some shady firms, yet there is an upside to it. There is a compensation scheme that covers 90% of the clients funds in the event the brokers becomes insolvent. The reimbursed sum cannot surpass €20 450. The online database of registered entities of the FSC is devoid of any results for a Grahamalpha. Furthermore, nowhere does it say on the broker's website that the broker is an actual holder of a license, meaning that Grahamalpha is most definitely UNREGULATED. Unlicensed broker do not the client's safety of funds as a primary goal, meaning that any investment with this one will put all funds at a direct risk.
Traders should be trading with risk-free brokers, that hold licensed from renowned and austere agencies, like the FCA  or CySec , which have made a name for themselves as some of the top regulators. Readers should be aware that both agencies have adapted very strict rules of conduct, and their licensing framework guarantees safety and security for all clientele. A good example of this is the segregation of accounts which assures that client money and broker money are kept in separate accounts. Furthermore, FCA/CySEC brokers participate in a financial reimbursement scheme that cover traders losses in case the broker becomes insolvent. The FCA provides up to 85 000 pounds per person, while CySEC guarantees up to 20 000 euros.
GRAHAMALPHA TRADING SOFTWARE
The broker is very broad with its promises of both an MT4 and Activ8 trading platforms, but fails at delivering both. We opened a live account, and were given options to access the Activ8 platform. The login button did us no goo, redirecting s to a dead end. As for the MT4, we were offered no download button. It's common for illicit brokers to do this type of thing. They advertise trading terminals to lure in unsuspecting novice traders, and then take their money.
Because of the missing trading platforms, we cannot give you any proper and verified trading conditions, including spreads, leverages, and trading assets.
GRAHAMALPHA DEPOSIT/WITHDRAWAL METHODS AND FEES
The only deposit method as seen on the client area is PayBox, with a minimum deposit of $250.
As far as withdrawals are concerned, there was no way to withdrawal from the client portal.
The terms and conditions claim that the broker will charge withdrawal/deposit fees every "now and then".
We strongly advise traders to only deposit the minimum deposit, or better yet- not deposit at all! As for the withdrawals, scammers are known to either deny such requests, or impose incoming and unexpected charges.
How does the scam work?
The most common type of scamming is in fact a very simple scheme that involves multiple level of commitment from both the victim and the fraudulent broker. In the following section we will dive into the individual elements that make up this scenario.
Users of the net will be lured or intrigued by the countless ads that float around the internet, mostly on popular websites such as social media hubs. These ads promise fast money, and are accompanied either by images of luxury or made up testimonials. Clicking on them redirects users to a so called robo-scam website such as Profit Revolution or Bitcoin Revival, where a simple registration process will require from you a telephone number and email address. We assure traders, that once these details have been shared, they will shortly get a call from the broker or brokers, on whose ad you just "stumbled"; this is when the game begins. The voice on the other end of the line will urge you to deposit in their broker some $250 (approximately), by reassuring you of the possibilities of profit, and the like.
Should you deposit, the initial scammer has just earned a hefty commission from this deposit. Now it's time for the senior scammer to talk you into depositing more, by claiming that the only way to increase profits is to deposit more and larger sums. These second level frauds are great talkers, charismatic and influential, twisting their lies to sound like the absolute truth.
At some point or another, the trader will inevitably start suspecting something, and will want to withdrawal his/her funds. At this point, the con artists will delay the withdrawal process by persuading you to wait, or by referring to their legal documents that cover specific withdrawal clauses- excuses vary from broker to broker. This delaying process is crucial to them, for trader have a limited time to file for a chargeback with their respective bank. Once the chargeback time frame runs out, traders will have lost their money for ever.
What to do if scammed?
VISA and MasterCard users will be happy to know that have extended their charge back request period to 540 days for when online scams occur. In case a chargeback is unavailable for some reason, the next immediate route is to cancel your credit card ASAP.
Those of you who deposited using VISA and MasterCard will be glad to know that both companies have extended their chargeback time span to 540 days, especially if the reason for it is an online scam.
If any bank details have been shared, like banking pass or security code, traders should be aware that scammer will most certainly attempt to drain your account. In such a case, immediately block the account or change the password.
We also urge users to be very careful with the so called "recovery agents" that promise to recover lost money from unlicensed broker. They charge a fee for their alleged services, and will unquestionably not recover any previous deposit, basically scamming you a second time.
Rich Snippet Data
Reviewer
Review Date
Reviewed Broker
Broker Rating