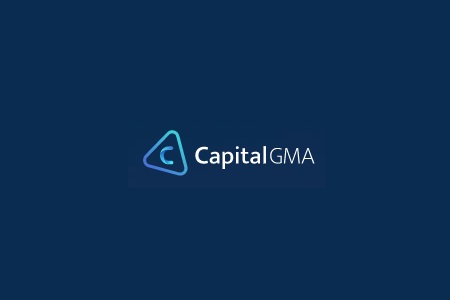 Beware! CapitalGMA is an offshore broker! Your investment may be at risk.
RECOMMENDED FOREX BROKERS
Don't put all your eggs in one basket. Open trading accounts with at least two brokers.
CapitalGMA is presented as a global leader in online trading, offering CFDs on over 100 assets, including forex pairs, stocks, indices, commodities, and precious metals with a choice of there account types leverage as high as 1:400 and a web based platform.
Unfortunately not only the broker is not regulated, as it should be, if they want to offer any kind of financial services on regulated markets like the EU for example, but also, they appear to have been blacklisted by the financial authorities in Italy for possibly running a scam. So if you are considering whether to deposit your funds with them better read the following paragraphs first.
CapitalGMA
regulation & safety of funds
CapitalGMA says to be owned and operated by Equalizer LTD – a company based in Bulgaria, and because they seem to be targeting European customers without proper authorization they appear in the latest warnings list of the Italian financial regulator – CONSOB. You can see the warning here:
Bear in mind that trading with unregulated brokers is virtually a recipe to get scammed, and the reason for that is quite simple – unregulated brokers like CapitalGMA are completely unaccountable for the way they handle your money.
So once again here we will repeat our usual advise to trade only with legit and properly regulated brokers, like the once, licensed and authorized by well respected financial watchdogs like the Financial Conduct Authority (FCA) in the UK, the Australian Securities and Investments Commission (ASIC), or the Cyprus Securities and Exchange Commission (CySEC).
CapitalGMA
deposit/withdrawal methods and fees
CapitalGMA accepts payments with VISA, MasterCard, bank wire and an obscure e-wallet called EFTpay, about which we have not heard before. And they do not accept payments with Skrill, which is understandable because of the new anti scam policy of the money transfer company. According it Skrill partners only with legit brokers, and as we already established CapitalGMA does not have a license whatsoever.
And going through CapitalGMA Terms and Conditions we came across several unusual charges and fees, among which a profit clearance fee, ranging between 1,50 USD and 5,00 USD per trade, a 20 USD monthly maintenance fee, and an additional withdraw fee of at least 20 USD.
On top of that you are required to pay a 50 USD monthly dormant fee, if you have not traded for just 90 days. As a comparison legit brokers might charge an inactivity only after a year.
And you should be especially wary of any trading bonuses that CapitalGMA might offer you. The trading bonuses come with a minimum trade volume requirement, which CapitalGMA reserves the right to change at any time and at their sole discretion. On top of that, if the required turnover is not met the withdrawal request will be automatically canceled. So you should not be surprised, why all of your withdraw requests may happen to be canceled. See for yourself:
What is more CapitalGMA says it will take them 7 business days to process your withdraw request, while with legit brokers that period is never longer than 24 hours.
And besides, a minimum deposit requirement of 1000 USD is absurdly high – with most brokers you should be able to open a trading account with about 250 USD or even less.
How does the scam work?
If you have ever wondered how so many people get scammed, the reason is quite simple – online fraud is an elaborate business that involves plenty of resources. Scammers for example employ call centers and use extremely aggressive marketing techniques, involving the so called robo scam websites like Bitcoin Revival and Bitcoin Profit. If you happen to visit such a website you will be greeted by some pretty well cut video telling you the story of how you can get filthy rich by joining some top notch trading platform, which supposedly trades by it self, multiplying your funds in a matter of hours. And you will be told that there is no risk at all – all you have to do is register by leaving your e-mail and phone. Bear in mind that if you do that, instantly you will be redirected to the homepage of a unregulated, scam broker and will be asked to deposit about 250 USD.
And your initial trades will be amazingly successful, but that will be just a part f the scam – your account will be manipulated with the sole intention that latter you will be more easily convinced to deposit more. And that is exactly what your "senior account manager" will be telling you – if you really want to make some real money, you will definitely have to invest more – like at least 10 000 USD.
And quite too many people are tempted by the offer and invest as much as they can, without realizing they have been scammed until the very day they request to withdraw a portion of their cash. Than all of a sudden it turns out no withdraws are possible, because of some minimum trade volume requirement, probably linked to a trading bonus. The excuse might certainly be different, but the end result will surely be the same – you will not see your funds back.
What to do if scammed?
The only option you have to recover your funds is to file for a charge back with your credit card company. That will be possible if you have paid with VISA or MasterCard within a period of 540 days.
Be aware as well, that if for some reason you have told scammers your personal banking details like your credit card number and online banking password, immediately change the password and block your credit card.
Finally, do not trust the so called recovery agencies. They will not help you in any way, but simply will charge you some fees in advance, leaving you with even less money in the end.
Rich Snippet Data
Reviewer
Review Date
Reviewed Broker
Broker Rating