Beware! HubTrades is an offshore broker! Your investment may be at risk.
RECOMMENDED FOREX BROKERS
Don't put all your eggs in one basket. Open trading accounts with at least two brokers.
HubTrades is presented as world famous online broker, currently ranking among the largest and most respected companies in the forex industry. They say to offer over 60 currency pairs and various CFDs on precious metals, indices and commodities, with a choice of three account types, leverage as high as 500:1 and a web based trading platform.
Unfortunately we were not directly able to open a demo account so we can not assess their spreads. That however is not our main problem with the broke, but the fact that they are based offshore and do not have a license to provide any kind of financial services on regulated markets like the European Union or the UK for example. So if you are thinking about depositing your cash with HubTrades, better read the following paragraphs first.
HubTrades regulation & safety of funds
HubTrades says to be a brand name of HubTrade Ltd, a company based offshore on the Marshall Islands.
If you have ever wondered where the Marshall Islands are – it is the South Pacific, thousands of mile off the shores of New Zealand. And if you have ever wondered how so many online companies are registered there, the answer is pretty simple – you can register and offshore company on the Marshall Islands right here on the internet, without ever having to set a foot there. Besides, your company could be virtually anonymous as well, because the local legislation allows your CEO and directors to be represented by other offshore companies – they do not have to be physical persons at all – which explains why so many shady brokers tend to have a Marshall Islands.
And unsurprisingly HubTrades does not have a license to provide financial services. Such a license is obligatory on regulate markets like the European Union, the UK or let say Australia, where brokers have to follow strict financial and ethical rules and in some cases even to insure their clients funds.
So our best advice here is to trade only with brokers regulated by one off the official financial watchdogs like the Financial Conduct Authority (FCA) in the UK, the Cyprus Securities and Exchange Commission (CySEC) or the Australian Securities and Investments Commission (ASIC) – the three most popular regulatory hubs in the industry.
HubTrades deposit/withdrawal methods and fees
As it turned out HubTrades accepts only bank transfers and bitcoin payments. No credit cards like VISA and MasterCard or e-wallets like Skrill and Neteller are accepted. It is worth to note that unlike credit card payments for example both bank transfers and the bitcoin payments are completely irreversible.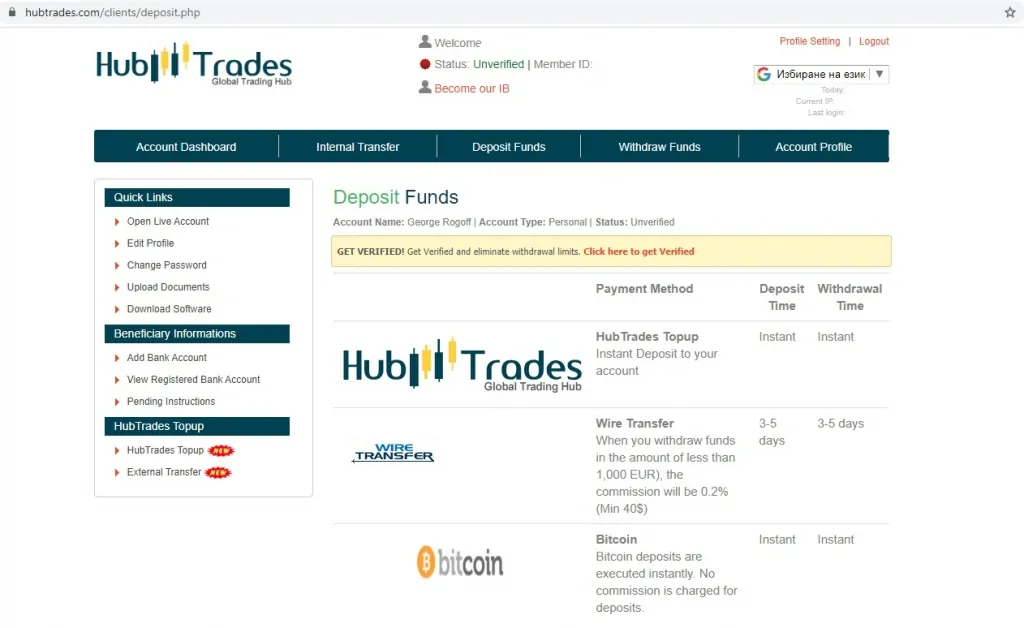 Otherwise the minimum deposit requirement is acceptable – 25 USD.
Bear in mind as well that we were not able to find the HubTrades client agreement, which mean that if you decide to open a trading account with them you will have to agree with something you have not read.
How does the scam work?
Contrary to what you may think the scam networks are pretty elaborate and involve call centers in places like the Philippines, and the so called robo scam websites like Bitcoin Profit and Brexit Trader, which are especially designed as traps for gullible investors. If you happen to come across one of those websites, probably you will watch some pretty well cut video, telling you of how easily you can get fabulously rich by joining an elite trading community and taking advantage of some innovative trading app, which supposedly automatically exploits the fluctuations of the crypto market and earns you a pile of cash while you sit back and watch. As fantastic as this may sound, the only thing you will have to do in the beginning will be to leave your e-mail and phone, filling a simple registration form.
Take a note that if you follow the instructions two thing will happen almost simultaneously. You will be transferred to the web site of some unregulated, offshore broker, where you will be offered to open a trading account with about 250 USD and you will get a phone call by your "account manager".
Take a note as well that scammers will try to squeeze you out of as much cash as they can. So in the beginning your trades will look amazingly successful, except that all of this will be an outright manipulation. When you trade on some unproven web based platform, the most easy thing is your trading results to be manipulated.
And you will be receiving regular phone calls as well – it will be your senior account manager, telling you, that if you really want to make some real cash you will definitely have to invest more – like at least 10 000 USD or above.
And quite too many people do invest that kind of money without realizing they have been scammed until the very day they decide to withdraw some of their funds. Than out of the blue they will be told they are not eligible to withdraw because they have not met some minimum trade volume requirement, possibly linked to their welcome bonus. The pretexts to cancel their withdraw requests of course might be different, but the end result will always be the same – they will not see a single dollar back.
What to do if scammed?
There is still a chance to get your deposit back in case you have been scammed – you have to file for a charge back with your credit card company. The good news here is that currently both VISA and MasterCard will allow you to do that within 540 days.
If somehow scammers have tricked you to install a remote control program like TeamViewer, or if by any means they have convinced you to tell them your credit card number or online banking password, delete the program, immediately change the password and block your credit card.
And one final note. If you do not want to get scammed a second time, do not accept any offer by the so called recovery agencies. Those people will not help you in any way but simply will charge you some fees in advance, basically leaving you with even less cash.