Beware! Prime Trades is an offshore broker! Your investment may be at risk.
RECOMMENDED FOREX BROKERS
Don't put all your eggs in one basket. Open trading accounts with at least two brokers.
Prime Trades is presented as an international broker with stainless reputation, offering over 2500 financial instruments, including 45 currency pairs and CFDs on indices, commodities, precious metals, stocks and lots of crypto coins, with leverage as high as 300:1, attractive spreads, MetaTader4 platform, and trading bonuses. And they also say to be authorized to operate in the European Economic Area.
This may sound as a really nice offer, was it not for a couple of disturbing details – as for example the website in question is virtually anonymous – we can not be sure as to which is the company behind it, nor where it is based. On top of that we find Prime Trades in the latest warnings list of FinaCom, an external dispute resolution authority in Hong Kong, so if you still think it might be a good idea to deposit your funds with them better read the following review first.
Prime Trades regulation & safety of funds
As we noted the Prime Trades website is virtually anonymous – they do not bother to disclose the name of the company behind the broker, nor where it is based and incorporated. Also, Prime Trades does not mention anything about a license, except the vague statement that they are authorized to operate in the European Economic Area – something which turned out not to be true.
The European Union is a strictly regulated market, where brokers should be registered with one of the official national regulators such as the Cyprus Securities and Exchange Commission (CySEC), BaFin in Germany, CNMV in Spain or CONSOB in Itlay.
And such a license comes with a set of requirements, among which a minimum operational capital of no less than 730 000 EUR, the rule to keep all clients funds in a segregated, protected form creditors trust account, and the obligation to participate in a special client compensation fund, basically insuring your funds for up to no less than 20 000 EUR – with some regulators the insured amount is greater.
But let us return to Prime Trades – not only that they are not licensed and authorized to offer financial services on regulated markets like the EU, but also they have been blacklisted by FinaCom in Hong Kong. You can see the warning here:
Prime Trades deposit/withdrawal methods and fees
Prime Trades offers trading bonuses and we do not like this as well. Trading bonuses always come with additional withdraw conditions – some minimum trade volume requirement, which in the case of Prime Trades can be changed on their sole discretion. See for yourself: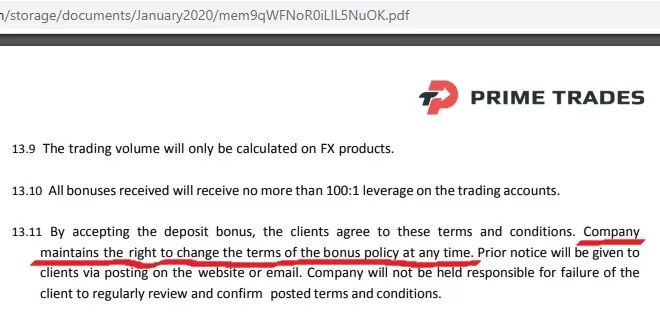 So you can easily imagine why you may never be able to reach the above mentioned requirement, and how easily your withdraw requests might be canceled. And besides, trading bonuses are one of the favorite tools used by scammers as a pretext to deny any payments back.
As for the payment methods accepted, on its website Prime Trades displays the logos of VISA and MasterCard, but they do not mention what their minimum deposit requirement might be.
How does the scam work?
Scammers do not spare resources when it comes to hunting for new victims. They use the services of call centers, based in places like the Philippines or Ukraine and the so called robo scam websites like Bitcoin Revival and Bitcoin Profit which are basically designed as traps for all who are naive enough to buy the story that they can double their funds in a matter of days, with some automated trading account, which is supposed to generate huge returns while they sit back and watch.
And everything will look very easy – all that you will be asked in the beginning will be to leave your e-mail and phone, which if you do, immediately will lead you to the web page of some unregulated, offshore broker, where you will be invited to deposit about 250 USD.
And trading with the scammers will seem like a lot of fun in the beginning – almost all of your trades will be spectacularly profitable and pretty soon the money in your account will seem to have doubled. That however will be just a prat of the scam – your account will be manipulated with the sole intention that latter you will be more easily convinced to deposit more. And that is exactly what your senior account manager will be trying to convince you – if you really want to make some decent cash you will surely have to invest at least 10 000 USD or even more.
And many people do get carried away and do invest as much as they can, without realizing they are victims of a scam right until the day they decide to withdraw a portion of their funds. Than out of the blue they will be told they have not right to withdraw, because they have not met some minimum trade volume requirement, usually linked to some trading bonus. Whatever the excuse, you might be sure that scammers will not pay a single dollar back.
What to do if scammed?
If you get scammed you still might be lucky enough to get your deposit back, if you file for a charge back with your credit card company. And the good news here is that recently both VISA and MasterCard extended the period in which you will be able to do that to 540 days. Still, do not waste any time and do it immediately as the process usually takes a couple of months.
And be aware that some scammers might try to steal money directly form your bank account. This can happen if for some reason you have given them your credit card number and online banking password. If that is the case immediately change the password and block your credit card.
And if by any chance you have installed TeamViewer or AnyDesk and have shared the details with the scammers, delete the program immediately.
Now, bear in mind that scam victims are often approached by the so called recovery agencies, which will offer assistance to trace and recover any stole funds. Unfortunately, in the general case they will not be of any assistance, but simply will collect some fees in advance, basically scamming you a second time