Beware! Cmarket is an offshore broker! Your investment may be at risk.
RECOMMENDED FOREX BROKERS
Don't put all your eggs in one basket. Open trading accounts with at least two brokers.
Cmarket is a brokerage that offers trading in forex and cryptocurrencies. They advertise five account types coming with minimum capital requirements ranging from $1,000 to $50,000 and bonuses from 10% to 75%. They also offer a Demo account that last for 30 days after sign up, which is highly unusual – most respectable brokers do not put a time limit on their demo accounts.
Sign up process was very easy – we had to provide only first and last names, email and phone number and confirm we are not US citizen. We received an email to activate our account, but after the successful registration were immediately taken to the client area without having to click the link in the email.
CMarket regulation & safety of funds
Throughout the entire website we could not find any information about the company that stands behind this broker or about any registration or regulation authority standing behind it. The Contact us page has no address whatsoever but only an email Support form and a UK phone number. Below the UK number, however, there is map link to an address of a business center near Frankfurt in Germany.
The legal page looked broken – one could not scroll down below four cut-off icons and there was no links to anything new, only a single statement about "safeguarding your personal funds and private information".
Eventually we did find the Terms and Conditions – the link to them hidden in the FAQ section. This rather lengthy text did not shed any more light to the question where Cmarket, Inc. is registered and if its activities are licensed. Such inconsistencies and most likely purposeful omissions should instantly ring a bell that this might be a shady operation preying on unsuspecting investors.
Top watchdog agencies, such as the Financial Conduct Authority (FCA) in the UK and the Cyprus Securities and Exchange Commission (CySEC) have very strict guidelines for licensing forex traders. These guarantee both the financial stability of the company and the security of traders' funds. The Negative Balance Protection rule ensures that traders cannot lose more than they have invested.
Cmarket on the other hand does not make a single claim or statement regarding Safety or Security of client funds anywhere on its site, something even scam brokers put to save face. This is why we must make a statement – do not invest money with Cmarket because it is not regulated and your funds are not safe!
Cmarket Trading Software
Cmarket offers the MetaTrader4 (MT4) platform Desktop and Mobile version and the Status Web Trader. There was no link to download the MT4 Desktop version, however. MT4 is the most popular trading software on the market, used by over 80% of traders in the world. It features an intuitive, user-friendly interface, advanced charting and analysis tools, as well as copy- and auto-trading options, and offers a large number of instruments from various asset classes with different settings, all tradable from the same interface and the same trading account.
In comparison, the Status Web Trader looks completely lacking in terms of design and functionalities.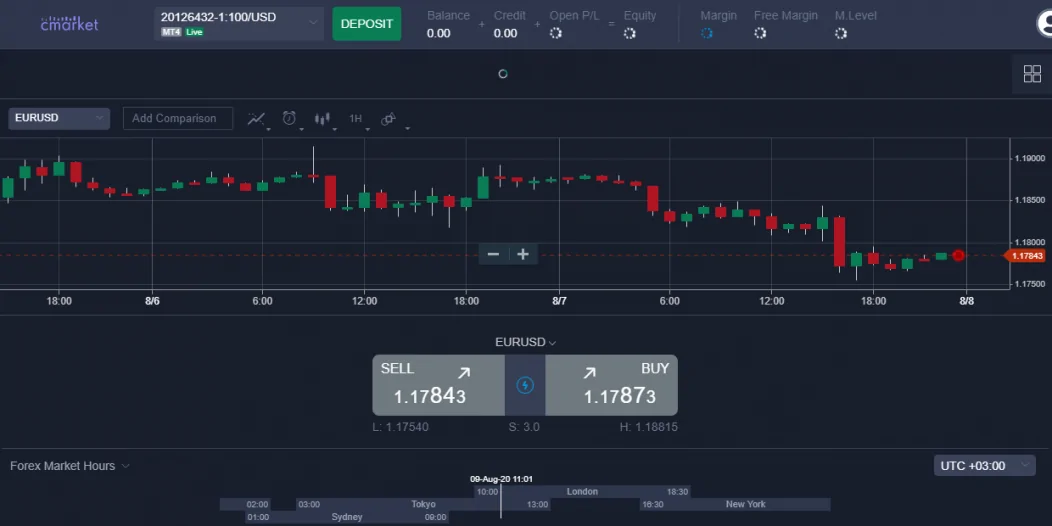 Cmarket Trading Conditions
The brokerage boasts zero commissions and zero fees. On the screenshot above, however, we see a spread of 3.0 pips for the EURUSD. This is extremely high – regulated brokers do not offer spreads larger than 2 pips for this most traded currency pair. It guarantees huge profits for the broker, but is not beneficial to the traders.
The leverage Cmarket offers is 1:200. Although it is not very high, brokers licensed in the US have a leverage cap of 1:50 for non-professional traders, and the one in the UK and EU is even lower – 1:30. High leverage is not something negative in itself, and there are actually regulated markets, such as Australia, which do not impose leverage caps. It can be quite risky, however, because although one can make profits with leveraged trading, he/she can also lose quite a lot, sometimes even more than initially invested.
Cmarket Deposit/Withdrawal Methods And Fees
In the FAQ section Cmarket states that they accept funds by credit card, debit card and wire transfer and this is also indicated in the footer with logos. The Deposit function returned an error, however, both from the client area and the Status Web Trader. Popular methods, such as PayPal and other preferred by traders e-wallets, eg. Skrill and Neteller are not advertised.
There are no Deposit fees mentioned in the Terms and Conditions. Cmarket does charge an inactivity fee, though not labelling it as such. Whereas respectable brokerages usually start applying it after at least 6 months and it is rarely more than $20, here we see that your account is subject to 10% each month after only 3 months.
With regards to withdrawals we read that they are subjected to withdrawals processing and handling fees. It is not clear how big those fees are and the "fee schedule" that they claim is available on Cmarket was nowhere to be found. There is also the usual caveat to stall withdrawal requests – the brokerage may require additional information or documents, and since there is no mention of withdrawal processing time, we suspect withdrawing funds from your account may be a prolonged and painstaking process.
We should also note that Cmarket advertises 90% Bonus. In the European Union and the USA, regulation authorities do not allow licensed brokers to offer bonuses or incentives. Of course, there is the usual "Non-Deposited Funds" clause stating that to withdraw the bonus amount you need to execute a Minimum Trading Volume of 30 times the deposit plus the bonus. Scam brokers trying to lure traders with attractive bonuses always have such stipulation to make sure that neither the bonus nor any profit made from it can be withdrawn.
Considering the botched funding feature and the vagueness with which they present important financial conditions, we have enough reasons to be suspicious that Cmarket is involved in foul play and we recommend to our readers not to risk it and steer clear from such offers!
How does the scam work?
Users often fall prey of very simple but quite efficient scams. The first snare is usually an internet ad promising big profits over a short period of time, and all you need to do is provide your personal information, usually email address and phone number. If you do that, you will start getting calls from scam brokers who will continue with the pitches of quick and easy profits until you decide to make a first deposit of $200 to $300. On these funds the scammers get a fat commission and transfer you to senior "brokers".
These expert con-artists are smooth talkers who start talking you into putting even more money in, because "now is the perfect moment" or "the more money you invest, the higher your profits will be". Usually about this time most traders will start to feel the scam and will want to withdrawal their money and get out fast.
Unfortunately, the scammers will not give in easily. First, they will try to persuade you not to withdraw right now because you will miss on "big profits", and if that does not work, they will find numerous reasons to deny or delay your request by asking you for additional documents or claiming that there are some other causes for not executing the withdrawal. The ultimate objective in such procrastination is to make the traders miss the crucial period in which a chargeback request can be filed, and thus lose the chance of getting their money back.
What to do if scammed?
If you used a credit card to make a deposit with the scammers you should immediately file for a chargeback. Both VISA and MasterCard have increased the time in which you can file to 540 days, in part specifically to fight such online scams.
If you used bitcoin or bank wire, however, chances of recovering your funds are slim. You might get approached by so-called "recovery agents", but don't fall for their tricks. They will ask for payment up-front to recover your money, but this is just another scam and you will not get anything back.
Rich Snippet Data
Reviewer
Review Date
Reviewed Broker
Broker Rating