Beware! GoStreams is an offshore broker! Your investment may be at risk.
RECOMMENDED FOREX BROKERS
Don't put all your eggs in one basket. Open trading accounts with at least two brokers.
Gostreams.io promises one thing to its client from the start – as soon as they open the site they are greeted by the words "A broker with a personality". We have to give that to them – they have some personality. However it is not all that unique. We believe them to be just another offshore broker that promises the hapless client the world, only to run away with their deposit a short time after.
GoStreams regulation and safety of funds
GoStreams has a very curious page, where just about every major regulatory agency is listed. Of course, to the casual reader this would imply that Streams Global Markets LLC must be registered under all of them, however upon further inspection it makes no such claim: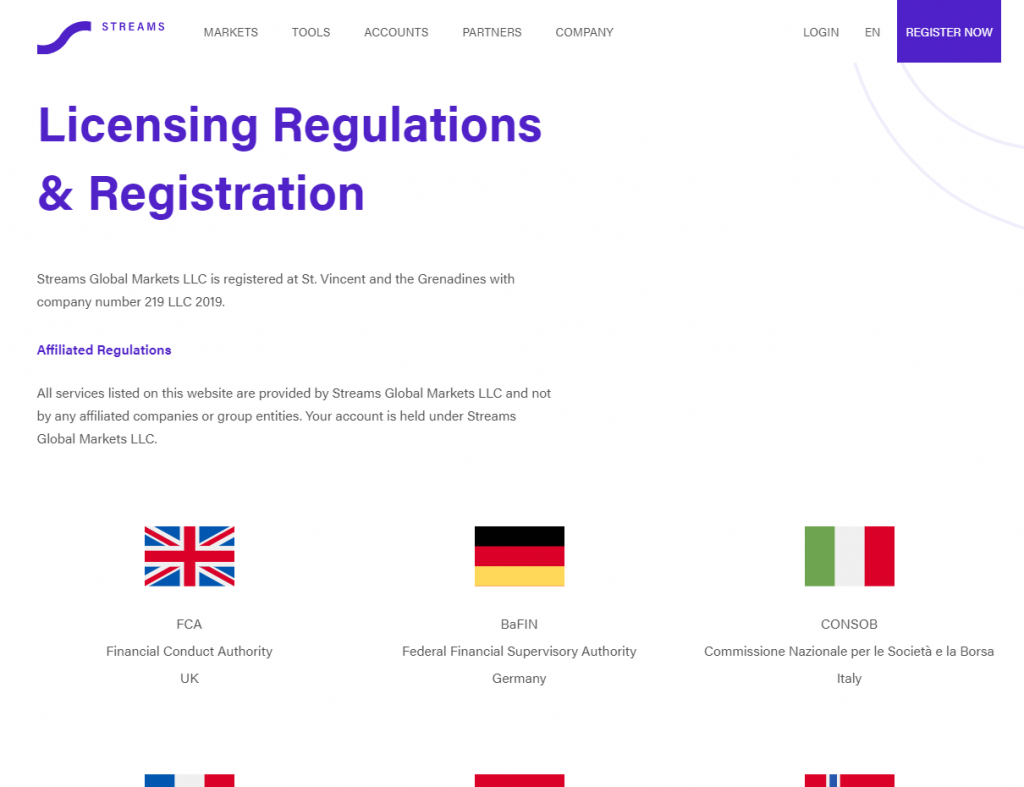 In fact, if the company does make this claim it is lying, because looking them up in the Financial Conduct Authority (FCA) and the Federal Financial Supervisory Authority (BaFIN) returned no results. One must imagine this is the case for all other listed bodies.
On that very same page there is a sentence that reveals where the company is registered – St. Vincent and the Grenadines. This is a very popular destination for offshore brokers because they can set up shop without many of the regulations GoStreams claims to abide. These regulations include, in the case of the aforementioned FCA, a minimum capital requirement for starting up business of 730 000 GBP and keeping clients' funds in segregated accounts. The restrictions are placed entirely for the benefit of the trader, because, as is often the case with offshore brokers, a lot of companies start up offering large profits to their clients and trading with enormous leverage only to declare bankruptcy in a couple of months, making the money effectively disappear. Reputable regulatory bodies impose the mentioned above minimum capital requirement as well as guarantee funds that restore lost capital (up to 85 000 GBP in UK and 20 000 EUR in Cyprus) to the traders in such cases. This is why it is important to stick with brokers that actually are registered by these agencies and not ones that just claim to be.
GoStreams trading software
GoStreams makes use of the well known Metatrader4 trading platform.
The platform is an industry standard at this point and deeply entrenched in the trade. This is for several reasons: its reliability, user-friendly interface, the plethora of chart tools and automated trading capabilities, to name a few. Another thing about it that is worth noting is the community, which produces and shares all sorts of trading bots and signals. The platform is developed by Metaquotes and delivered as a white-label software, meaning brokers can easily adapt it to their needs and distribute it to their customers as they see fit. This seems to be the case here as well, with the downloadable file being a distribution of MT4 branded by GoStreams . There are no significant differences between it and any other MT4 distribution, if any.
Something worth mentioning, however is the fact that the leverage for currency trades goes up to 1:500. This means that any claim Streams Global Markets LLC have to be regulated by any of the bodies listed in their Licensing regulations page is just that – a claim. European regulatory agencies impose a strict cap on the leverage of 1:30 to prevent Forex companies from being too volatile, as discussed above. There is a trustworthy agency that does not impose that restriction, the Australian Securities and Exchanges Commission, but unfortunately for Streams Global Markets LLC they omit it from the list of agencies
The spread of the EURUSD pair at least matches the advertised amount on the page of the company, 1.7. It is within reasonable limits, but still slightly wide for the most commonly traded currency pair.
GoStreams deposit/withdrawal methods and fees
There is a minimum amount for a deposit put in place at $100. Streams Global Markets LLC has a fairly detailed deposit policy. They claim to be accepting every major payment option – Mastercard and Visa, and e-wallets like Paypall and Netteller.
Their withdrawals policy on the other hand has some questionable clauses. For example the following clause:
There is no good reason why the company should have such power at its own discretion. Rest assured this is a power that they will most gladly exercise over any client.
An unsettling clause in the Client agreement states that the client shall be subject to additional commissions and taxes that are listed on the company's website. However that does not appear to be the case as these taxes cannot be found anywhere on the site.
How does the scam work?
Forex scam has been around a long time by now. That is because it is really simple, yet effective. It starts with someone stumbling upon an ad in social media that promises to unveil the world of trading to them, or to expose some closely guarded industry secret. There are also all sorts of videos that have a paid actor boast with his expensive lifestyle and explain how this was not the case up until very recently. If the would-be victims decide to go for it, they are lead to a website that, in turn, also promises quick profits. Such websites require them to fill out a registration form, including, among other things, their e-mail address and phone number. Once this is done the trap is sprung. The scammers start calling the victim and try to convince them to open up an account with them. They demand a substantial deposit and once they get it they usually run their customer's account into the ground. You see, the average scammer does not care about making profitable trades like the real brokers – all they seek to accomplish is to squeeze as much money as they can out of their victims before they realize. This is because their profits are derived from stealing the very deposit of the victim.
What to do when scammed?
If this has happened to you, there might still be a chance of you getting your money back. In recent years the two major credit card providers – Mastercard and Visa have declared Forex trades to be a high risk activity and extended the time frame one can file a chargeback on a transaction substantially in an effort to combat exactly this type of scam. As of writing you can file one within 540 days of the transaction. If you have used an e-wallet or another payment method, however, the chances of you receiving your money back are quite slim.
Another important thing to do when scammed is to change all credit card information you have given to the scammers to prevent further scams and uninstall any software they had you put on your computer.
Lastly, you need to realize that you are still vulnerable to further scams. You might get calls from people posing as "recovery agencies". They are no such thing. They will promise you to return your lost investment, but you would need to send them an advance fee first. Needless to say, they don't really care about restoring any losses and are only after the fee.
Rich Snippet Data
Reviewer
Review Date
Reviewed Broker
Broker Rating