Beware! ProOption24 is an offshore broker! Your investment may be at risk.
RECOMMENDED FOREX BROKERS
Don't put all your eggs in one basket. Open trading accounts with at least two brokers.
ProOption24 puts forth plenty of generous promises, but after a more thorough look through their website we can determine that most of them are lies.
Prooptions 24 regulation and safety of funds
The first lie we will look into is the claim that the broker is regulated by "major agencies". What they probably mean is trusted regulatory bodies like the British Financial Conduct Authority (FCA). Of course, they could also mean any other regulator – the claim is extremely vague. Since we don't have any more information, like the company's registration number we cannot check and know for sure, but considering they haven't bothered to give us even the name of the regulatory agency we think it's safe to discard this claim.
Even if that were not the case, the broker deals in binary options – that is a slightly different form of trade, which basically entails betting if the price of an instrument is going to be lower or higher than the current one after a said amount of time. Binary options brokers have always been an untrustworthy bunch – the field was rife with scammers who manipulated the prices in their trading software to make sure the traders were going to lose. That, and other shady behavior has lead to binary options being condemned by regulators all over the world – the only place they are still operating under a license is the United States. In fact at the time of writing there are only two binary options exchanges in the States. What that means is Prooptions 24 is not licensed by any stretch.
In fact it is completely unclear where the company operates from or who runs it. The only contact information we have is two phone numbers, one with a United States' country code and another with a British one. We also have an email address. Of course, these two numbers do not mean the company has offices in both the UK and the US, or even one of the countries. They could be two completely random sequences of numbers, and it is our belief that they are.

So why would the company pretend to be regulated by a major regulatory body? Well, in the world of finance there are a lot of risks inherently involved with the trading process – the volatility of markets can lead to crushing losses for investors. This is why such bodies have placed strict regulations on brokers – to ensure that the losses are kept to a minimum. Such restrictions include, among others, a minimal capital requirement, for example 730 000 EUR in the case of the FCA and daily reports on trades, as well as vigilant supervision over the broker's activities. It is recommended to invest with a trusted, licensed broker and not take unwarranted risks.
ProOption24 trading software
As a binary options broker, ProOption24 offers a simplified web-based trading software that allows its users to bet on the future prices of trading instruments. The users can place their bids on the price going higher or lower and set the timeframe in which they expect it to happen.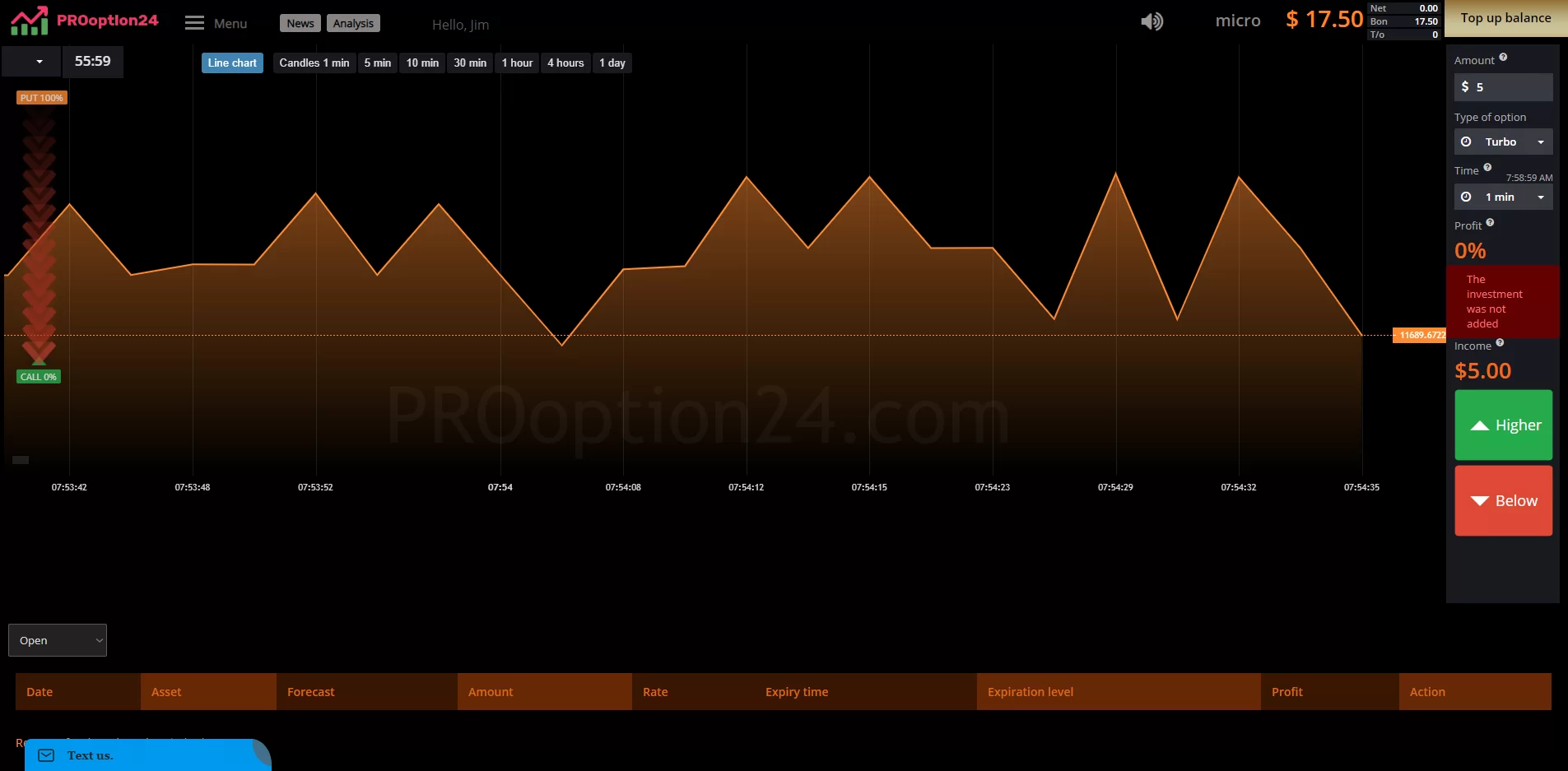 The amount of instruments the platform offers is shockingly small though.
When we first registered we had a demo account open automatically, which is nice. After opting out of it we had no way of getting another one, sadly. Additionally, the minimum deposit amount seems to be $50 with the only way to deposit being over cryptocurrency.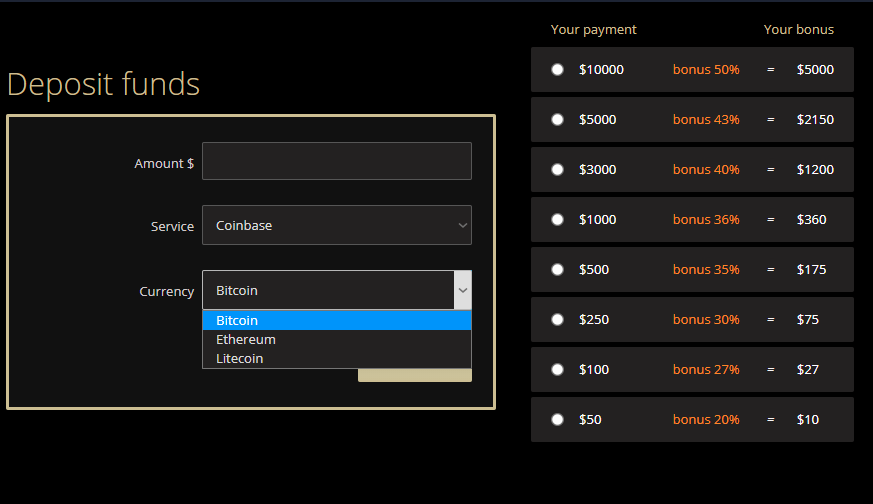 This directly contradicts the website, as you will see in the next section of the review
ProOption24 deposit/withdrawal methods and fees
ProOption24 claims to be accepting credit cards, bank transfers and cryptocurrency in their Terms of Service. However, as previously stated the reality of the situation is different. They only accept crypto. The stated minimum deposit amount for the most basic account is $200. This is, again, a discrepancy with the trading platform, which demands the much more reasonable $50.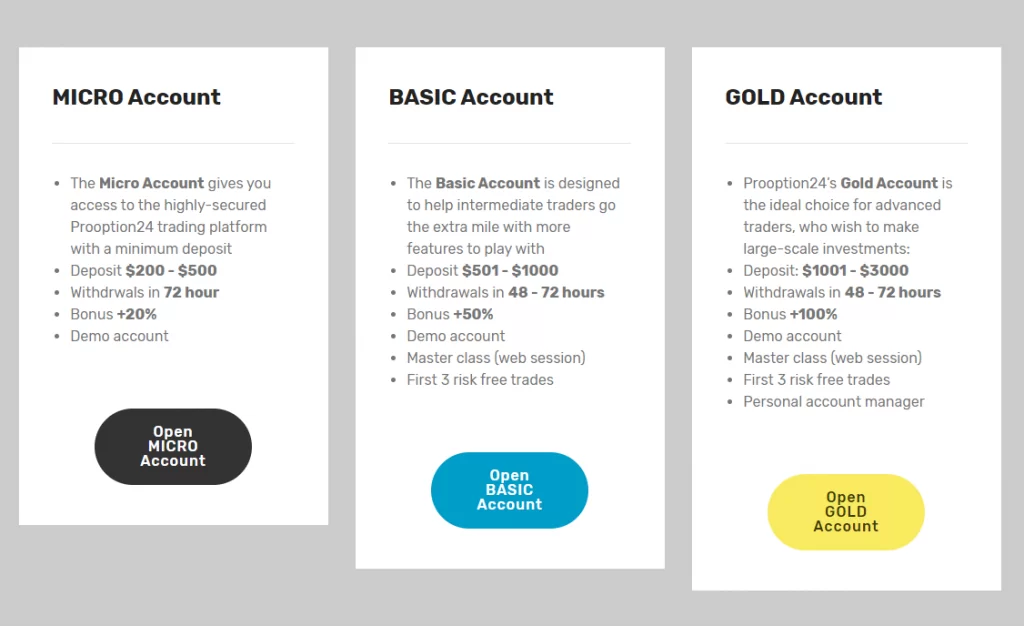 Despite the claim that the broker is the first in the world when it comes to processing withdrawal requests, boasting with an impressive one hour till they are executed, we believe this to be untrue, because on the screenshot above we can see that the withdrawal time is 72 hours for the cheapest account and 48-72 for the more expensive ones. If we disregard how scummy it is to process withdrawal requests differently for different account tiers, this is nowhere near an hour.
As a whole we believe that getting your deposit, much less your profits from ProOption24 might be a difficult task. We believe that for the following reasons
First off, there is the following clause in the Terms of Service

There is no reason whatsoever that there should be a minimum withdrawal amount. Even amounts under $50 are still your property and the company has no right to withhold it from you.
Secondly, there is their bonus policy. At first glance it seems completely voluntary, with this clause giving the trader a right to opt out at any time:
However, it also permits them from opening any new positions until the bonus is removed if they have accepted it. There are no prompts asking you if you accept a bonus, one is just assigned to you once you opt out from the demo account. We got $17.5 without having deposited a cent. Once the bonus has been assigned to your account however, you are placed under severe limitations by these following clauses:

First off, you cannot withdraw any funds from the deposit until you achieve a turnover of 3 times the amount. Secondly, any further deposits are subject to this policy, inflating the amount that you must trade to ridiculous levels. Of course, the company gives you the option to withdraw regardless, for the low low cost of 20% of your deposit and profits. But how will they charge you if you withdraw your entire deposit? Well they will just debit your card, which they can do, as per this clause:

Luckily, due to incompetence the website does not accept credit cards, as we have previously stated.
How does the scam work?
All these details – the shady bonus policy, the weird trade platform and the lack of regulation add up to the conclusion that ProOption24 is unfortunately a scam broker. They typically follow the following well-established scheme – first off, they buy some ads on Youtube, Instagram, or any social media platform. These ads can get very creative with their content, but they typically promise the same thing – a way to get rich quickly. They lead to a website, often much similar to this own where the scammers acquire their victims' phone numbers or emails upon the creation of an account – we had to give these details away when we made ours. Once that is done, the scammers start bombarding these fledgling traders with calls and emails, demanding that they deposit money. These people are patient and very deceptive, so it is no surprise that people fall for the scam so easily. They present themselves as "account managers" and try to extort as much money as possible before their victim realizes what's going on. This is because the scammers make their money from the deposits themselves and not the trades they perform.
What to do when scammed?
Unfortunately, there is not much to do in general, less so in this case. If you had paid using a credit card you would have been able to file a chargeback, but since the broker only accepts cryptocurrency this is not possible.
You are advised to change any credit card details the scammers had access to and to uninstall any desktop sharing software they had you put on your PC – often they will use it to gain access to more information
Finally, the last stage of the scam often entails passing your information to a different cell of scammers that present themselves as a recovery agency. These "agencies" will have their representatives promise to restore losses at the cost of an advance fee. Once that has been paid you can be sure that you will never hear from the agency again, because the scammers were actually after that very fee the entire time.