Beware! AussieTrust is an offshore broker! Your investment may be at risk.
RECOMMENDED FOREX BROKERS
Don't put all your eggs in one basket. Open trading accounts with at least two brokers.
AussieTrust offers trading in Forex, stocks, commodities, indices and cryptocurrencies. They advertise different account types – Silver, Gold, Platinum and VIP – starting from $/€/£ 250 minimum deposit. There is no option for Demo or Trial account.

Registering with the brokerage was very easy – we only had to supply them with First and Last Name, Phone number and Email address, accept the User Agreement and Risk Disclosure Notice and were immediately logged in. There was no confirmation message displayed or email sent to our mailbox, which was only the first sign that not everything is legit with this website. In the top right corner of the home page there is a British flag that should lead users to think that the site supports multiple languages, but that was not the case – clicking on it did not display any options.

AussieTrust regulation & safety of funds
Throughout the entire website we could not find any information about the company that stands behind this broker or about any registration or regulation authority to support its claims. The Contact us page has no address whatsoever but only an email form, 2 email addresses – for Support and Compliance and 3 phone numbers with Australia, UK and Sweden country codes. The rest of the site was full of boastful claims of "unrivaled trading conditions", "top tier liquidity", client funds segregation and "negative balance protection." But in the absence of reliable information about the brokerage being licensed by any respectable watchdog agency we should regards these as mere empty statements.
Licensing authorities, such as the Australian Securities and Exchanges Commission (ASIC) and the Financial Conduct Authority (FCA) in the UK have very strict guidelines regulating forex traders. For example, both require licensed financial services providers to keep their clients' money in segregated accounts and to follow certain internal procedures including risk management, staff training, accounting, audits, etc. Such rules are put in place to guarantee both the financial stability of the company and the security of traders' funds.
The User Agreement does not mention any official registration in any jurisdiction also. All of this should be a warning to potential traders not to invest money with AussieTrust because it is not regulated and their funds are not safe!
AussieTrust Trading Software
The trading platform AussieTrust offers is some kind of web-based software that looks completely lacking in terms of design and functionalities. It does not have any of the tools and features that established platforms do.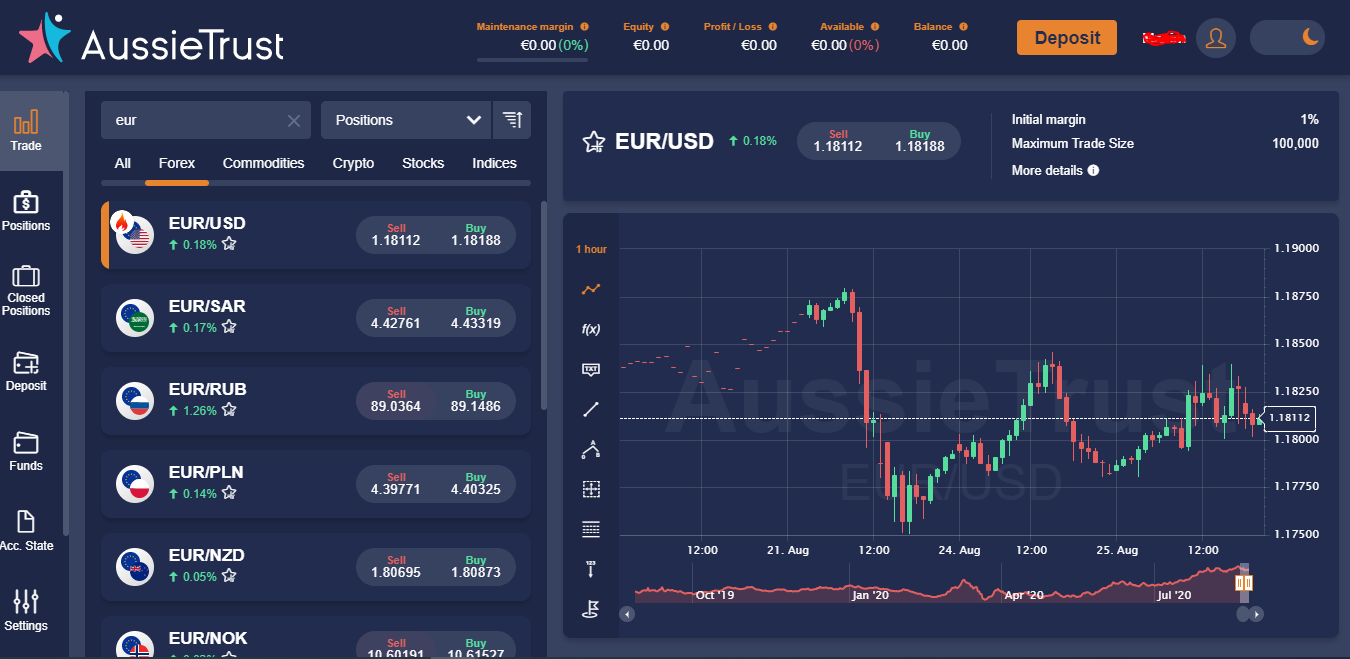 In contrast, most respectable brokerages offer the MetaTrader4 (MT4) or the MetaTrader5 (MT5) platform. MT4 is one of the most functional and powerful trading platforms on the market. It features an intuitive, user-friendly interface, advanced charting and analysis tools, as well as copy- and auto-trading options, and offers a large number of instruments from various asset classes with different settings, all tradable from the same interface and the same trading account.
Its successor, MT5, has certain advantages over the MT4, though over 80% of traders in the world still use the latter. It enables traders to execute trades on different financial markets (including exchange-traded stocks) through a single account and has more trading instruments and more indicators than the older version.
AussieTrust Trading Conditions
As can be seen from the screenshot of AussieTrust's trading platform, the spread they offer on the most traded currency pair, EURUSD, is extremely large – 7.6 pips. Such spread is not beneficial to the traders, but would make huge profits for the broker. Respectable, regulated brokers would rarely extend spreads larger than 2 pips for the most popular currency pairs.
We also saw that AussieTrust presents a leverage of 1:400. Utilizing such excessive leverage, is one of the best ways for traders to lose cash quickly and often much more than initially invested. This is the reason, regulators in the EU – the Cyprus Securities and Exchange Commission (CySEC), and the US – the National Futures Association (NFA) or the Commodity Futures Trading Commission (CFTC), impose leverage caps of 1:30 and 1:50 respectively for non-professional traders. These agencies also require that brokers maintain minimum capital requirements and have compensation schemes in place to minimize investors' potential losses.
AussieTrust Deposit/Withdrawal Methods And Fees
As we mentioned above the minimum deposit required by this brokers is $/€/£ 250. According to the FAQ section on the site, payment methods accepted include credit cards (Mastercard, Visa), E-Wallet (APM, EFT) and Wire Transfer, and in order to make a deposit one should only log into their account, go to the deposit section and select their preferred method. When we clicked the Deposit button, however, we were advised to contact the account manager or email the support team. Also, popular methods, such as PayPal and other preferred by traders e-wallets, eg. Skrill and Neteller are not advertised.
AussieTrust's Terms and Conditions do not mention any deposit fees explicitly. They do charge withdrawal fees, however. The minimum withdrawal amount is $/€/£ 100 and the fee is 1% on the amount with a minimum withdrawal fee of $/€/£ 30 and a maximum withdrawal fee of $/€/£ 300. The withdrawal process takes between 3 and 10 working days. With respected and licensed brokers withdrawal requests are usually processed within 24 hours and if they charge any fee it's typically about $20.
There is also a statement that in case you're not satisfied with the company's services you can apply for a refund, which is subject to a refund fee under the same terms as a withdrawal and they reserve the right to ask for additional information if necessary.
There are a number of other fees too. The Dormant Account fee is charged in the event that no transactions are executed for 30 consecutive days. Whereas regulated brokerages start applying such inactivity fees only after 6 months and it is rarely more than $20, here we read that this fee is $/€/£ 99 and is charged for each period of 30 days.
There are also Overnight Fees, as well as additional fees and expenses that you may be subject to. These are not clearly defined and further confirm our suspicions that AussieTrust may be involved in foul play.

There are no Bonuses advertised on the website, but there is a bonus policy stipulating that you may withdraw bonus funds only after a trading volume of 50,000 times of their value has been obtained. Again, we have to note that watchdog agencies in the US and the EU do not allow licensed brokers to offer bonuses or incentives. It is a practice of scam brokers who try to bait unsuspecting traders. Considering all this, we advise our readers not to risk investing with this broker!
How does the scam work?
Here we will outline the most common scamming scenario. The first step is to capture the users' attention with ads promising fast money. When they click on such an ad, they are redirected to a website that would ask to provide email address and phone number. This personal information is then used by the scam brokers who will start calling and asking to invest with them. The initial deposit is usually around $250 from which these brokers will make a fat commission.
After that, users are transferred to senior brokers. These are expert con-artists who will sweet-talk them into putting even more money. When the traders decide to get out, however, it turns out it is not that simple. The scammers will talk them into postponing their withdrawals or will draw out various reasons to deny the request. All of this is with the objective to miss the limited time period for filing a chargeback with their bank and get their money back.
We should note that VISA and MasterCard have recently taken measures to combat online scams and are classifying all forex transactions as high risk. Furthermore, they have increased the period for filing a chargeback from 6 months to 540 days.
What to do when scammed?
In the event you become a victim of such a scam there are some things you should know. If you used a major credit card to fund the account you should immediately file for a chargeback with your bank or credit card provider. In case you supplied sensitive financial information to the scammers, such as account details and passwords, you should cancel your credit card or change your pass.
If you used bitcoin or bank wire, however, chances of recovering your funds are slim. Do not get hooked by any "recovery agents", who prey on scam victims, using their hopes of retrieving their money. These are just another type of scammers who will ask you for an upfront fee in order to get your money back, but once you pay them, you will not hear from them again.