Beware! CryptoFxBase is an offshore broker! Your investment may be at risk.
RECOMMENDED FOREX BROKERS
Don't put all your eggs in one basket. Open trading accounts with at least two brokers.
CryptoFxBase is introducing itself as the leading exchange in the US, offering binary options and cryptos, also claims to be CFTC regulated. But in reality they are an anonymous broker which does not even offer trading. They are misleading the public in many ways and in the next review we are going to show you solid facts proving that they shouldn't be trusted.
CryptoFxBase REGULATION AND SAFETY OF FUNDS
CryptoFxBase lists their address and an US contact number and basically that's all the information they provide about themselves. There aren't any legal documents, T&Cs or Client Agreement, which are supposed to include some more details about their legitimacy. The first red flag!
Binary options are not banned in the US, but if a company wants to offer binaries it should be registered by NFA on behalf of CFTC under the Commodity Exchange Act. Our inspection in the NFA database displayed zero results, CryptoFxBase is an unlicensed, unauthorized and unethical entity which shamelessly lie to its potential customers, claiming to be regulated by CFTC.
Your funds are not in safety if you invest with CryptoFxBase, it's a shady entity which might disappear at any moment, running away with your money. Stay away from CryptoFxBase, the best choice for you is to confide in a broker which is truly registered, authorized and regulated in EU, UK or USA, by the respective financial authoritiy. In EU, for example, under CySEC (Cyprus) supervision the licensed brokers are under obligation to keep their member's funds in segregated trading accounts. CryptoFxBase speculate to do so, but we are not going to believe a groundless entity which already was caught lying!
CryptoFxBase TRADING SOFTWARE
CryptoFxBase does not give any information about their trading platform on their website. You need to register in order to see their trading software. Upon registration we discovered the well-known binary option Demo Trader which has nothing in common with a functional trading platform. You cannot use it for anything different than gambling, there aren't any tools or indicators, most importantly the prices are being manipulated!  A colossal red flag! We've seen this mini-platform used by confirmed scam brokers, such as MatrixFXTrade, a broker warned by the Maltese financial regulator MFSA. In the CryptoFxBase chart the EUR/USD quote is 1.15, while at the same time the real price was crossing 1.19!
There aren't MT4 or MT5 accounts available. Metatrader isn't a popular platform for binary options trading, it's strength comes to Forex and CFDs trading, there you can find the best charting tools, indicators and expert advisors. There is a strategy tester available, automated trading possible and Metatrader also introduces its own marketplace, including their own and third party developed complex indicators, automated strategies, Forex robots and many more different trading tools, some of which are free to use.
CryptoFxBase does not offer any types of accounts on their website. However, upon registration you realize that your current account level is "starter". In fact it's represented as a weekly investment plan with at least 723% rate of return on any investment. These figures are more than unrealistic, it's a delusion and no such gains are possible in the real world.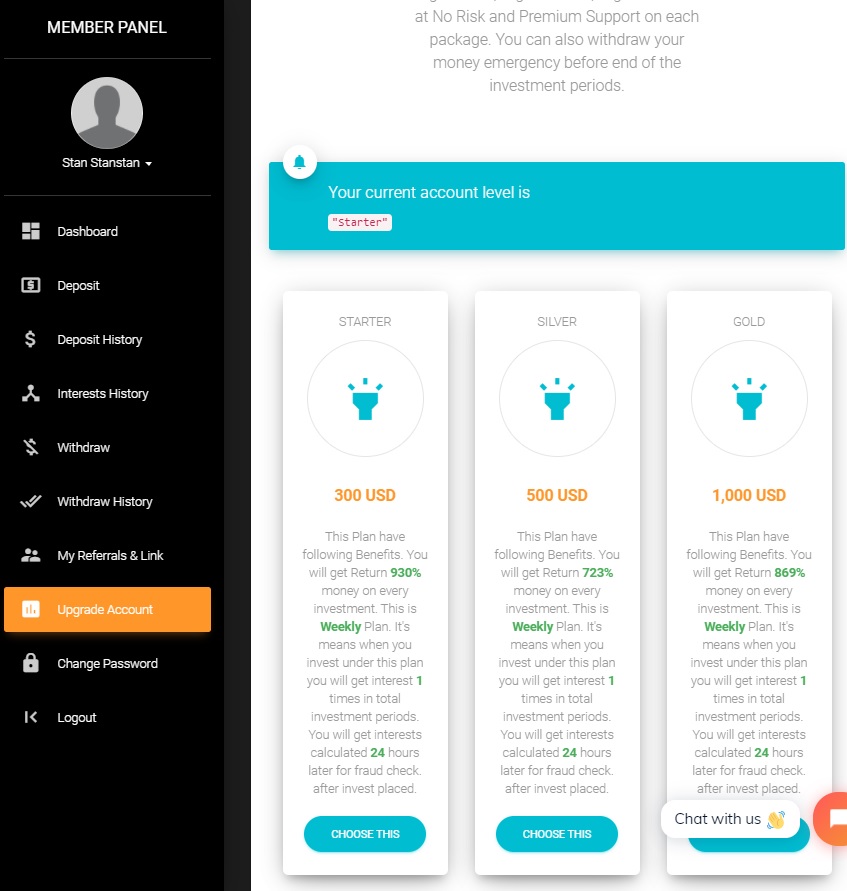 There aren't spreads, leverage or margin requirements available. As already explained CryptoFxBase does not offer any type of trading but some dodgy investment plans with fixed weekly returns. CryptoFxBase isn't a true Forex broker!
CryptoFxBase DEPOSIT/WITHDRAW METHODS AND FEES
We have to once again stress on the fact that CryptoFxBase does not present Terms and Conditions. The only section where you can find some information is an improvised FAQ area in their Home Page which doesn't include much.
The minimum deposit with CryptoFxBase is said to be 300 USD, but you only come to this fact upon registration. It's a scam sign to be remembered, many of the confirmed scammers deliberately hide important information from its customers.
The minimum withdrawal amount possible is 500 USD, which is usually processed within 24 hours. There aren't any withdrawal fees specified, but in reality we do not know if they will charge you upon withdrawal or not. You need to submit documents as proof of identification if you want to make a withdrawal. There are three different withdrawal methods shown- Bitcoin, PayPal or a bank transfer.
The only deposit funding method available is Bitcoin payment through their own system. Another worrying fact, it is a common practice among scammers to accept only cryptocurrencies because it's almost impossible to get your money back.
The funding process is very quick and easy, in fact, too easy, to begin with. First of all, there isn't any proof of identification required in order to deposit funds, a red flag! Also, a deposit as little as 100 USD is possible, which is another piece of conflicting information, because their minimum requirement is set to be 300 USD.
There aren't any fees specified, but as already seen, they are charging the deposits without mentioning beforehand. No dormant account policy in existence.
There aren't any bonuses offered, but we found a referral link which we can use to bring them new customers. No information was found about their referral program.
There are too many signs and contradictory information that are not in favor of CryptoFxBase, our advice is to stay away from this broker!
HOW DOES THE SCAM WORK
Scammers introduce financial or investment opportunities which are often too good to be true. Lucrative returns with low or no risk at all, groundbreaking trading conditions, trading robots and bots that always execute the winning trades, the scammers will promise you the moon and the stars only to gain your trust.
An evidence of scam that is easily to recognize is that often the scammers will accept only cryptocurrencies funding as a method to deposit money in your account. It's for a reason, the cryptos are perfectly unregulated, there isn't a single authority in the world to deal with cryptos. Once you deposit cryptos with scammers, it's virtually impossible to get a refund! Stay away from brokers who does not accept the traditional funding methods.
WHAT TO DO WHEN SCAMMED
Anyone can get involved in scam, scammers are constantly changing their strategies and no one must feel safe. If being scammed the first thing you should do is to protect yourself from further risks. Contact your bank and explain to them your situation, they will give you important instructions to follow and will help you, if possible, recover your money.
Report what have happened to you, file a complaint, contact the financial regulator, contact other government institutions dealing with trading and investing. Seek help actively!
Share online your experience, it is important to protect others, as well. Be responsible!
Avoid CryptoFxBase, there are too many red flags!