Beware! Vertex247 Options is an offshore broker! Your investment may be at risk.
RECOMMENDED FOREX BROKERS
Don't put all your eggs in one basket. Open trading accounts with at least two brokers.
Vertex247 Options is an entity which bets on the shiny website. They show happy investors, awards won by them and even have their own trading academy which undoubtedly proves that their main target are the rookie traders and investors. Apart from that the information about Vertex247 Options is really scarce, there isn't a single trustworthy third party source that will prove that they are a true Forex broker. Read the next review for more details which will show you the reasons to avoid Vertex247 Options
Vertex247 Options REGULATION AND SAFETY OF FUNDS
Vertex247 Options is just another Forex broker which is very difficult to be traced. They list no information regarding their legal status, including licenses, registrations or anything that will undoubtedly prove that they are a legitimate trustworthy entity. They actually go further as they submit an address which doesn't indicate a street number, a city or even a country. In fact, this address leads to nowhere, but only proves that there is something fishy about Vertex247 Options. The lack of legal documents and a valid address shows that Vertex247 Options is unlicensed and unauthorized Forex entity.
Avoid Vertex247 Options, because your funds are not in safety. You'd better have a look at the EU and the UK licensed Forex brokers which are authorized to offer financial products and services, are also transparent bodies and the last but not least, they are among the leaders in the retail Forex industry.
A Forex broker which is regulated really makes the difference. The strict regulations in existence are only implemented for the benefit of the traders and also for the health of the financial service sector. The regulatory framework creates safer and more stable environment where the customer protection is among the top priorities. For example in Cyprus under CySEC regulation and in Britain under FCA there are compensation schemes in place which guarantee the deposits of the clients, in UK for example you can claim up to 85 000 GBP. In Cyprus the deposits are guaranteed of up to 20 000 EUR per client, in case your Forex broker fail. The offshore and unregulated brokers might disappear before you know it, and the lack of protection simply means that you lost your money and there is no chance for loss recovery.
Vertex247 Options TRADING SOFTWARE
Vertex247 Options is probably making a joke with the statement that they offer the world's #1 platform for free! When you click on the download button you are redirected to a non-existent page, the requested URL was not found! No MT4 or MT5 accounts available.
Upon registration there is a TradingView chart at the dashboard, which is not suitable for trading and serves for information purposes only. There aren't any spreads, margin requirements or leverage specified.
We couldn't find the famous Vertex247 OptionsTrader, the world's best platform, according to them. Instead, we found the well-known mini binary options platform which is suitable for a casino, but not for Forex trading. It is a gambling scam software with prices being manipulated, we've seen it offered by a few other entities such as CryptoFxBase, FXMaster and TradesView, just to name a few. The real EUR/USD rate was 1.1940 at the time, while the Vertex247 OptionsTrader stood at 1.1626!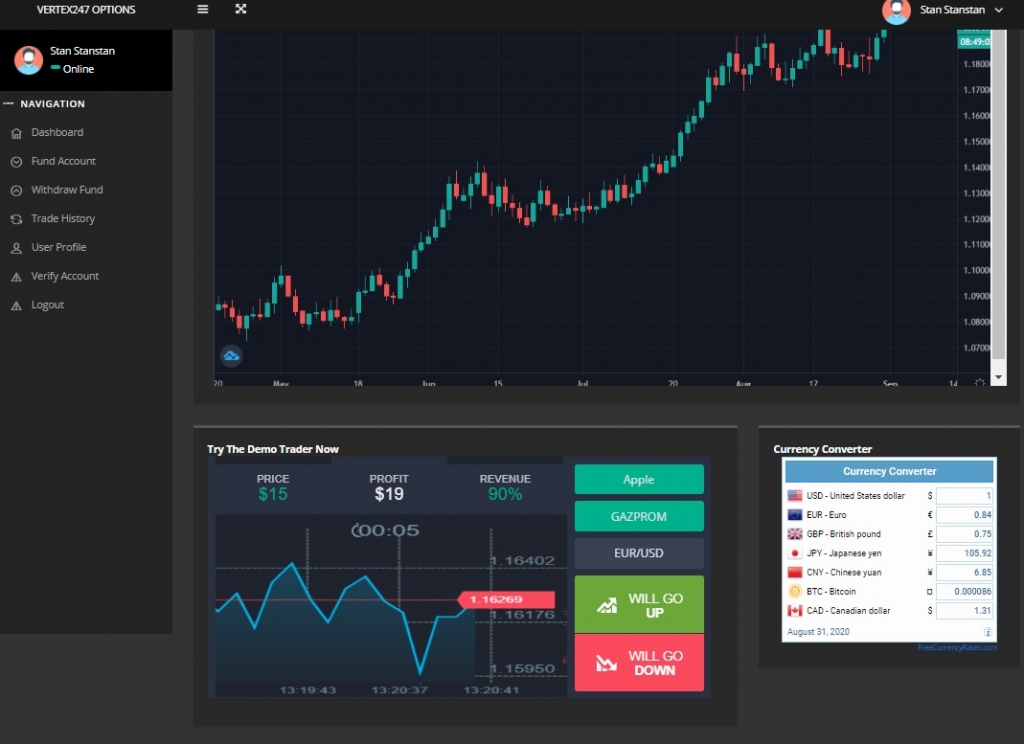 Vertex247 Options offers 5 account types but does not specify spreads, leverage or margin requirements. In fact, even after sign-up we couldn't find any information about spreads and leverage. Beware, your investment will not be in safety if you deposit with Vertex247 Options. As already cleared out, it is an unlicensed entity which does not really act like a true Forex broker.
*
No demo trading available in reality!
Vertex247 Options DEPOSIT/WITHDRAW METHODS AND FEES
The initial minimum deposit with Vertex247 Options is said to be 250 USD on their FAQ page. However, on the Deposit Procedure section is said that 250 USD is the minimum deposit via bank card and 100 USD via wire-transfer. Conflicting information which shows the lack of competence and another piece of evidence that there is something odd with this broker.
The funding methods listed are bank cards and wire-transfers, also Neteller, Entropy Virtual Card, BPay and Bitcoin transfer via BitSend. Nonetheless, upon registration we were locked in the verification page and could not have a proper look on their deposit system. Beware, do not trust brokers who limit their customers and do not provide sufficient information before taking a certain step. In the case of Vertex247 Options you have no idea how their payment systems work, unless you submit the documents including your personal details. If, let's say, there is a big discordance between the ways advertised and the ways ready to use you cannot complain and report to no one, simply because Vertex247 Options is an unregulated broker!
There is no minimum withdrawal amount determined in their FAQ. The request processing time is of up to 5 business days and further 5 to 7 days before you can actually see the money in your account. It makes it altogether close to two weeks, which is way too slow, compared to the rest of the industry.
All withdrawals are subjected to a service fee of 3.5%, minimum charge of 30 USD! The maximum withdrawal fee is 3500 USD. A bloodbath for your profits, if you've made any!
There is a very disturbing clause in their T&Cs which says that Vertex247 Options reserves the right to refuse to distribute profits. Have a look.
Bonuses are applied automatically after opening an account with Vertex247 Options, reaching of up to 80% the amount deposited. Surprisingly you can withdraw the profits made by using bonuses at any given moment, unconditionally! But, there is this clause in their T&Cs, which says:
Sounds horrifying, account being nullified, based on "other forms of deceptive or fraudulent activity". It's nothing unusual in general, but they are an unregulated Forex broker and the freedom of interpretation is entirely in their hands. They can nullify your account and there is no one who can stop them if they decide to do so, and furthermore they will bear no consequences for their actions!
Vertex247 Options impose a monthly account charge called maintenance fee. It is a 0.5% from the account balance including bonuses! It is unheard of, no true Forex broker is going to pillage the customers' accounts in such a way. Under EU and UK supervision such financial atrocities are impossible, there are strict guidelines regarding the calculation of fees and anyone who is breaching the rules is going to be sanctioned proportionally. Stay away from Vertex247 Options, your funds are going to diminish even if you do not trade.
Dormant account policy is also as harsh. An account is considered inactive only 60 days after your last log-in and the monthly fee is 200 USD.
HOW DOES THE SCAM WORK
Some of the scammers' models include harsh trading conditions and impossible fees to bear, we've seen many similar confirmed scams in the past. They will list all the information, but will make sure to hide it as much as possible and will make it really difficult to be uncovered by an eye that is not experienced. These tactics include boosted spreads and slippage which are eating out your profits, fees that are reducing your account monthly even if your trades are successful or vague legal terminology that leaves their hands untied! The lack of regulation is the single thing that empowers them to impose unbearable fees and spread, which is actually manipulated.
The best way in avoiding scam is to trust only licensed brokers which are authorized and regulated by a financial authority such as FCA or CySEC. Under their supervision it is impossible for a scam broker to survive, always do the research, stay informed!
WHAT TO DO WHEN SCAMMED
Anyone can get involved in scam, scammers are constantly changing their strategies and no one must feel safe. If being scammed the first thing you should do is to protect yourself from further risks. Contact your bank and explain to them your situation, they will give you important instructions to follow and will help you, if possible, recover your money.
Report what have happened to you, file a complaint, contact the financial regulator, contact other government institutions dealing with trading and investing. Seek help actively!
Share online your experience, it is important to protect others, as well. Be responsible!
Avoid Vertex247 Options, their trading conditions and fees imposed are way too harsh!