Beware! Acquantum is an offshore broker! Your investment may be at risk.
RECOMMENDED FOREX BROKERS
Don't put all your eggs in one basket. Open trading accounts with at least two brokers.
At first glance, it is very easy to understand that this is a bogus company. The proofs are so many, we do not know where to begin from!
What strikes us at first glance is that the company exists using two websites – acquantum.eu and luxoramt.com. When we opened both sites, they look exactly the same. Acquantum and Luxoramt appear to be using the same interface and design of a website. In addition, in Acquantum AG documents and address, only the name of Luxoramt appears.
Our second impression is that the company offers no less than 8 accounts. Given the fact that the differences between some accounts are just insignificant, we wonder if that is really necessary.
However, as soon as you decide to register an account, you get nowhere! We filled in several  times all the boxes on the registration form but as soon as we hit the register button, it went blanc again!
We looked at the company's webpage and we thought that someone was having a good lough at us. Explore this for example:
As you can see from the screenshot on the far right we have the management tool. What do you thing the management tool is? Shall we discover as they urge us to do? There you go: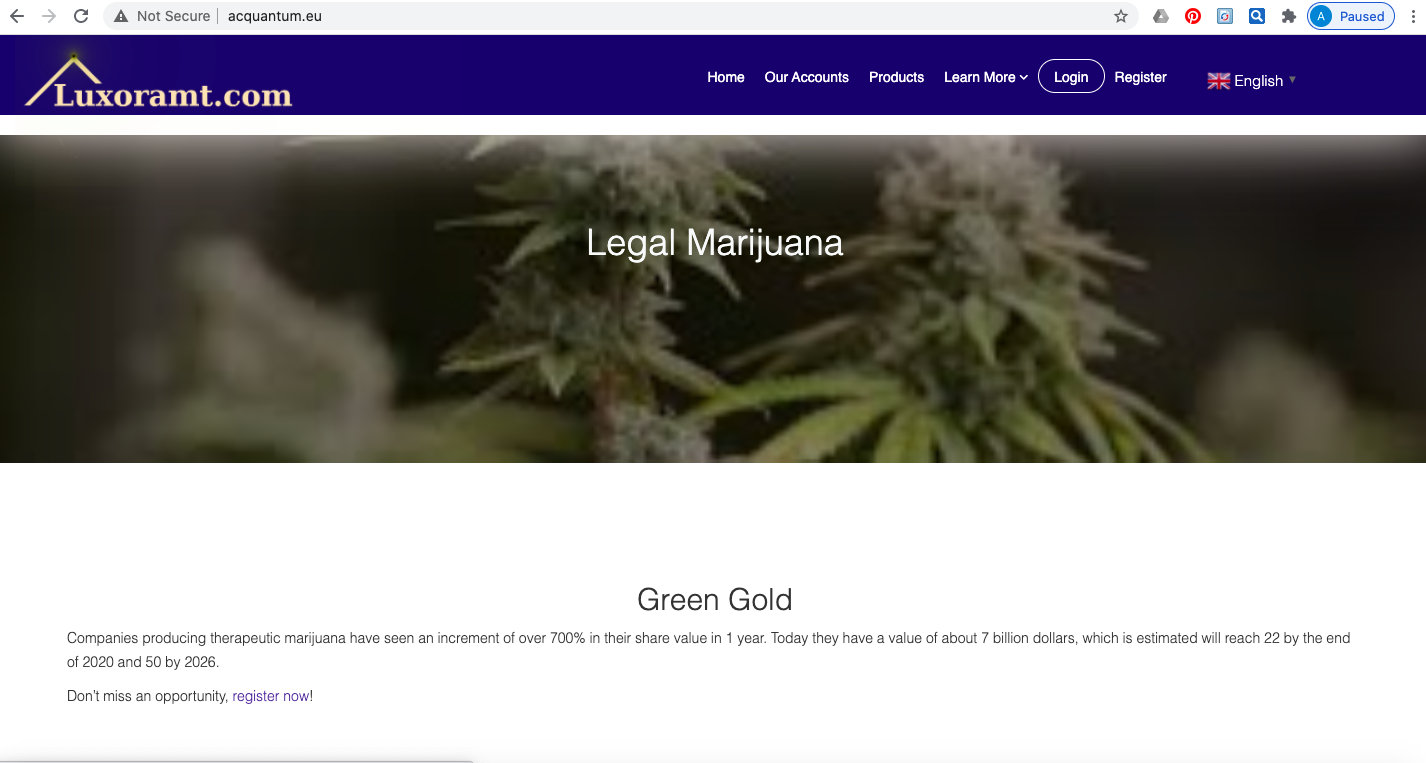 Are you kidding me? Someone is taking us for complete fools! Other scammers at least pretend to create something more or less credible. These scammers are just having a good lough at our expense – legal marijuana/CBD may be a trading product but not a management tool! Dear scammers, you can't fool us!
Acquantum Regulation and safety of fund
Maybe, after discovering all of the above, we shouldn't even bother to look further but to be fair we'll follow up with the rest.
On the company website, we understand that the company under its name Luxoramt is registered in Lichtenstein (as per the screenshot below). We searched the registers and even entered Acquantum AG but did not find those companies in the registers. We can't say we are surprised!
Liechtenstein is considered to be a big offshore financial centre and tax havens. If you are a trader considering to trade via an offshore company, you should be aware that this contains a lot of risks for your finances as there are no precautions set in place to protect you from financial loss. You can compare any offshore forex company with those registered and regulated under FCA and CySEC and see how much at disadvantage the offshore companies are. Legitimately registered and regulated companies must abide by strict requirements, such as having an initial capital of no less than 730,000 EUR or deducting money towards compensation funds for at least 20,000 EUR for companies registered with CySEC or 85,000 GBP for companies registered with FCA. This way, only genuinely legit companies will be able to provide security of funds in case of bankruptcy. Needless to say, choosing one of these registered and regulated companies is the wise thing to do!
Acquantum Trading software
We are sorry to disappoint you, but due to the broken links on Acquantum AG website which made  impossible registering  an account, we were unable to access the trading software.
However, we would like to make a point where trading platforms are concerned. Our advice to you is to look for legit forex companies that use MetaTrader 4 or MetaTrader 5 platforms. They are highly recommended and very popular among forex traders. One of their main advantages is that they have demo account which allows the newly coined forex trader to practice risk free until he/she is able to gain more knowledge and confidence on how to make transactions. Gaining forex trade experience in such way will prevent you from risking your money until the moment you feel ready to start trading on live account. Other advantages include a financial calendar, automated trading, VPS, a code base with customs scripts, etc., which makes it easier for traders to execute transactions.
Acquantum Deposit/Withdrawal methods and fees
The Terms and Condition document on the company's website does not contain information pertaining to deposit and withdrawal methods and fees. The only information we could find on its site in terms of payments is that the company accepts debit/credit card or Bitcoin.
It is so obvious that this company is not legit and the lack of Terms and Conditions document once again proves that.
Again, needless to say, but stay away from such companies!
How does scam work?
Unfortunately, it is quite easy to get scammed and sometimes it happens without you even realising it. So how does it work? The concept is very simple but if you are a scammer, you need to be a smooth talker and a master of manipulation. For example, imagine you are browsing through the Internet or are on social media and you notice some ads promising you easy and quick profit. You even read some comments and feedback from 'real' people. You are now tempted and you are thinking 'if other people can make some money this way, why not me?'. And so, you invest a certain amount into that venture. What happens next is your phone starts ringing like crazy and you are congratulated by your 'new friends' on your first step towards becoming rich. They paint you a beautiful picture of your life after you, so to say, hit the jackpot. And there you are, happily dreaming of the money fall that awaits you. At first, you patiently wait for something to happen but when the time passes and it doesn't, you start to worry. It is now you ringing the company and asking about what is happening with your money. Of course, the scammers assure you that everything is alright and there is no reason to worry. But you are out of patience already and insist on getting your money back. Now the scammers apply the 'delay' technique by asking you to fill this form or provide that document and coming up with excuses that something in the system has gone wrong and they need to fix it, but not to worry! Everything will be alright. Why do they try to delay you? The answer is simple – so you miss the deadline to file for chargeback.
What to do if scammed?
Depending on how you made your deposit you may yet have a chance to get your money back in case you have paid via Visa or MasterCard. They allow for 540 days period in which to file for chargeback. So, it is possible to get lucky! Not so much if you have paid via bank wire or Bitcoin. Then, you may have to kiss your money goodbye.
An important thing that you should do is to cancel your credit/debit card if you have given your CVV code to the scammers. Also, remove any software from your PC that may link your personal information to the scammers, such as TeamViewer or AnyDesk.
And lastly, be very cautious if approached by a so-called 'recovery agent' as this is another form of scam.
Rich Snippet Data
Reviewer
Review Date
Reviewed Broker
Broker Rating