Beware! StockLux is an offshore broker! Your investment may be at risk.
RECOMMENDED FOREX BROKERS
Don't put all your eggs in one basket. Open trading accounts with at least two brokers.
Are you looking right now at the StockLux website and wondering whether you should invest your money in this broker company? If you are, let us take you on a tour around the different features of this company and think over its advantages and disadvantages.
First of all, from the company's website we understand that this company is trading in forex and cryptocurrency mainly but also offers opportunity for trade with spot metals, stocks, futures, spot indices and commodities.
From the screenshot below, you see that StockLux offers six accounts to the traders, each one with different types of perks as per the deposited amount. We'll discuss these accounts more in detail further in this review.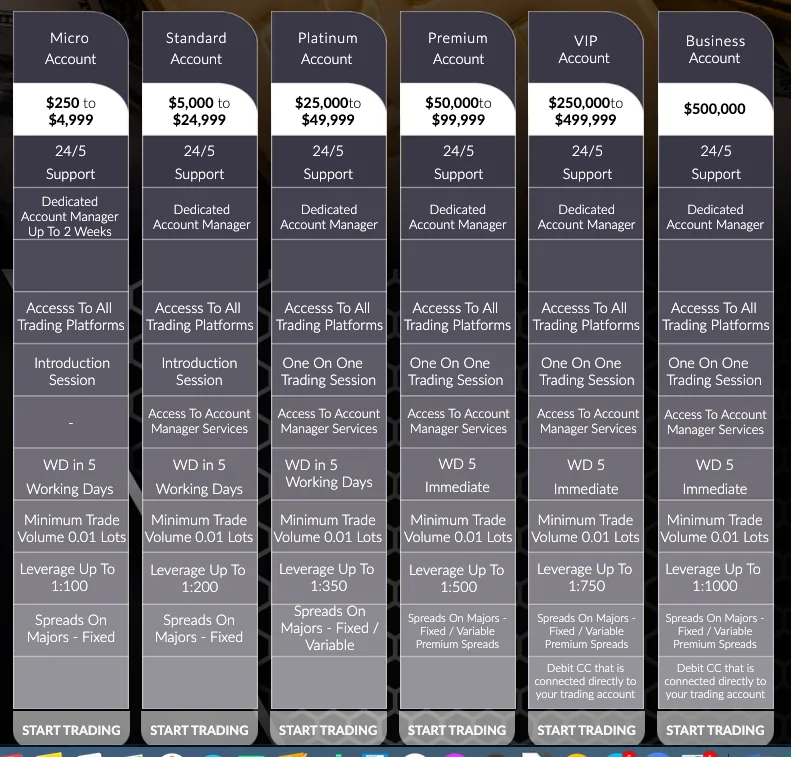 Our first disappointment, however, comes when we try to sign up in order to open an account which is unsuccessful due to a broken link. Our second disappointment is when we try to use the link provided at the bottom of each account type and come up with the same result. Finally, after opening the web browser trading platform, we were able to sign up. Do you think that forex company that has broken links on its website is a reliable one? Well, neither do we!
StockLux Regulation and safety of funds
From the company's website we understand that StockLux is a trade name of Konstos Markets Ltd. registered in British Virgin Islands (BVI). This is an offshore zone and companies operating from there may not have safety of funds precautions even if registered with the Financial Services Commission of the British Virgin Islands. We can tell you that to obtain a registration there, forex trade companies must have a minimum initial capital which may vary from 100,000 to 1,000,000 USD. We checked the register of the Financial Services Commission of the British Virgin Islands but neither Konstos Markets Ltd., nor StockLux appear to be registered there.
This is a clear sign that this company is not legitimate and our readers and future forex traders are well advised to exercise caution and choose forex brokerages from well-established jurisdictions with registration and regulation laws that guarantee safety of funds, such as EU, UK, USA and Australia. A broker company from these jurisdictions needs to meet rigid requirements in order to be registered and regulated there which guarantees its reliability in terms of legitimacy and safety of funds. For example, forex broker companies registered in EU and UK must have an initial capital of no less than 730,000 EUR and compensation funds of 20,000 EUR if regulated by CySEC and 85,000 GBP if regulated by FCA.
StockLux Trading software
To its traders, StockLux offers MetaTrader4 and Web Trader platforms. We are definitely funs of the MetaTrader4 trading platforms as it is one of the most popular and well reputed trading platforms among forex brokers. We can't help it but sing only praises for this platform as it offers various trading tools and instruments, such as an app market, trading signals (which come for a subscription fee), a financial calendar, VPS and code base with customs scripts. One of its main advantages is the demo account which allows traders new to the forex trade to practice free of risk and gain knowledge and experience before trading via live accounts, thus avoiding the danger of losing money due to inexperience.
Let's take a look at the web trader interface as shown on the screenshot below. As you can see, it shows the forex pair EUR/USD and its fluctuation. What we see is a spread of 3.0 pips. We must say that this spread is rather high and when combined with a leverage of 1:100, it means that the risks for the forex trader are high as well. Now, if you are an experienced trader, you might be able to manage the high spread/high leverage combo but if you are not, then we advise you to take caution and look for a forex company with a lower spread and lower leverage. If you look at the types of accounts information in the first screenshot, you will certainly notice that the leverage increases with each type of account, reaching 1:1000. We must say that this is extremely risky, even if you are an experienced trader or if you are provided with one-on-one training sessions and an experienced account manager. You may not know, but actually in some jurisdictions there is a cap on leverage to prevent traders from taking risks with their transactions. For example, in Europe the leverage cap is 1:30 and in the USA it is 1:50. Jurisdictions, such as Australia and New Zealand do not impose leverage cap but traders should proceed with discretion nonetheless.
In addition to its trading platforms, StockLux also offers three types of calculators (screenshot below) which help traders calculate and estimate the parameters of their position. For example, by using these calculators, they can better estimate their lot size and leverage and also determine their required margin.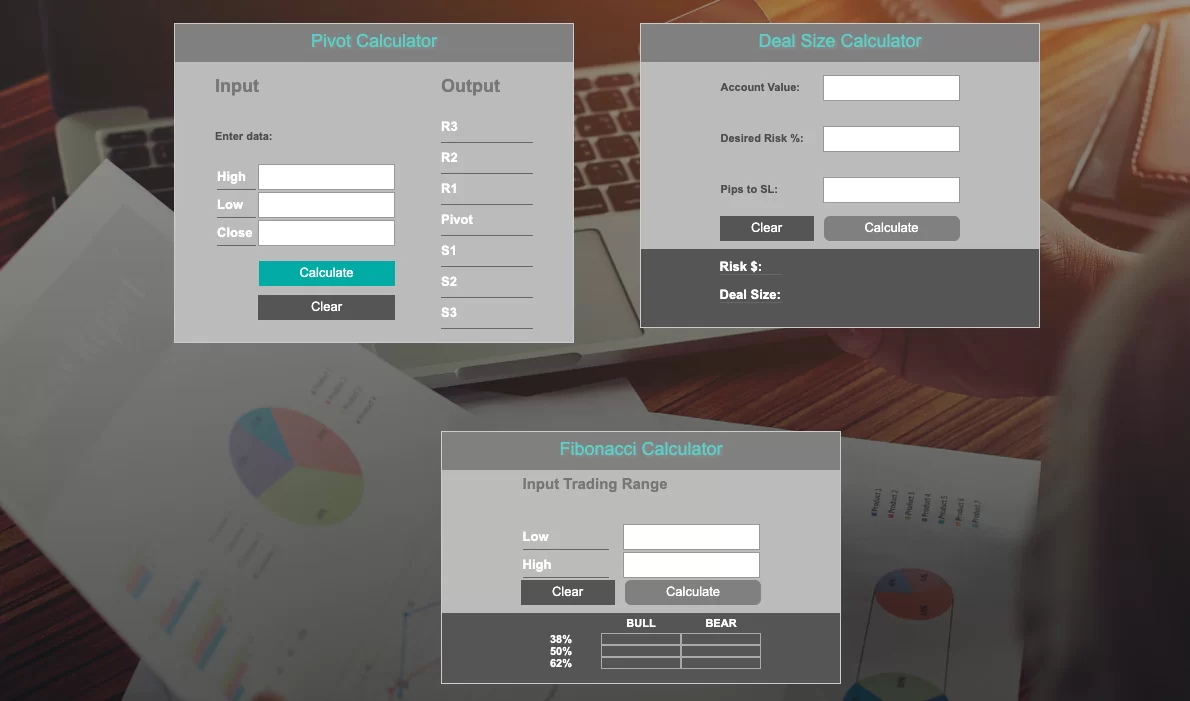 Another important aspect of the trading tools offered by this company is the social trading option available on the company's website. Social trading is a phenomenon in forex trade that is gaining more and more popularity as it provides certain benefits of sharing knowledge with other traders online and helping each other by copying trading strategies. However, it can also be risky undertaking because you may gain but you may also lose by copying other traders.
StockLux Deposit/Withdrawal methods and fees
The minimum initial deposit for the Micro account is $250. 
With each account (see the first screenshot in this review), the amount of the initial deposit increases, until it reaches 500,000USD. To make a deposit, clients may choose between Visa, MasterCard or a bank transfer.
For dormant accounts that have not been used within three months, there is a penalty of 10% deduction each month.
According to the withdrawal policy, the company may take 2-5 days to process withdrawal requests and another up to 5 days before the funds reach its destination to a credit card or bank account. We must comment here that the processing time is too long and normally shouldn't take more than 1 business day. Having to wait so long for your funds to reach their destination may inconvenience you, so we advise you to look for a broker company that offers better terms of withdrawal.
Another important point we would like to make here is about the bonus policy. According to the company's terms and conditions, if you receive a bonus, you'll be able to withdraw it only after you execute a minimum trading volume of 30 times the deposit amount plus the bonus issued. We must say that this is not something easy to achieve, so think carefully before accepting a bonus as it may put a strain on your transactions.
How does scam work?
Being scammed once is no guarantee that you won't be scammed ever again because scammers are very inventive in terms of deceit and manipulation. We'll give you an example. Imagine that you are browsing on the Internet or scrolling your Facebook or Instagram account. You may notice that occasionally you see some ads that promise you a quick and easy profit for a small deposit. If you get interested and you look at some comments 'happy customers' have made, you start thinking that it looks very tempting and risk free, so you decide to try. After you put in your deposit, your phone starts ringing. You are being congratulated for choosing this company and the only thing you need to do now is only waiting for the big money to come your way. You are also being invited to put in more money. After all, the bigger the deposit, the bigger the profit. Right? And so, for a while, you sit and wait for the happy news to hit home. But after nothing happens, you become sort of anxious, then impatient and now it's your turn to call the 'company'. At first, the scammers express dismay that you doubt their 'pure intentions' and assure you that everything is ok and that you need to be just a little bit more patient. When this stops working, and you insist of having your money back, they start to play for time, so that you miss the deadline when you can file for chargeback.
What to do if scammed?
Once you fall into the clutches of scammers, it is not easy to get your money back.
However, you have made your deposit using a Visa or MasterCard you may yet have a chance. These cards allow you 540 days time period in which to file for chargeback.
If you have made a bank wire transaction or have used Bitcoin for your deposit, then chances are grim and you should be prepared to wave your money goodbye.
In any case, we advise you to cancel your credit card if you have given your CVV code to the scammers. Also, any software that gives the scammers an access to your PC should be removed.
And lastly, beware that out there, there are other scammers which call themselves 'recovery agents'. They may approach you with an offer to recover your money, for a fee, of course. Stay well away from them as they are scammers and you may lose more money that way.
Rich Snippet Data
Reviewer
Review Date
Reviewed Broker
Broker Rating