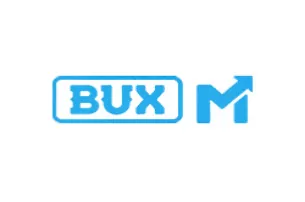 RECOMMENDED FOREX BROKERS
Don't put all your eggs in one basket. Open trading accounts with at least two brokers.
BUX Markets is an UK based Forex broker which is a part of the, so-called by themselves, BUX Group. It offers Forex CFDs products and services, as well as spread betting.
The BUX Group itself consists of trading and Fintech companies based in London and Amsterdam, and except for offering Forex products and services, they also develop trading applications and platforms. Trying to stand out as a company that is aiming to make trading accessible to everyone, BUX Group stresses on high tech and innovations. A narrative common for the past two decades, any company or individual is trying to sell something described as new and market changing.
Find out if it is a trustworthy Forex broker in the BUX Markets review.
BUX Markets REGULATION AND SAFETY OF FUNDS
BUX Markets says to be FCA regulated broker and actually provides the details about their legal status, including their register numbers and address. Upon checking we can confirm with an utmost certainty that the numbers are matching and BUX Markets is a legit Forex broker, headquartered in the central London.
BUX FINANCIAL SERVICES LTD. in the Companies House
The FCA registration.

Your funds are safe if you deposit money with BUX Markets, it's a Forex broker that is registered, authorized and regulated by FCA. It's first authorization by the British financial authority dates back to 2001, but in 2019 the former Ayondo became part of BUX Group, as they call themselves, which specializes in the fintech industry. The Amsterdam based BUX Technology B.V. is also a legit company and part of the group. They develop mobile trading apps and platforms, including BUX Zero, BUX X and BUX Crypto.
BUX Markets, as a legit entity is covered by the FSCS, a compensation scheme that guarantees the deposits made by the customers. In the unlikely event of BUX Markets being unable to meet its obligation, the customers are insured and can claim a compensation of up to £85000, per client. There are similar money protection schemes in operation throughout EU, in fact, each member state has the obligation to provide an increased level of security for its customers and manage a similar fund. In Cyprus, under CySEC supervision, ICF was established which provides guarantees of up to €20000. You should always choose a Forex broker which is legit and authorized to offer Forex products and services, such an entity is stable, transparent and predictable, also provides an extra layer of protection for its customers.
BUX Markets TRADING SOFTWARE
BUX Markets does not offer MT4 or MT5 accounts to its customers, which is a strange choice, because Metatrader is the leading platform in the retail market, and also preferred by the majority of the traders. Instead, they develop their own trading software which is web based, also an iOS and Android version is available. There are demo accounts offered and we had the chance to look at their web platform, called TradeHub.
In fact, it's a bit of a mess, we found some significant downsides, which we have to note. First of all, some of the windows are not fully scalable, and you should either choose to close or leave these in the background, keeping the mess full. The chart customization is a nightmare, it will be much better if they make their drawing tools easier to use, placing a simple trend line turned out to be a challenge for us. It's not as intuitive as advertised on the web page.
The EUR/USD spread is 0.7 pips, a favorable one and the trade execution was fast enough. The max leverage on major FX pairs is 1:30, while for cryptocurrencies it stays at maximum 1:2. There is a variety of instruments such as Forex, Indices, Commodities, ETFs, Single Stocks, Bonds and Cryptocurrencies.
In the end of the test we did not fancy their web platfom, at all, the more we explored, the bigger the mess. At some point there were too many windows, which you cannot minimize or scale down to make a neat order. They need to improve it because many of the traders might give up on them, just because of the trading software provided. The platform is not really advanced, and there are too many features missing, definitely they have some work to do.
Our advice is to stick to MT4 and MT5, you can hardly find a trader who isn't familiar with it, and that makes sense. Offering complex indicators, expert advisors, automated trading, it is a platform which can be fully adjusted to the preferences of the customers. Metatrader also develop its own marketplace where you can find a huge variety of trading tools, developed by third parties also, which you can utilize and improve your results.
BUX Markets DEPOSIT/WITHDRAW METHODS AND FEES
The minimum deposit is 100 USD but it only applies for credit cards, there is no minimum required for wire transfers. Only two funding methods are available- Bank Cards and Bank Wire, which are also applicable for withdrawals.
BUX Markets does not charge deposit or withdrawals, however, such fees may incur depending on the country you live in, or your bank. Cards that are issued outside of the EEA will be charged 1.75% transaction fee.
Funds are only returned to their source, which is the normal practice for the legit Forex brokers. The withdrawal processing time is within 5 business days.
There aren't any bonuses or special offers, these were banned in the UK or EU a few years ago, and BUX Markets is not allowed to offer trading incentives to its customers.
However, there is an Affiliate and an Introducing Broker programs, but these are totally separate activities of the company and do not affect the trading conditions in any way.
HOW DOES THE SCAM WORK
A group of scammers usually operates many different scam brokers, scam websites and call centers. Sometimes they will simply rely on the quantity, they will publish tens or hundreds of websites and will just wait for traders and investors with little or no experience to bite. Nowadays, it's very cheap to create one, and it looks like a profitable strategy, as they carry on doing it.
Scammers introduce financial or investment opportunities which are often too good to be true. Lucrative returns with low or no risk at all, groundbreaking trading conditions, trading robots and bots that always execute the winning trades, the scammers will promise you the moon and the stars only to gain your trust.
Once in their hands, they will start the exploitation. Sooner or later you will be asked to make a deposit and they will constantly push you to do so. Remember, the scammers are very experienced manipulators and the only real weapon that you have is the knowledge. Stay tuned-in, know your rights, do not recklessly give out your personal information, never submit your bank card details if you are not sure, keep your money safe and choose legit brokers which are transparent and easy to identify.
WHAT TO DO WHEN SCAMMED
No one is immune to scam, anyone can fall into the trap. Scammers are constantly looking for new and different ways to scam consumers. What you need to do first, in case you got scammed, is to protect yourself from further risks. Contact your bank and explain to them your situation, they will give you important instructions to follow and will help you, if possible, recover your money.
Report what happened to you, file a complaint, contact the financial regulator, contact other government institutions dealing with trading and investing. Seek help actively!
Share online your experience, it is important to protect others, as well. Be responsible!