Beware! Investizo is an offshore broker! Your investment may be at risk.
RECOMMENDED FOREX BROKERS
Don't put all your eggs in one basket. Open trading accounts with at least two brokers.
Investizo can be viewed as an attempt to simplify the forex experience while also doing it in style. Yet, there are hints, that we have become experts in detecting, that tell a different story from the one that the broker aims to tell its users. What is this story? Well you just have to read the review to find out.
To open an account, one must enter only a user name and a password. However, after that, as it turned out, all must present the broker with identifications of some sort. Yet, we were still able to roam free, and were not blocked in anyway.
In any case, the trading terminal there gave us the opportunity to open a live account. However, the EUR/USD cost of trade was 3.2 pips, which is in no way a helpful spread. In fact, only brokers can profit from high spreads, such as this one. The leverage was capped at 1:1000. This is a very dangerous leverage as it makes it possible for a user to lose all of her funds in single move. However, she may also profit big from this leverage if her cards are played right. Please be careful when dealing with big leverages. Users are given the following trading instruments: forex pairs, spot metals, spot energy, shares, crypto, energies, and indices.
Investizo is accessed in English, Malay, Arabic, Russian, and Vietnamese.
INVESTIZO REGULATION AND SAFETY OF FUNDS
The company claims to be working under the laws of Saint Vincent and the Grenadines.
This Caribbean nation has achieved the rank of the ultimate offshore FX brokerage destination, because it attracts some of the most fraudulent brokers out there. This is dues to the fact that it is very easy to incorporate a firm there, but also because there is no forex licensing body. Thus, brokers who are located there have no FX licenses.
The mention that the company works under the laws of Saint Vincent and the Grenadines is the only mention of where and how the company is supposedly regulated. Thus, considering what was covered here, the only reasonable conclusion here is to label this firm as UNREGULATED, and a risk to all investments!
Traders should be trading with risk-free brokers, that hold licensed from renowned and austere agencies, like the FCA or CySec , which have made a name for themselves as some of the top regulators. Readers should be aware that both agencies have adapted very strict rules of conduct, and their licensing framework guarantees safety and security for all clientele. A good example of this is the segregation of accounts which assures that client money and broker money are kept in separate accounts. Furthermore, FCA/CySEC brokers participate in a financial reimbursement scheme that cover traders losses in case the broker becomes insolvent. The FCA provides up to 85 000 pounds per person, while CySEC guarantees up to 20 000 euros.
INVESTIZO TRADING SOFTWARE
We confirm the presence  of the MT4.
The MT4 is always a boost in the right and only direction. This timeless trading software will forever be used, for it possess both qualities that are convenient and useful. The MT4 is the most utilised trading terminal in the industry, and as such cannot even be bested by its predecessor the MT5, arguably the better version of the software.
Real ECN accounts have a $5 commission attached to spreads. However, nowhere does it say what type of spread commission this is. It is per side or round turn?
The company may start closing down open trading positions without notifying the user, if said client's margin level is less than 100%.
INVESTIZO DEPOSIT/WITHDRAW METHODS AND FEES
The minimum deposit is €85, and the payment gateways are credit card, wire transfer, litecoin, bitcoin, perfect money.
Withdrawal requests are processed within 24 hours. There are no withdrawal fees according to the Deposit and Withdrawal Policy. For some reason, when we went to the withdrawal section in the user area, it turned out that user must meet the bonus T/C requirements, even without accpeting a bonus. It seems that this is the default, because we found no way of changing it.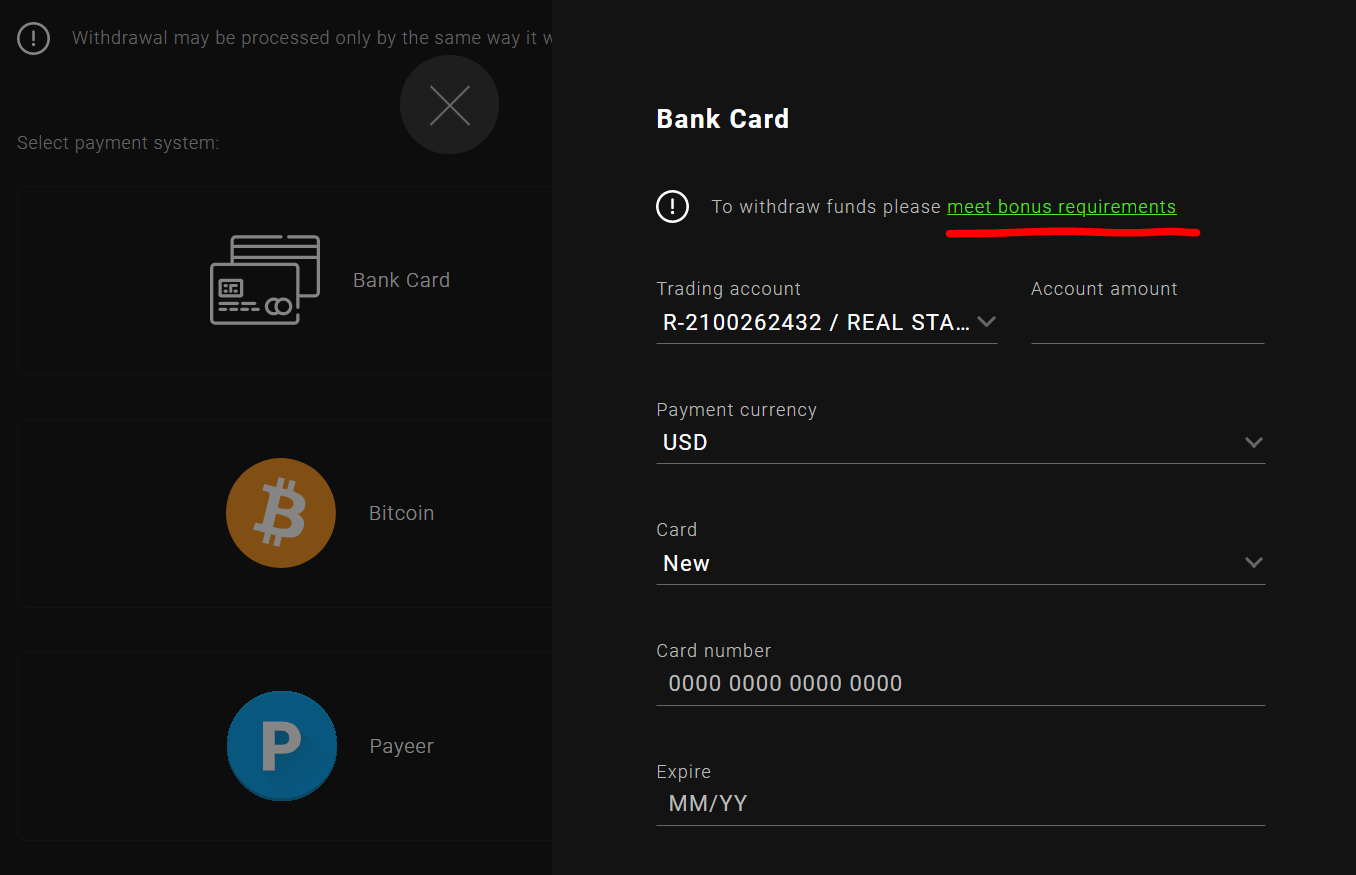 Even though bonuses can be activates, our advice is not to do so. The main reason for this is because in order to withdraw a bonus amount, clients must first complete a trading volume requirement, that has not even been revealed.
Please note that a very common clause found with unregulated brokers is to be found at Investizo as well. The following stipulation absolves the broker out of any liability.
Investizo truly is a peculiar broker, but in no way is it unique. Yes, there are no scammer clauses in the Terms and Conditions that usually flood this section of the review, but this is in no way a reason to let your guard down. Even with a solid legal documents base, one must remember that Investizo does not posses a license that allows it to lawfully engage in the offering of FX trading services. And this should be the only reason why your investment is not safe. However, we do see some potential here, and if it were not for the lack of regulation, we would probably give this brokerage a decent score. Even the client dashboard reveals that there are actual traders in Investizo, as seen in the Investments tab, where we can view a detailed list of active traders. There might be a slight chance that this is bogus, yet we think the opposite.
Only time will tell, for Saint Vincent and the Grenadines has claimed in the recent past that it expects to reform its entire regulatory approach, and potentially bring a FX licensing procedure of some sort.
How does the scam work?
Users will be in the middle of a scam without even knowing it, that's how efficient these scams are. Yet, clients will also be surprised that the most utilized scammer structure is laughably easy to grasp, making it predictable. We have dedicated the following section to the reveal of how the scam works.
The internet is filled with ads, it's the fuel of the industry, and a big chunk of said advertisements are misleading and some are downright deceitful. The ads concerned with unregulated forex brokers are often very promising, and most of the times utilize completely false claims of immediate profit. Those tempted enough will be redirected to a robo-scam website that further guarantees profits. The only thing that separates the user from the unrealistic promises is a fast registration process that requires a phone number and an email address. After inputting this info unsuspecting users will start getting phone calls from illicit broker representatives, whose one and only job is to initialize the scheme by pushing a trader to make that first deposit of around $250. After that's done, the senior representatives will be calling. These expert scammers are extremely good talkers, and will start working on you to start putting even more money in. They say that the more money invested, the higher the profit will be. At this point most traders start seeing the big picture, and will want to withdrawal their money and get out fast.
However, the scammers have anticipated this development, and are ready to counter any withdrawal request. Typically they find excuses for delaying the request in the legal documents that hold specific clauses for these purposes. The reasons are many. One thing to remember is that all illicit brokerage firms will deny the withdrawal request for as long as they can, because of the imposed time limit traders have for filling a chargeback. Once the crucial due date is not met, any chargeback requests will be denied.
What to do if scammed?
Those of you who deposited using VISA and MasterCard will be glad to know that both companies have extended their chargeback time span to 540 days, especially if the reason for it is an online scam.
Scammers will steal directly from a bank account, if the traders has provided crucial details, like banking password or security code. If it get down to this, be sure to either block the account or change the password.
Sometime victimized users will stumble upon the so called recovery agents that promises to magically reclaim all lost investments, for a fee that is. Needless to say, they will not get back any of the lost funds, and will basically scam you a second time.
Rich Snippet Data
Reviewer
Review Date
Reviewed Broker
Broker Rating