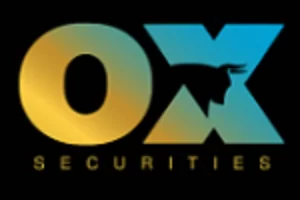 RECOMMENDED FOREX BROKERS
Don't put all your eggs in one basket. Open trading accounts with at least two brokers.
Ox Securities is an Australian based broker that offers trading in Forex, Indices, Commodities, Stocks & Cryptocurrencies. They advertise three types of accounts – Standard, Pro and Swap Free. The latter is targeted at traders who use trading systems without adjustment to swaps or for the customers who are not allowed to receive swaps owing to their religious beliefs. For this reason they are also called "Islamic accounts."

Registration for an account with them required the usual personal information – names, address, phone number, email address, as well as selecting account currency from 6 options (USD, EUR, CAD, SGD, GBP and HKD) and Leverage (from 1:1 to 1:400). Unlike many shady websites, the process was conducted in a professional manner – we received an email that required us to confirm the registration by clicking a link.
Ox Securities REGULATION AND SAFETY OF FUNDS
Ox Securities holds a Financial Services License by Australian Securities and Investments Commission (ASIC), and as such has to abide by the regulations and uphold the high standards set by this organization.
ASIC has a number of rules and guidelines in place to guarantee the broker's stability and a high level of service for their customers. Among these are minimum capital requirements of AUD 1 million, segregated client accounts and certain internal procedures, such as risk management, staff training, accounting and audits.
Unlike its counterparts in the UK, EU and the US it does not put a cap on leverage, does not impose negative balance protection and there are no compensation schemes to guarantee traders' funds. For example, the Financial Conduct Authority (FCA) in the UK and the Cyprus Securities and Exchange Commission (CySEC) have compensation schemes that guarantee clients' funds up to 85,000 GBP in the UK and 20,000 EUR in the EU, respectively. Still, we must note that Ox Securities is a licensed and regulated entity and your funds are safe with them – they are held in segregated accounts with Westpac Bank of Australia, which is an established and recognized financial institution.
Ox Securities Trading Software
Ox Securities offers the MetaTrader4 (MT4) platform as a Desktop application for Windows, Mac and Linux operating systems, as well as Mobile apps (iOS and Android). MT4 is one of the leading trading platforms worldwide, preferred by more than 80% of users. It features an intuitive and user-friendly, fully customizable interface, as well as advanced charting and analysis tools, and one click trading.
MT4's successor, the MetaTrader5 (MT5), has certain advantages, but has still not gained as much popularity. It enables traders to execute trades on different financial markets (including exchange-traded stocks) through a single account and has more trading instruments and more indicators than the older version.
Ox Securities Trading Conditions
Ox Securities advertises spreads starting from 1 pip on the most traded EUR/USD currency pair for their Standard accounts, which is pretty much within the average in the industry. We downloaded the MT4 platform provided and opened a Demo Standard account – the spread we saw there was 1.1 pip so we can confirm the information on the broker's website is not misleading.
As we noted above, Australian brokers regulated by ASIC are not required to put a cap on the leverage they offer. Thus, the 1:400 maximum leverage Ox Securities offers is not out of line. Trading with leverage, especially that high, presents a lot of risks, however. While it can make big profits for the trader, it can also go the other way and then it can sustain significant losses for the traders. In the absence of negative balance protection, it may turn out that you owe much more money than what you started trading with.
Ox Securities Deposit/Withdrawal Methods And Fees
Ox Securities advertises a number of deposit methods with zero fees. Among these are credit cards (VISA and MasterCard) and Bank transfers. With the exception of the latter which takes 1-3 business days (standard for the industry), processing time for all the others is instant or up to 1 hour. Other popular methods, such as PayPal and preferred by traders e-wallets, eg. Skrill and Neteller are also available.
As required by regulations, one has to upload documents (government ID and proof of address) to verify his/her identity before depositing funds. Because of that, we did not proceed to confirm that all methods advertised are available in the trader's room. We have no reason to doubt these methods and fees, however. The fact that the broker follows these Know Your Customer (KYC) requirements is a sure sign that they are a legitimate entity. In contrast, scam brokers will accept your money without any proof of identity – if you notice this for any broker, stay away!
For withdrawals, we can assume the same payment options are available since regulations usually require that withdrawals be made to the same method used for deposit. Withdrawal fees are not specified but there are some unclear statements in the Terms and Conditions that might be raising some flags.

Such fees are more or less standard however. Before proceeding to invest with the broker one should inquire about the exact amounts or percentages of these fees. With Ox Securities we do not see the usual clauses scam brokers include. For example, there is no "inactivity" or "Dormant account" fees – shady brokerages often charge as much as 10% of your Account funds if you have not traded in as short a period as 1 month.
There are also no bonuses or incentives offered on the website. Such promotions are usually a clear sign of a scam – they are placed in a prominent place to lure unsuspecting traders to invest with the scammer. In the next paragraphs, we will describe how such fraud usually works, but we want to note again that we have no reason to believe Ox Securities is involved in such scam practices!
How does the scam work?
This section is dedicated to showing how the most common scams work. Usually they are pretty simple and straightforward. Through internet ads promising quick and easy profits from forex trading potential traders are induced to enter their personal information, such as email and phone number. Once the users input this information, they will start receiving unsolicited calls from illegitimate broker representative whose job is to persuade them to make the first deposit of about 300 USD, from which they make a fat commission. When this is done, the traders are transferred to senior scammers who are very good talkers and will start working on them to deposit even more money. At this time, if not earlier, most people will start suspecting some fraudulent activity and will want to withdraw their funds.
This however often proves impossible to do as the scammers put all their resources into convincing them that now is not the right time or that such action will lose them a lot of money in "potential profits". If the users persist, these con-artists will find a number of excuses, usually hidden in the clauses of the accepted agreements, to delay withdrawal requests for as long as possible. The end purpose is to miss the limited time period for filing a chargeback with their bank and thus lose any chance of getting their money back.
What to do when scammed?
If you have deposited with VISA or MasterCard there is still a chance to get you money back since recently both companies extended their chargeback period to 540 days, especially when an online scam is involved.
Scammers will not stop at stealing directly from your bank account if you have provided sufficient details, so if this is the case be sure to change your password or security code right away.
Also beware of being scammed again by so-called "recovery agents". They will ask you to pay a fee to recover your losses, but after paying them you will never hear from them again.