Beware! Tol Tech FX is an offshore broker! Your investment may be at risk.
RECOMMENDED FOREX BROKERS
Don't put all your eggs in one basket. Open trading accounts with at least two brokers.
There is not much you can say about a broker offering Forx trading. Yes, this is correct, they offer Forx, that should be the new hit on the market, something special that is going to change the world forever. Traders, brace yourselves, the new age is coming!
Well, the front page is a massive fail, they should have used a translator, the results would be much better if they did so. But it isn't the only failure, there are more to come, find out in the full Tol Tech FX review.
Tol Tech FX REGULATION AND SAFETY OF FUNDS
Tol Tech FX is an offshore broker, registered in St. Vincent and the Grenadines, their address is in the infamous Griffith Corporate Center in Kingstown, where hundreds of other controversial Forex brokers are headquartered, as well. This jurisdiction has transparency problems and is considered to be a tax haven, because of its attractive regimes. For example, the Forex brokers registered on the island are not supervised by SVGFSA, the financial regulator there. In fact, a simple IBC company incorporation is enough for an establishment of a brokerage company, there are no rules or requirements to be met. Such entities are risky, dodgy, unstable and should be avoided.
We were surprised to see Tol Tech FX trying to clone the Australian company Tooltech Pty Ltd, a very poor attempt, as a matter of fact. At the same time, on the footer page they claim to be owned and operated by NewTraders Holdings Ltd, a company linked with another controversial Forex broker called EU markets. Fail, and a big red flag for Tol Tech FX.
On the first picture you can see their Photoshop skills in action. Not impressed, a naked eye will expose the trickery, the name  TOLTECH is not in line with the other rows and columns!
On the second one, there is the results from the simple ABN check in the Australian Business Register.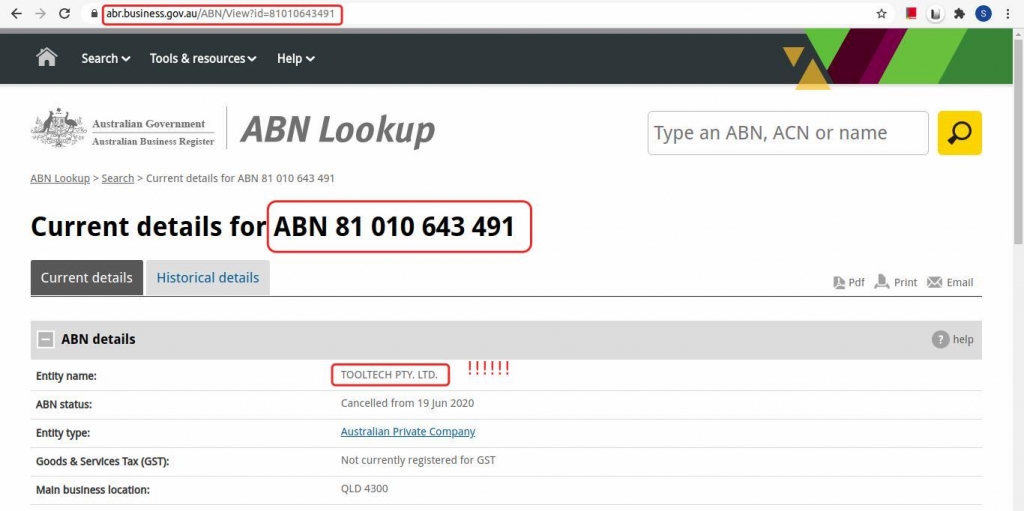 Your funds are not safe if you deposit money with Tol Tech FX, it is an unlicensed, unauthorized and unregulated Foex broker. Instead, choose a company which is legit, authorized and regulated, such an entity really makes the difference for the traders and investors. These Forex brokers place the customer protection on top of their priority list, not because they want to, but because they have to. In EU and UK, for example, the foreign exchange agents have to comply with many strict rules and regulations, such as minimum capital requirements of 730 000 EUR or more, personnel qualification standards, segregation of the clients accounts and more, all of which are placed for the benefit of the traders. There are also money protection schemes in operation, such as ICF in Cyprus and FSCS in UK, just to name a few, which guarantee the deposits of the clients. Under CySEC(Cyprus) supervision you can claim up to 20 000 EUR in compensation, while in UK under FCA you are guaranteed of even up to 85 000 GBP. Each EU member state is compelled to create and further operate such a fund, which is regarded as a last resort for the traders, in case a Forex broker faces difficulties to meet its financial obligations.
Tol Tech FX TRADING SOFTWARE
Tol Tech FX offers MT4 accounts to its clients, as well as a web trading platform. The Android and iOS apps that are being advertised on their website are non-existent, we can mark a red flag, because they are deliberately misleading the customers. MT5 accounts are not offered.
Also some Client Desktop software is available, we downloaded it but refused to execute the exe. file due to security reasons.
No demo accounts available! We opened one on MT4 Desktop but it was not functioning, the balance was zero and no trades were possible. Their web-based trading platform, which is actually a very primitive piece of software, also does not allow demo trading! Another red flag and food for thought, you should never trust brokers that cannot provide training accounts!
The spread on the platform was at 0.2 pips, at times as low as 0.1. On their Account Types page, however, the spreads given vary from 0.2 to 1 pips, as the lowest one is applicable only if you invest 100 000 USD or more. The leverage can be as high as 1:500. The Stop Out level is set at 10% which means that you can lose more than 90% of your funds in a single bad trade executed. Under EU and UK regulation this level stays at 50% with leverage not higher than 1:30. The trading conditions of Tol Tech FX include higher levels of risk and we do not recommend using this service.
Tol Tech FX DEPOSIT/WITHDRAW METHODS AND FEES
The minimum deposit is 100 USD. The funding methods listed are wire transfers, bank cards and OK PAY.
There is no minimum withdrawal specified, the funds are only transferred to the source for deposit, which is a common practice in the industry. The processing takes usually 2 to 5 days, but for credit/debit cards it could be 5 days or more to reflect on your actual balance. No withdrawal fees are specified.
The dormant account policy is as follows: an account is considered dormant after 12 or more months of inactivity and an annual fee of 25 USD is applicable. If the balance is less than 25 USD the account will be automatically closed.
There are some bonuses available, but nothing specified, these are subject to separate T&Cs, which were not found.
Tol Tech FX offers an affiliate and introducing broker programs, but the details are scarce, it is only advertised that if you bring more customers you will be able to receive a commission, depending on the trading volumes of the clients referred.
There is one great problem, however, Tol Tech FX allows indebted accounts, meaning that you can lose much more than you have invested, you have to run away from this broker!
HOW DOES THE SCAM WORK
A group of scammers usually operates many different scam brokers, scam websites and call centers. Sometimes they will simply rely on the quantity, they will publish tens or hundreds of websites and will just wait for traders and investors with little or no experience to bite. Nowadays, it's very cheap to create one, and it looks like a profitable strategy, as they carry on doing it.
The scammers will register an IBC in an offshore zone where there is little or no regulation and the requirements are not as strict. Such a company will usually cost no more than a few hundred bucks to a thousand and they are ready to go on the very next day, the Forex broker is established! Being unregulated means that they can disappear at any moment, impose unbearable trading conditions or refuse withdrawal. When it all becomes clear, they will simply shut down the website and create a new one with a different name, leaving the traders with losses that will most probably not be recovered fully. But the scammers are still the same! Remember, you are vulnerable if you deposit with an offshore Forex broker!
The only way you can protect yourself from scam is to do a thorough research, get familiar with the trading conditions offered by the brokers, read their Client Agreements, use demo accounts, read reviews, be alert. With charlatans adapting their tactics daily, you'd better be always up to date with the newest scammers' tactics!
WHAT TO DO WHEN SCAMMED
No one is immune to scam, anyone can fall into the trap. Scammers are constantly looking for new and different ways to scam consumers. What you need to do first, in case you got scammed, is to protect yourself from further risks. Contact your bank and explain to them your situation, they will give you important instructions to follow and will help you, if possible, recover your money.
Report what happened to you, file a complaint, contact the financial regulator, contact other government institutions related to trading and investing. Seek help actively!
Share online your experience, it is important to protect others, as well. Be responsible!
Stay away from Tol Tech FX, they are lying to the public!
Rich Snippet Data
Reviewer
Review Date
Reviewed Broker
Broker Rating