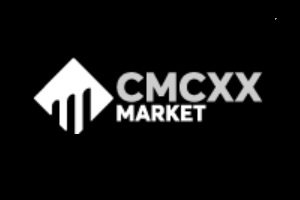 Beware! CMCXXmarket is an offshore broker! Your investment may be at risk.
RECOMMENDED FOREX BROKERS
Don't put all your eggs in one basket. Open trading accounts with at least two brokers.
Even if at first glance everything CMCXXmarket has to offer may seem legitimate, you shouldn't be fooled and should check carefully the legal, financial and trading information on their website.
According to the company's website, this brokerage trades in forex, stocks and commodities and offers 3 types of accounts – Micro, Standard and Pro in addition to a demo account. Registration is almost instant and you are ready to start trading.
CMCXXmarket Regulation and safety of funds
We searched the company's website but nowhere could we find information about its address or registration, except for a phone number in UK. Now tell us, would it be possible for a company that claims on its website to have 20 international awards not to have address or registration displayed somewhere on its page? What else could we think but that this company is a scam?
Forex company's registration and regulation are the first things you should check to make sure that the company you are planning to trade with is legitimate and regulated. Only then will you have a peace of mind that if the brokerage goes bankrupt, the safety of your funds will be guaranteed. How do you do that? You look into forex brokerages that are registered and regulated in one of the well-established jurisdictions, such as EU, UK, US or Australia . The forex trading companies registered in EU and UK, for example, must have an initial capital of 730,000 EUR and participate in compensation funds covering up to 20,000 EUR per client if regulated by CySEC or 85,000 GBP per client if regulated by FCA. Do you think scammers will apply themselves to meet such rigid requirements just to be regulated? That's why you should avoid at all cost dodgy forex companies without proper registration and regulation.
CMCXXmarket Trading platform
As its trading platform, this brokerage offers MetaTrader 4 platform in its different versions – mobile, web and desktop. First, we tried to open the demo account to practice without risking any funds, but unfortunately the link was broken and the system took us directly to the live account.
Next, we went to the live account which took us to the web trader. As you can see from the screenshot below, the interface shows the forex pairs on the lefthand side and in the middle of the screen you can see the fluctuation within a certain timeframe which can be set in minutes, hours, days, etc. We can see the fluctuation in the EUR/USD pair where the spread is 0.2 pips and the required margin is 5 EUR for 1,000 trading volume. As per this, the leverage is set to 1:200 which carries the risk of losing a lot of money if the deal fails through. In the well-established and regulated zones for forex trade, there is a cap on leverage which aims to limit the risks of trading recklessly. In Europe, the leverage limit is 1:30 and in the USA, it is 1:50. Compare this to the leverage on this platform and consider the risks you'll be undertaking if you choose to trade via it.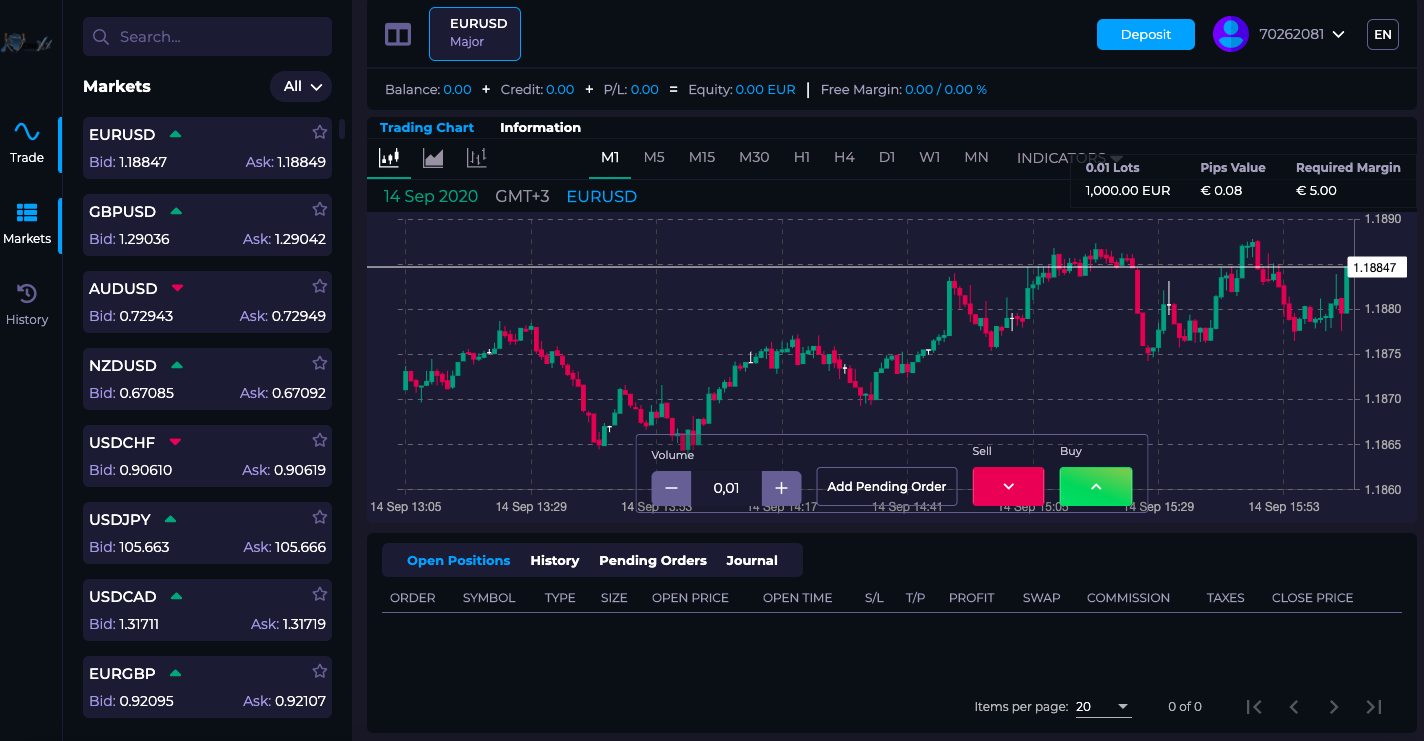 If you look at the Web Trader on the screenshot above, you will notice that it is simplistic and easy to use. However, this platform offers a rather limited number of tools and instruments for forex trade. In comparison, MetaTrader 4 is much better developed and offers more trading tools and instruments. You can compare, for example, the numbers of indicators on the Web Trader which are only 3 with over 30 built-in indicators on MetaTrader 4. In addition to that, MetaTrader 4 offers a financial calendar, auto trading option, an app market, trading signals (for a subscription fee), VPS, code base with customs scripts, etc. No wonder it is one of the top trading platforms used by brokers.
CMCXXmarket Deposit/Withdrawal and fees
The minimum initial deposit is $250 for the Micro account. To fund their account, clients can use Bitcoin, Visa or MasterCard, wire transfer and OK Pay.
If you manage to read all of the tedious Terms and Conditions document, which you should, you will find the regulation of the withdrawal methods rather alarming. For example, if clients request a withdrawal, they will be charged 50 USD/GBP/EUR for a wire transfer or 25 USD/GBP/EUR for credit cards plus a processing fee of 10 USD or its equivalent in GBP or EUR . Also, for ePayments, clients will be charged 25 USD/GBP/EUR. The company also imposes a minimum withdrawal amount of 250 USD/GBP/EUR for wire transfers and 100 USD/GBP/EUR for other methods. And that excludes the transaction fee! If you still think that it is OK to deposit your funds and trade with this company, good luck to you!
Dormant accounts which have not been used for 3 months are subject to deduction of 10% each month.
If you have looked on the screenshot where the account types are shown, you must have noticed that each account may receive a welcome bonus. You need to be aware of the non-deposited funds as they are subject to special rules. For example, the client is not allowed to withdraw these non-deposited funds/bonuses. Only after you execute a trading volume of 30 times the deposit amount plus the bonus issued you will be allowed to withdraw those funds. We leave you to do the maths and to find what a daunting undertaking that will be. However, you should know that you may choose an option not to receive a bonus which will for sure reduce your stress levels.
How does scam work?
Scammers prey on people without previous experience who naively deposit money when they see an attractive ad on the Internet or the social media, promising them a quick and easy profit. It is tempting, so many people may fall into the trap. In forex trade, the risks of scam are even bigger.
Once you deposit your money into the scammers' schemes, it is very difficult to get out. The scammers will start to call you on a daily basis. First, they will congratulate you, then they will paint an attractive picture in your mind about how rich you will become shortly and how your life will change for the better as you become richer. Lulled by their promises, at first, you wait patiently for the big money fall. However, as the time goes by you start to lose patience and now it is you calling the scammers. At first, they give you vague answers to your questions and try to placate you to be more patient. Sooner or later, this strategy stops working and the scammers start running out of excuses. When you insist on getting your money back, the scammers will use false demands by asking you to fill forms or provide documents. Their aim is to make you miss the file period for your chargeback.
What to do if scammed?
You should immediately apply for chargeback which is a retroactive cancellation and refund of your deposit. However, yo can do that only you have initially used Visa or MasterCard because they allow for 540 days timeframe in which you can file for chargeback.
If you have paid using bitcoin or bank wire, then it might not be possible to get your money back. In such cases, there are a lot of website where the co-called recovery agents offer their services. If you choose to get one, you need to be extra careful as some of those recovery agents are nothing else but scammers and if you trust them you may yet lose more money.
Another thing that you can do is cancel your credit/debit card in case you gave the scammers your CVV code.
We also advise you to erase any software on your PC that gives scammers access to your computer and personal information.
Rich Snippet Data
Reviewer
Review Date
Reviewed Broker
Broker Rating