Beware! Cooper Markets is an offshore broker! Your investment may be at risk.
RECOMMENDED FOREX BROKERS
Don't put all your eggs in one basket. Open trading accounts with at least two brokers.
Cooper Markets is an offshore broker advertising trading in forex and precious metals. They offer four account types differing by the amount of the initial deposit required, as well as the spreads and leverage associated with each.
Registering with the broker entailed supplying personal information – names, email address and ID / Passport number – and agreeing with the Terms of service. After successful registration an email was sent that included the username and password, as well as some security password, in plain form, which is against all privacy and security guidelines.
The client area did not look very professional and when we tried to open a trading account, we were asked to upload documents. Respected brokers usually have a Demo option to show the trader the account options and trading conditions, but there was no such thing here. Since we did not feel safe uploading personal documents on this broker's website, we continued with the investigation based on information provided on the website.
Cooper Markets regulation & safety of funds
Cooper Markets, or CP Markets, is registered in the Saint Vincent and the Grenadines (SVG). This Caribbean island is a well-known offshore zone, notorious for scam brokerages, and does not regulated Forex trading. In the footer we read that CP Markets is licensed with Czech National Bank (CNB, id: 03441067). We checked the CNB register, but were only able to find the broker when the "Search for entities with withdrawn authorization:" checkbox was checked. The reason to finish of competent action quoted there was "Rules law-breaking".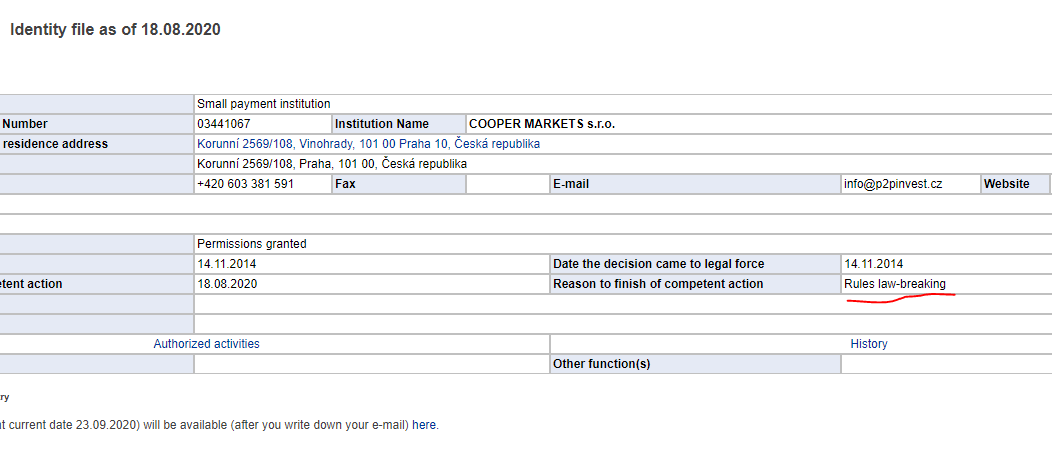 Another empty claim we found was that the brokerage is registered with US's National Futures Association (NFA, id: 0523055), although just a couple paragraphs down they make a note that "CP Markets does not service US entities or residents of any kind." Of course, this can be easily checked and as expected, CP Markets turned out to be "Not an NFA Member."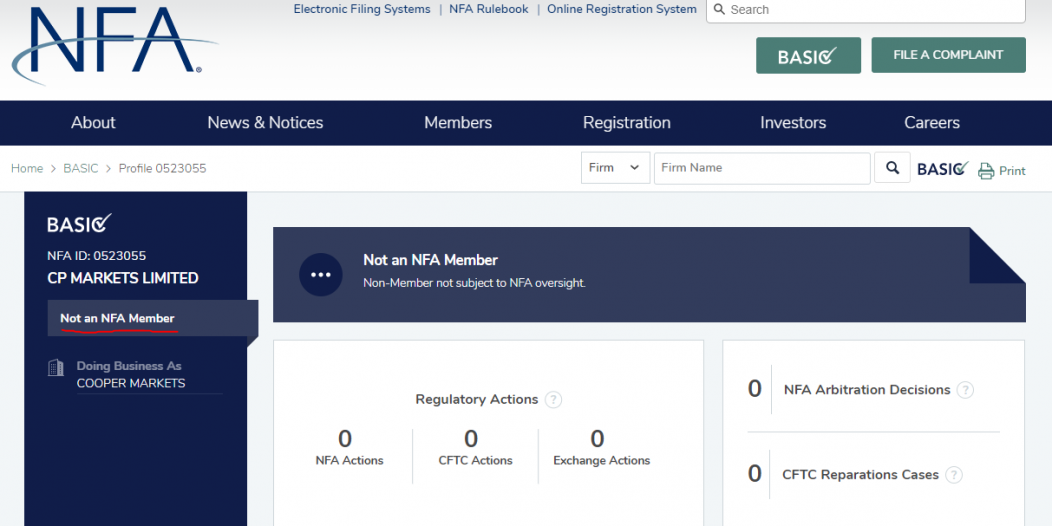 There are several statement regarding strict regulations and "the safety and security of all our clients and investors' funds" on the broker's website. As we determined above, however, this is not true – Cooper Markets does not have a current license with any authorization agency.
Recognized regulation authorities, such as Financial Conduct Authority (FCA) in the UK and the Cyprus Securities and Exchange Commission (CySEC) impose strict rules on the brokers they license. Among these are Negative Balance Protection, Client Account Segregation, Minimum Capital Requirements and Compensation Schemes. In the offshore zones, however, these rules do not apply and there is no supervision over companies engaging in Forex trading.
Cooper Markets Trading Software
Cooper Markets offers the MetaTrader4 (MT4) trading platform as a Desktop and Mobile (iOS and Android) applications. MT4 is considered to be the leading platform worldwide, preferred by more than 80% of users. It features an intuitive, user-friendly interface, advanced charting and analysis tools, as well as copy- and auto-trading options. It can be further customized to create different trading strategies using its proprietary MQL4 programming language.
We downloaded and installed the MT4 platform, and were able to open a Demo account.
Cooper Markets Trading Conditions
In the MT4 platform we could see a 1.5 pip spread for the EUR/USD currency pair. This is also what the broker advertises on their website, whereas for the different accounts the different accounts the EUR/USD spread varies from 0.8 to 2.2 pips.
Although not as high as most scam brokers, we should note that most established and regulated brokers offer lower spreads – about 1 pip for this most traded currency pair. Generally, the lower the spread the higher the chances for a trader to make profits.
Cooper Markets also advertises a leverage of up to 1:500. Such leverage entails significant risks, especially to inexperienced traders. Although it allows for making bigger profits, one may incur great losses too. Such losses can often be much greater than the invested funds, especially when the broker does not have to comply with regulatory rules of Negative Balance Protection. That is why, recognized watchdog agencies impose leverage caps for non-professional traders: in the USA it is 1:50, while for brokers licensed by CySEC in the EU or FCA in the UK it is 1:30.
Cooper Markets Deposit/Withdrawal Methods And Fees
Cooper Markets offers a wide range for deposit/withdrawal options, including a number of E-wallets – Perfect Money, Fasapay, Skrill and Neteller, Direct Debit for certain countries in southeast Asia, Wire transfer and cryptocurrencies. The absence of credit cards or PayPal, however, raises a huge red flag, since they are the only transactions where you can file for a chargeback in case of fraud and regulated brokers always support at least one of them. Cryptocurrencies, such as Bitcoin, on the other hand are completely anonymous and untraceable, which makes it a preferred method of scam brokers.
The minimum deposit for the Standard account is $100; for the ECN account, however, it is $3,000, which is quite high. Respected brokers rarely have minimum deposit requirements of more than $50 to $100.
Although in the Deposit and Withdrawal page is stated that there is No Commission on any payment method and the processing time is Instant or within 24 hours, in the broker's legal documents we see that there can be other costs relating to trading. These fees are not defined, and we could not find the "Terms of Business" which supposedly discloses them.
The minimum withdrawal amount is $100, which is not very high, but such minimum is rarely employed. The processing time for a withdrawal request takes 72 hours, although on the website they claim it is 24 hours, which is the time most regulated brokers need to execute such requests.
The broker has an extensive reward program with various prizes that can be redeemed by earning points for lots traded. Brokerages which are licensed by top watchdog agencies in Europe or the US do not offer bonuses or promotions as they are prohibited. Such unsavoury practices are designed to lure unsuspecting investors and again clearly show that this broker is not regulated, which is why we recommend to our readers to steer clear from such offers and not risk trading with Cooper Markets.
How does the scam work?
The usual scam operates on a multi-level, though very basic model. The users will be tempted to click on an Internet ad promising quick and easy profits. If they do, it will take them to a website that will ask for their personal details, including email address and phone number. Once they submit this information, an avalanche of emails and phone calls will be unleashed. Scammers will promise the world to these potential traders in order to induce them to make an initial deposit between $200 and $300.
These "brokers" will get a fat commission from the deposited sums and will transfer the unsuspecting users to "senior" scammers. The latter are smooth talkers who will try to persuade users to invest more funds, using phrases like "now is the right time" and "the moment is perfect for making hefty profits". Of course, these are empty words, and traders will soon have doubts whether they have not been played.
When they try to withdraw their money, these doubts will be confirmed: the con-artists will do anything to deny or at least delay their withdrawals. From trying to convince the traders that they are making a big mistake to withdraw funds now because they will lose big profits, to asking for additional documents or citing clauses in the accepted agreements, to transferring you to another department, there is a single objective to delay the users from filing for a chargeback with their financial institution and lose any chances of recovering their money.
What to do when scammed?
Anyone can fall prey to such a scam. In the unfortunate event this happens to you, there are a few things you can do. If you deposited using a credit card you should immediately file for a chargeback. In an effort to combat online fraud VISA and MasterCard have extended the period in which one can file a chargeback to a year and a half, so there is a big chance that you may be able to recover your funds. If however, you used a bank wire or bitcoin to deposit, chances to get your money back are almost none.
We should also warn against "recovery agencies" who prey on victimized traders by claiming they can recover their funds. These scammers will ask you to pay a fee for this service, but will only take your money and do nothing.