Beware! NabConsulting is an offshore broker! Your investment may be at risk.
RECOMMENDED FOREX BROKERS
Don't put all your eggs in one basket. Open trading accounts with at least two brokers.
Warning! NabConsulting is a shady Forex broker which is trying to defraud the traders. We discovered information discrepancies related to their legitimacy, trading conditions, payment methods, trading platforms and so on. It's a truly dishonest broker, which is constantly misleading its customers in one way or another. Find out 5 of the things that you urgently need to know about this Forex broker in the full NabConsulting review.
NabConsulting REGULATION AND SAFETY OF FUNDS
NabConsulting is an anonymous Forex broker, which is deceiving its customers and the public, as a whole. The people operating this entity are deliberately trying to remain hidden and that fact immediately raised our suspicion. You can find an Estonian contact number, a claim that NabConsulting is BaFin regulated Forex broker and also the very perplexing statement that "P.C.I is owned by NAB Europe Limited". There is, in fact, such a company that is being regulated by FCA in UK, but it has nothing to do with NabConsulting. We suspect it might be a cloning attempt, but many more proofs coming from third party sources will be needed to affirm such a statement.
In their Terms of Service, however, it is said that NabConsulting is owned and operated by an SVG company, claiming to be purely educational in nature! A scam sign and a red flag to note!
Nevertheless, their statement doesn't actually prove that such a company is in existence. SVG is an offshore zone, famous for its confidentiality and the Forex brokers based there do not fall under any supervision. The FX activities will remain unregulated in the foreseeable future which was explicitly announced by SVGFSA, the financial regulator in St. Vincent and the Grenadines.
Your funds are not safe if you make a deposit with NabConsulting, it is an unlicensed, unauthorized and unregulated offshore Forex broker misleading the customers, which is most probably a scam and should be avoided!
Your broker should be legit, transparent and preferably regulated in EU or UK, as these jurisdiction provide the safest environment for your funds. ESMA, the European Securities and Markets Authority imposed a number of customer protection measures, designed to work for the benefit of the traders. A fine example is the negative balance protection rule that the Forex brokers are bound to keep, meaning that the investors cannot lose more than the sum deposited. In case the balance goes negative, the broker has to bring it back to zero as soon as possible, at no cost!
But most importantly, money protection funds were inaugurated, such as ICF in Cyprus and FSCS in UK, which are put in place to guarantee the deposits made by the clients. Under CySEC(Cyprus) supervision you can claim up to 20 000 EUR in compensation, while in UK under FCA you are guaranteed of even up to 85 000 GBP. Each EU member state is compelled to create and further operate similar insurance funds, which are seen to be the last resort for the traders, in case a Forex broker faces difficulties to meet its financial obligations.
NabConsulting TRADING SOFTWARE
NabConsulting offers Metatrader4 accounts to its customers, Metatrader5 is not available as a trading software. In fact, NabConsulting claims to provide the customers with 16 different trading platforms but this is a big fat lie!
The EUR/USD spread is usually 2 pips, but the leverage is a totally different matter. On their "About us" page they claim to offer a level of up to 1:150.
On their "Trading Conditions" page they claim to offer a leverage level of up to 1:200.
In reality, however, the leverage level can be as high as 1:500! Another scam sign which undoubtedly shows that something fishy is going on there!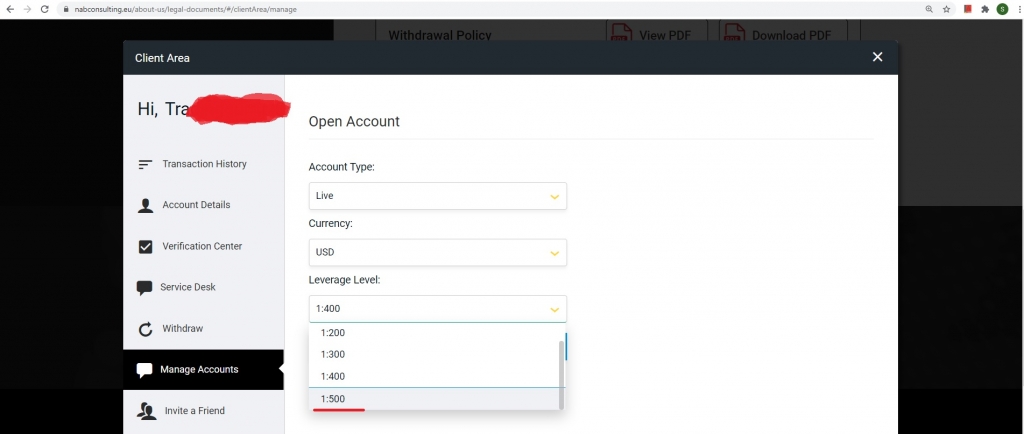 NabConsulting shows too much evidence of scam and should be avoided!
NabConsulting DEPOSIT/WITHDRAW METHODS AND FEES
The minimum initial deposit with NabConsulting is 250 USD. The funding methods are said to be Credit/Debit cards, wire transfers and Skrill, but it isn't true in reality. When you go for a deposit you will see two different options, which are misleading because these redirects to two separate online wallets, which is another scam sign, one would easily lost the count of the red flags!
If you click on the wire transfers you will be redirected to the Praxis Cashier, an online wallet widely used by casinos and shady Forex brokers, some been proven as a scam.
If you click on Credit and Debit cards you will be redirected to the Estonian cryptocurrency wallet AllGlobalPay!
There is no minimum withdrawal amount required, and there aren't any withdrawal fees specified. In fact, the deposit/withdrawal policy in their Terms and Conditions is totally irrelevant to the real funding methods, as they do specify at length about the wire transfers, while this payment method is not actually available! Another red flag to note and the next scam sign that we encountered!
An account becomes dormant after three months of inactivity and the fee of 25 USD is going to apply. However, after 12 months of inactivity the fee rise to 100 USD but remains unclarified whether it's charged monthly or just once.
Bonuses are said to be available, but the information is scarce, as understood NabConsulting might give out a bonus upon its own discretion. No partnership programs such as an Affiliate or Introducing Broker are available at the moment.
NabConsulting allows an indebted account, which is yet another proof that this Forex broker has nothing to do with BaFin regulation!
HOW DOES THE SCAM WORK
Fraudsters are working in the social media nowadays, an increasing number of scammers will first introduce their "services" to the people in Facebook or Instagram. You will click on a page, they will contact you, probably offer you a demo account and after some time you will be invited to register so as to be able to invest and "make guaranteed profits". Once you are signed-up they will ask you to deposit money and this is just the beginning. The end is always the same, a robbed-off investor who lost his hard-earned money.
There is no true protection against scam, but you will be safer if you do a thorough research, get familiar with the trading conditions offered by the brokers, read their Client Agreements, use demo accounts, read reviews, be alert. With charlatans adapting their tactics daily, you'd better be always up to date with the newest scammers' tactics!
WHAT TO DO WHEN SCAMMED
No one is immune to scam, anyone can fall into the trap. Scammers are constantly looking for new and different ways to scam consumers. What you need to do first, in case you got scammed, is to protect yourself from further risks. Contact your bank and explain to them your situation, they will give you important instructions to follow and will help you, if possible, recover your money.
Report what happened to you, file a complaint, contact the financial regulator, contact other government institutions related to trading and investing. Seek help actively!
Share online your experience, it is important to protect others, as well. Be responsible!