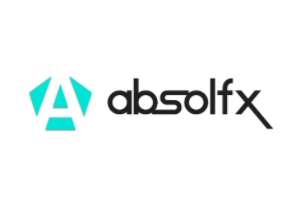 Beware! AbsolFX is an offshore broker! Your investment may be at risk.
RECOMMENDED FOREX BROKERS
Don't put all your eggs in one basket. Open trading accounts with at least two brokers.
With a superb looking website, our review of AbsolFX begins. Its polished interface and slick design gave us hope that AbsolFX might break the long lasting unregulated brokerage streak that has been the status quo for some time now. Our hopes soon started fading away at an accelerating rate, after some time wasted on the website. As more an more time was spent with AbsolFX, more and more things started popping up, that ultimately ruined the entire experience. Behind the façade of this firm, lays a completely different idea. Read the review for more.
The account creation screen was a quick and easy process that lead us to a user area that seemed pretty unique to us, following in the stylistic footsteps of the main website. However, it is with the trading software that we were confronted with the first major problem. As you will see later in the review, none of the trading conditions apply to the broker. We leave it at that, for now.
The website is made available in English, and no other language.
ABSOLFX REGULATION AND SAFETY OF FUNDS
AbsolFX does not possess any regulatory information anywhere on the website. There is no license, and nothing similar to put it in a safe and trusting place for users and traders.
The only thing we were able to find, was in the legal documents, where AbsolFX claims to be legitimized under the laws of the UK. This is completely useless information: a UK broker has to be licensed by the FCA in order to be proclaimed as an FX brokerage firm. Without this license, any company in the internet can be a self-proclaimed broker.
It is without a hint of doubt that we label this broker an UNLICENSED entity, therefore making it a risk to all invested capital.
Traders should be trading with risk-free brokers, that hold licensed from renowned and austere agencies, like the FCA or CySec , which have made a name for themselves as some of the top regulators. Readers should be aware that both agencies have adapted very strict rules of conduct, and their licensing framework guarantees safety and security for all clientele. A good example of this is the segregation of accounts which assures that client money and broker money are kept in separate accounts. Furthermore, FCA/CySEC brokers participate in a financial reimbursement scheme that cover traders losses in case the broker becomes insolvent. The FCA provides up to 85 000 pounds per person, while CySEC guarantees up to 20 000 euros.
ABSOLFX TRADING SOFTWARE
The biggest issue, and the only one that matter here, is that when we tried to download the MT5, we were given an install file that went under a completely different name that the one from the current broker. Instead of AbsolFX we got liquiditysoftsolutions. The exact same thing happened to us while reviewing TrintFX and LSS FX Markets. All three brokers advertise an MT5 terminal, and give us a platform owned by some other unknown entity- in their case, it's the liquiditysoftsolutions.
Interestingly enough, we were able to open the browser version of AbsolFX's MT5. However, the servers turned out to be under the liquiditysoftsolutions name.
In reality, when considering what we just discussed, AbsolFX does not offer a trading platform of its own. Users might log in on the MT5 webtrader, yet all the trading details there originate from a different server; in other words, users of AbsolFX will not be trading with the broker.
So, this broker has not included a trading platform, which bring the question- what kind of a broker is AbsolFX, if it does not have a trading office? The one thing that makes a broker what it is is missing here, and so AbsolFX is not even an FX broker. Instead, this is yeta another scam that preys on novice users who have some ccah to burn and are on the lookout for easy returns.
ABSOLFX DEPOSIT/WITHDRAW METHODS AND FEES
Skrill, Neteller, WebMoney, and Tether are the sole depositing methods. The minimum required deposit amount is $100.
We can access the depositing section without issue, however for withdrawals the user must verify her account first. This is also interpreted as a fraudster move. There is no info on fees. Withdrawal can take some 5 day to reach an account. However, none of the withdrawal info we found is worth anyone's trust, for the reason that we lost all semblance of trust for AbsolFX.
Be aware that the broker has the full right to change the legal documents, in terms of content, at any time it deems necessary and without notifying the user. This measn that users can be commissioned at random times for seemingly nothing.

In the Privacy Policy AbsolFX  wants to make sure that users understand that the content on its website is not guaranteed to be accurate, valid, complete, or timely. This basically reveals that the broker doe snot know what it it doing, and has a completely different thing in mind than the casual FX traders who wish to trade and maybe gain some profit. This is in typical scammer broker fashion.
Furthermore, the same paragraph contain an indemnification clause that absolves the broker of any guilt arisen from a users victimization.
We have said it in the past, and we will keep on saying it; unregulated brokers should never be entrusted with even the smallest of investments! They will take away all you have got, and never give it back. Even if AbsolFX looks rather opportunistic, it is still unlicensed. Do not deposit in it!
How does the scam work?
Users will be in the middle of a scam without even knowing it, that's how efficient these scams are. Yet, clients will also be surprised that the most utilized scammer structure is laughably easy to grasp, making it predictable. We have dedicated the following section to the reveal of how the scam works.
The internet is filled with ads, it's the fuel of the industry, and a big chunk of said advertisements are misleading and some are downright deceitful. The ads concerned with unregulated forex brokers are often very promising, and most of the times utilize completely false claims of immediate profit. Those tempted enough will be redirected to a robo-scam website that further guarantees profits. The only thing that separates the user from the unrealistic promises is a fast registration process that requires a phone number and an email address. After inputting this info unsuspecting users will start getting phone calls from illicit broker representatives, whose one and only job is to initialize the scheme by pushing a trader to make that first deposit of around $250. After that's done, the senior representatives will be calling. These expert scammers are extremely good talkers, and will start working on you to start putting even more money in. They say that the more money invested, the higher the profit will be. At this point most traders start seeing the big picture, and will want to withdrawal their money and get out fast.
However, the scammers have anticipated this development, and are ready to counter any withdrawal request. Typically they find excuses for delaying the request in the legal documents that hold specific clauses for these purposes. The reasons are many. One thing to remember is that all illicit brokerage firms will deny the withdrawal request for as long as they can, because of the imposed time limit traders have for filling a chargeback. Once the crucial due date is not met, any chargeback requests will be denied.
What to do if scammed?
Those of you who deposited using VISA and MasterCard will be glad to know that both companies have extended their chargeback time span to 540 days, especially if the reason for it is an online scam.
Scammers will steal directly from a bank account, if the traders has provided crucial details, like banking password or security code. If it get down to this, be sure to either block the account or change the password.
Sometime victimized users will stumble upon the so called recovery agents that promises to magically reclaim all lost investments, for a fee that is. Needless to say, they will not get back any of the lost funds, and will basically scam you a second time.
Rich Snippet Data
Reviewer
Review Date
Reviewed Broker
Broker Rating