Beware! Kumo Markets is an offshore broker! Your investment may be at risk.
RECOMMENDED FOREX BROKERS
Don't put all your eggs in one basket. Open trading accounts with at least two brokers.
Kumo Markets is a broker trading in forex, commodities, indices and cryptocurrencies. Whether it is safe to trade with this broker or not, we are about to find out by looking at some key features on the company's website.
Kumo Markets Regulation and safety of funds
Although the company claims to be registered with the Financial Services Authority in St. Vincent and the Grenadines (SVG), the readers should be informed that actually this financial authority has issued an official warning that they do not regulate forex brokers. This gives us a fair ground to think that this broker may be a scammer.
If you are a newbie and you are looking for a reliable forex broker, we want to recommend the brokers from the well-established jurisdictions, such as EU, UK and US, where brokers must meet really stringent requirements to be licensed. These requirements also serve as safety screens against scammers. For example, in EU and UK, brokers must have an initial capital of 730,000 EUR and in addition to that, they must contribute to compensation schemes from which clients could be compensated in case the broker declares bankruptcy. If the broker is regulated by CySEC, in this case the trader can be compensated up to 20,000 EUR and if regulated by FCA, then the trader can be compensated up to 85,000 GBP. In addition to that, brokers are obliged to report on a daily basis about their transactions in order to avoid shady deals and scams. As you can see, your money can't be in better hands and we strongly advise you to select a legit broker that offers such excellent conditions and provides you with a peace of mind for your hard-earned money.
Kumo Markets Trading software
As a trading platform, Kumo Markets offer the MetaTrader 4 to its clients. We must say that this is an excellent choice of  a trading platform and around 80% of the brokers around the world use this platform. It is no surprise that MT4 is number one choice despite its 'old' age (15 years since it's been launched) as it offers many trading tools and instruments that facilitate forex trade. For example, the platform offers an auto trading option, an app market, a financial calendar, VPS and code base with customs scripts. It also has trading signals that come for a subscription fee and has practically unlimited charting options that provide the trader with analysis indicators to predict the future direction of exchange rates and make profit, such as Fibonacci retracement, Bollinger Bands and moving averages.
In the screenshot below, you can see what the MetaTrader 4 for Kumo Markets look like. On the left, you have the menu for the currency pairs with their bid/ask price and beneath is the navigator for accounts, indicators, expert advisors and scripts. In the middle of the screen you see charts of currency pairs which number may vary according to the trader's needs. Here you see displayed 4 charts of 4 currency pairs. In the top left corner you see the EUR/USD currency pairs and its price fluctuation in a given time frame. From the bid/ask price, we can calculate that the spread is 2 pips which is just within normal limits. However, on the account types information, we noticed that the leverage is rather high and it can vary between 1:200 and 1:500 depending on the chosen account type. High leverage signifies either big win or big loss and given the fact that around 70% of traders lose in forex transactions, chances are the you'll make a loss rather than win. We want to warn you that trading when using a high leverage presents risks for losing your funds.
For your information, for licensed brokers in EU, there is a cap on leverage and it cannot exceed 1:30 and in US, it's 1:50. Offering low leverage is a way of preventing traders from taking high risks in transactions and a way of protecting their hard-earned funds. You will be well advised to select a broker that offers low leverage if you do not want to lose your money.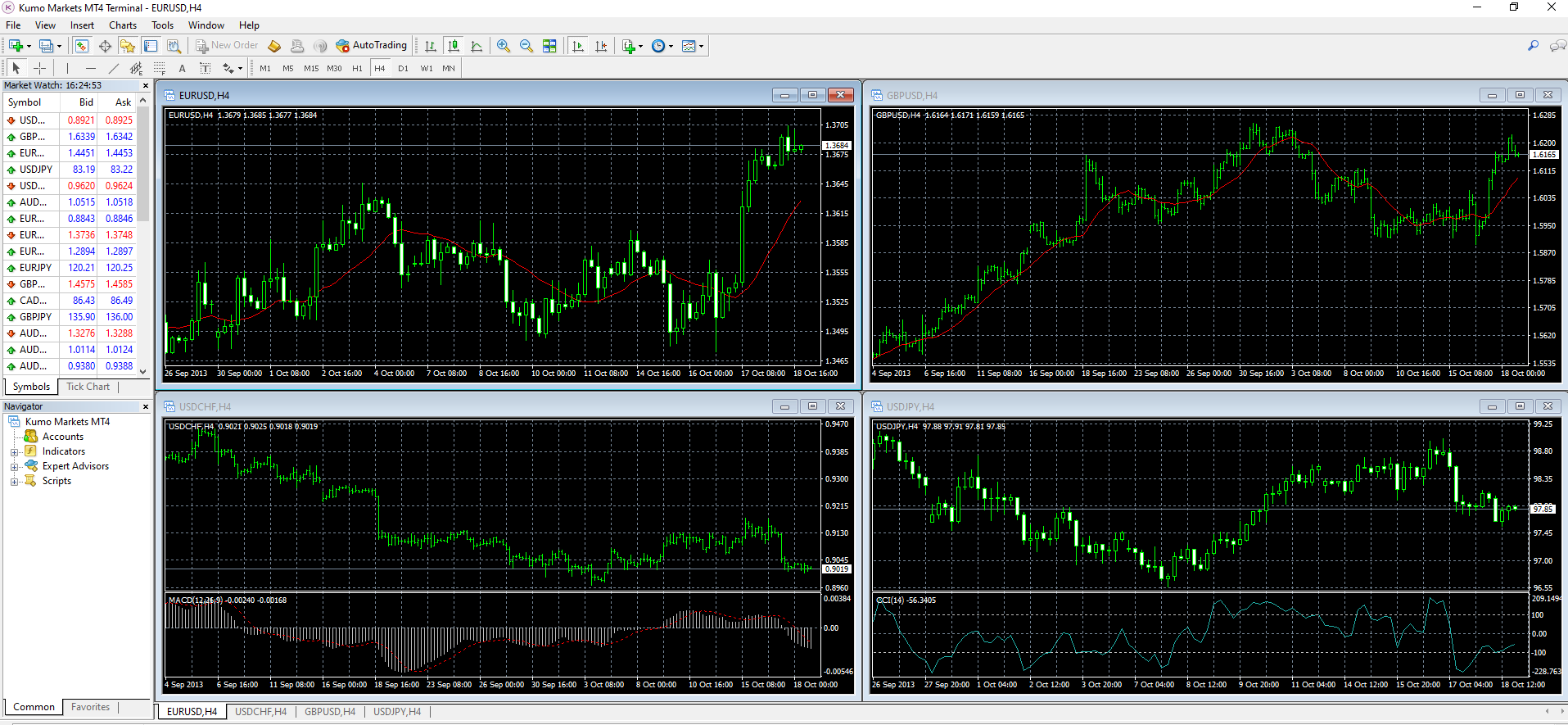 Kumo Markets Deposit/Withdrawal methods and fees
To its clients, Kumo Markets offers 4 different types of accounts (screenshot below) – Standard, ECN Advanced, ECN Pro and ECN Corporate. The minimum initial deposit for the Standard account is $100. For the other accounts, it is $1,000, $10,000 and $50,000 respectively.
The only payment method to feed an account is Bitcoin. This company does not charge fees on deposit or withdrawal. However, it is mentioned on their website that other institutions do charge fees and for Bitcoin payment, it is $5 and for wire transfer, it is $20.
The minimum withdrawal amount in Bitcoin is $10 and for wire transfer, it is $50.
Processing time for Bitcoin transfers could be between 12 and 48 hours if the request is made outside of UK, otherwise it could be done within 15 minutes. 
For a dormant account, the company will charge a nominal service fee of $5 on a quarterly basis if the account has been inactive for 6 months.
We want to warn our clients, that first of all, the payment/withdrawal methods are very limited. Second, offering only Bitcoin as payment methods may have implications if you decide to file for chargeback (please read carefully the last section of this review.)
How does scam work?
A lot of people get scammed in different scammers' schemes not because they are naive but because scammers are masters of persuasion and manipulation. It all starts with unsolicited telephone calls or a flashy ad on the Internet or the social media. Sometimes people give up to temptation and invest money in shady schemes made to look legit and attractive and always promising quick and easy money fall. Once you deposit money into any of these schemes, you reach a point of no return! Your money is gone down the scammers' food chain and you'll have a lot of trouble recovering it. Scammers will do anything in their power to delay you, so you miss the opportunity to file for chargeback. They will ask you for this and that document and will find hundreds of reasons not to let you retrieve your money. The trick with offering bonuses in forex trading is one of those as your funds are mixed with the bonus money and it takes a lot of hassle to fulfil the broker's requirements before you are able to withdraw any funds.
What to do if scammed?
Speed does it! You need to act very quickly if you want to recover your money. Immediately apply for chargeback if you have made your deposit via credit card. Fortunately, VISA and MasterCard give you 540 days within which to apply for chargeback.
If you have paid via wire transfer or Bitcoin, chances of retrieving your fund are grim. Anyway, we want to warn you that some of the so-called recovery agents may approach you and offer to retrieve your funds. For a fee, of course! Be cautious when dealing with them as it may be another form of scam! Always check if the recovery agency is legitimate and visible to the public!
Another thing we advise you to do is to immediately cancel any credit cards if the scammers have your CVV code. Also, make sure to erase any programs on your computer that give scammers access to your personal data on your PC.