Beware! UI Group is an offshore broker! Your investment may be at risk.
RECOMMENDED FOREX BROKERS
Don't put all your eggs in one basket. Open trading accounts with at least two brokers.
Warning! UI Group is a fraudulent Forex broker that was officially blacklisted in Europe and Belize. It is a scam entity that claims to be a CySEC regulated Forex broker, but this is not the truth. In fact, UI Group offers leverage as high as 1:500, which automatically proves that it's not CySEC regulated, as there is a leverage cap of 1:30 imposed throughout the EU.
UI Group has a minimum deposit requirement of $5000 and at the same time claims to offer "better trading conditions" to the traders. Shockingly, however, the only way you can fund your account is through Bitcoin, which regardless of the warnings issued against UI Group is one of the strongest scam signs you can detect.  Find out more about this scam Forex broker in the UI Group review.
UI Group REGULATION AND SAFETY OF FUNDS
UI Group was officially blacklisted by CySEC and IFSC– the financial authority in Belize.
Here you can see the CySEC publication, made on October 16, 2020.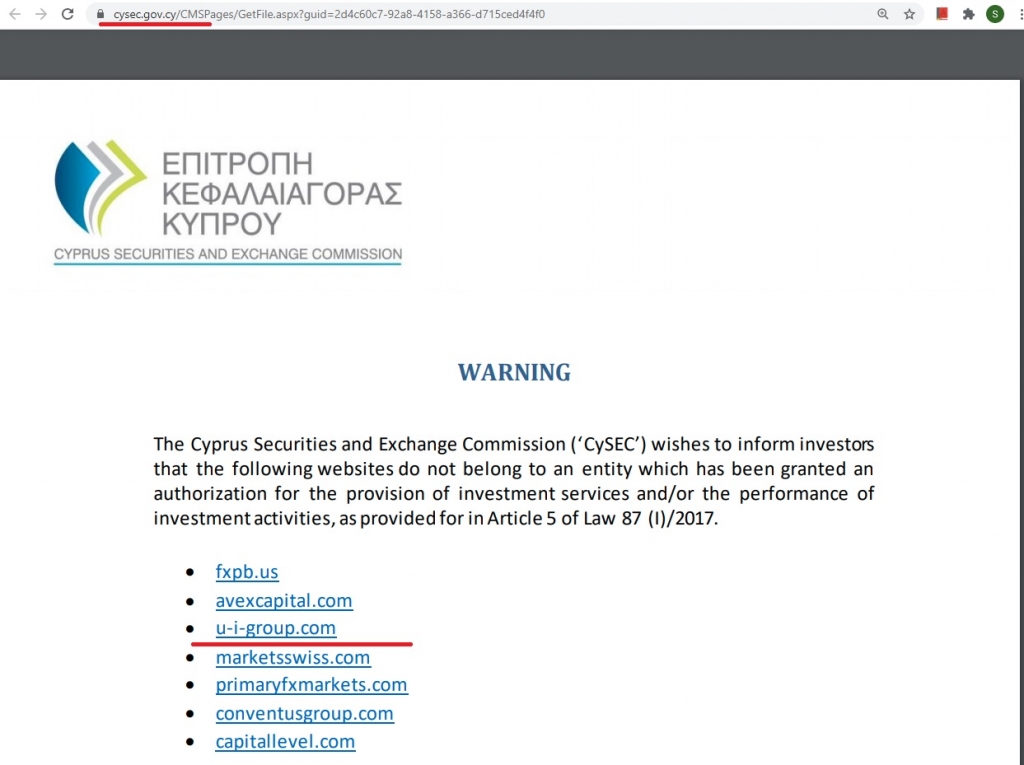 On this picture you can see the Belize warning, published on September 4, 2020:
UI Group lists Cypriot address and contact number, claiming to be a CySEC regulated Forex broker, but it is a lie, trying to mislead the customers. In fact, it is an anonymous entity, which is illicitly trying to make money out of you by deceit. You should always accordingly inspect all the brokers, before you have made any investment!
Your money are in danger if you make a deposit with UI Group, it's an unlicensed, unauthorized and unregulated scam Forex broker, which was blacklisted by CySEC and IFSC. You should avoid UI Group and report immediately if they contact you!
Your choice should be an European Forex broker- CySEC(Cyprus) or FCA(Britain) regulated, as these locations host the leaders in the retail FX industry. Europe created the safest financial environment in the world by implementing a very robust regulatory framework, consisting of many strict rules and requirements Forex brokers have to meet. The last one that was agreed came out of UK, FCA imposed a ban on Crypto derivatives retail trading with an immediate effect, meaning that you will no longer be able to trade BTC/USD with your British broker. The digital coins are known to be prone to price manipulation, incredibly unpredictable and highly volatile, posing a substantial threat to the funds of the traders. The most important customer protection feature, however, is the compensation schemes for clients of authorized financial service companies.
The Investor Compensation Fund(ICF) operates in Cyprus, while in Britain the similar fund is called Financial Services Compensation Schemes(FSCS). In Cyprus you are allowed to make a claim of up to 20 000 EUR per client, while in UK you are guaranteed of even up to 85 000 GBP per client. If you trade with an offshore broker you are entitled to nothing, it might not exist tomorrow and you are going to lose all of your investments!
UI Group TRADING SOFTWARE
UI Group doesn't offer Metatrader4 or Metatrader5 accounts to its customers. The only available platform is web based which is miles behind Metatrader in terms of, well, everything. It's a primitive something-like-a-platform piece of software that doesn't meet any industry standard.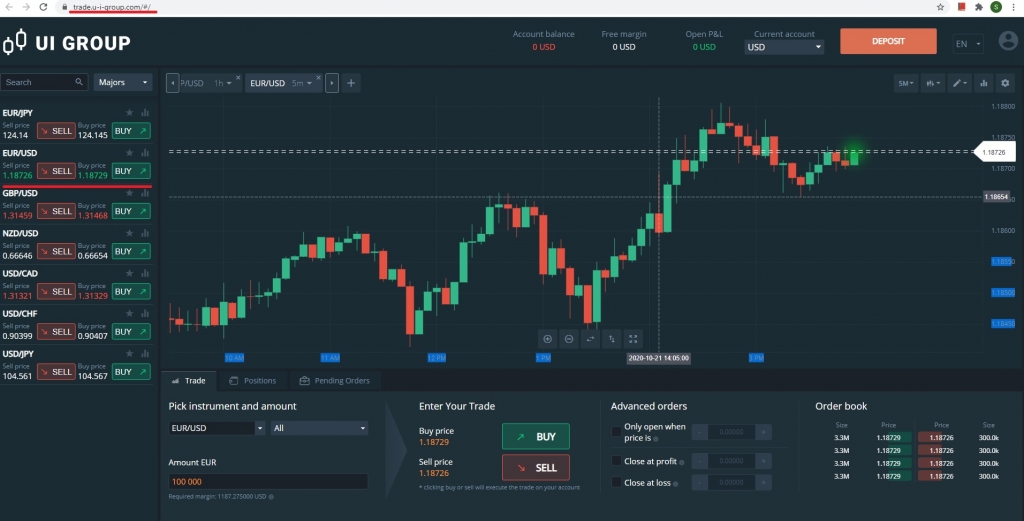 The real EUR/USD spread is 0.3 pips, which is quite competitive a difference, but UI Group is a confirmed scam, so you should away and never deposit money with this fraudulent broker.
The leverage is of up to 1:500, which is a ratio that the true European Forex brokers are not allowed to offer to its clients. Yet another proof, that UI Group is not a CySEC regulated entity, but a scam enterprise.
UI Group DEPOSIT/WITHDRAW METHODS AND FEES
The minimum deposit is said to be $5000, which is an absolutely ridiculously gross amount of money for an alleged retail FX broker. The industry standard is around $100, making the currency trading possible for much greater number of people. A minimum initial deposit of $5000 is a joke and it's no longer retail stuff.
There is a single funding method and it's Crypto currency payment, it's a colossal red flag and the ultimate scam sign that we could detect so far. Crypto payments are irreversible, once you pay in Bitcoin it's impossible to claim your money back, especially if you transferred the sum to scammers.
No minimum withdrawal amount or withdrawal fees specified. The request processing time is unknown.
No dormant account policy or fees for inactivity specified, which is yet another scam sign.
Bonuses are available from time to time, and will be subject to separate Terms and Conditions. No trading incentives available at the moment. No partnership programs introduced, as well.
HOW DOES THE SCAM WORK
Scammers introduce financial or investment opportunities which are too good to be true. Lucrative returns (we've seen 800% per day) with low or no risk at all, unbeatable trading conditions, trading robots and bots that always execute the winning trades, scammers might even assure that they possess insider's information and the profits you are going to make are guaranteed.
The scammer will promise you the moon and the stars only to gain your confidence, will persuade you to get involved and sooner or later will take advantage of you. Once you submit your personal details including ID, credit or debit cards, bank accounts or national insurance number the risk becomes long-term. The scammers might not only refuse to make a withdrawal, but might as well use your personal details to conduct criminal activities. They might dry up your bank account, might make deals on your behalf or you might even end-up being an owner of a hugely indebted company. Beware!
Remember, always trust forex brokers that are legitimate and regulated by a financial authority such as CySEC or FCA.
WHAT TO DO WHEN SCAMMED
No one is immune to scam, anyone can fall into the trap. Scammers are constantly looking for new and different ways to scam consumers. What you need to do first, in case you got scammed, is to protect yourself from further risks. Contact your bank and explain to them your situation, they will give you important instructions to follow and will help you, if possible, recover your money.
Report what happened to you, file a complaint, contact the financial regulator, contact other government institutions dealing trading and investing. Seek help actively!
Share online your experience, it is important to protect others, as well. Be responsible!