Beware! BGIFX is an offshore broker! Your investment may be at risk.
RECOMMENDED FOREX BROKERS
Don't put all your eggs in one basket. Open trading accounts with at least two brokers.
Warning! BGIFX, introducing itself as a Blackwell Global is a highly sophisticated scam scheme that might mislead a great number of people! It is a clone firm that is abusing the details of a genuine true Forex broker, which is duly registered, authorized and regulated by FCA and other financial regulators.
BGIFX presents a website which doesn't suggest in any way that you are dealing with a fraudulent broker. It's created professionally. Also, there is plenty of information about the products and services BGIFX is offering to the customer. In fact, the greater part of the stuff in the website is copied from the genuine broker, including the logo. The registration process might also mislead a great number of traders, read carefully and find out everything you need to know about this polished scam broker in the full BGIFX review.
BGIFX REGULATION AND SAFETY OF FUNDS
BGIFX is a clone firm that is imitating Blackwell Global, a UK Forex broker which is regulated by FCA and other financial authorities, as well. It copies the appearance, the name and the registration numbers of the original Blackwell Global.
Have a look at the registration of Blackwell Global in the FCA register. It is a genuine company, remember that, not the fake BGIFX: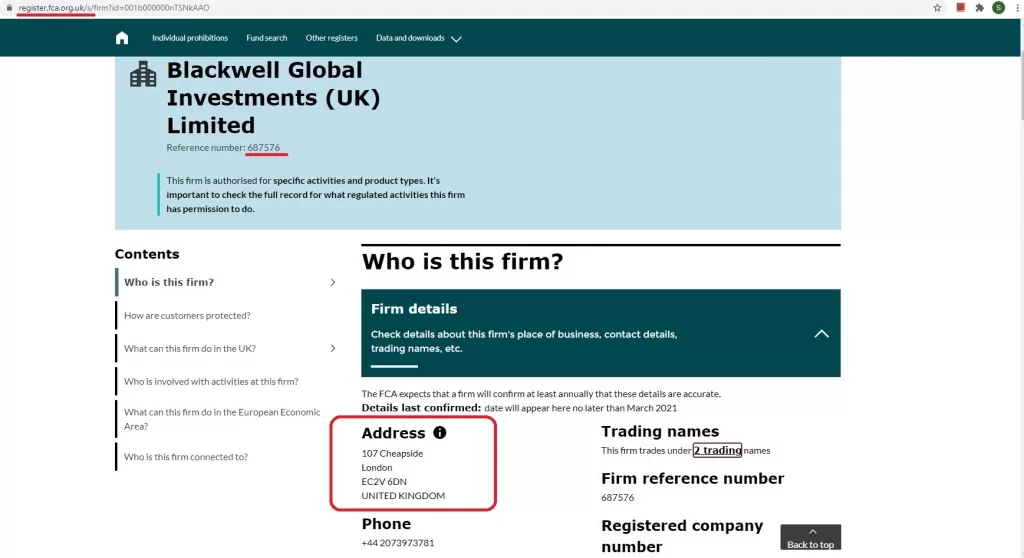 As you can see, there is such a company in existence, and you might think that bgifx.com is a website used by them, used as a trading name, but it's not the case. Have a look at the trading names of the genuine company:
BGIFX goes much further, copying the appearance at the legal documents, changing only a few details in them, and even duplicating the Metatrader logos, the genuine one is Blackwell Global Trader, have a look:
BGIFX is said to be owned and operated by Blackwell Global Investments Limited; a company allegedly registered in the British Virgin Islands. BVI is considered a tax haven, but unlike other offshore jurisdictions, they rigorously regulate the Forex brokers imposing many customer protection requirements, such as a minimum initial capital of $1,000,000 for a Securities Dealer License. The procedure for obtaining a BVI FSC forex license is a long and costly one, and you should be aware of that.
The local financial regulator does not license Blackwell Global Investments Limited, our check in the BVIFSC register didn't produce any results!
BGIFX was in fact officially confirmed as a scam by the financial authority of Hong Kong- HKSFC.
Your funds are in danger if you deposit with BGIFX, it's an unlicensed, unauthorized and unregulated anonymous scam Forex broker, which has put lots of efforts to clone a genuine Forex broker. It's a highly sophisticated scam scheme, and you should be very cautious!
Our strong advice is to stick with the true EU(CySEC) and UK(FCA) Forex brokers, as these intermediaries are the global leaders in the retail FX and CFDs industry, and will treat your funds with the utmost care, not because they want to, but because they have to. Complying with the product intervention measures that the European Securities and Markets Authority has agreed, which further CySEC and FCA have implemented, the Forex brokers are required:
to limit the leverage to between 1:30 (Forex majors) and 2:1(cryptocurrencies). The UK actually banned the Crypto derivatives trading earlier this month;
to close out a customer position when the funds fall to 50% of the margin needed;
to provide Negative Balance Protection on a per-account basis, meaning that losses cannot exceed the total funds;
to restrict or completely obliterate the incentives offered to trade Forex and CFDs;
to provide a standardised risk warning to the customers.
Failure to do so will result in disciplinary action such as salty fines or license being suspended/revoked.
There are also money protection schemes in operation, such as ICF in Cyprus and FSCS in the UK, which are put in place to guarantee the deposits of the clients. Under CySEC(Cyprus) supervision you can claim up to 20 000 EUR in compensation, while in the UK under FCA you are guaranteed of even up to 85 000 GBP. Each EU member state is compelled to create and further operate such a fund, which is regarded as a last resort for the traders, in case a Forex broker faces difficulties to meet its financial obligations.
BGIFX TRADING SOFTWARE
BGIFX offers Metatrader4 accounts to its clients; Metatrader5 is not available. The EUR/USD spread is 2.1 pips, which is high compared to the rest of the industry. The leverage offered is as high as 1:400, which is an irrefutable proof that BGIFX has nothing to do with FCA authorization!
We have to mark that the sign-up process looks very similar to the one that you can find with the true Forex brokers. There are multiple steps to fill, but in the end, they require from you to upload copies of your personal documents, which is the big difference, no legit Forex broker is going to ask from you to do it during the sign-up process. This is a preeminent scam sign and a suspicion that BGIFX might as well be involved in Identity Theft!
BGIFX DEPOSIT/WITHDRAW METHODS AND FEES
The minimum initial deposit is said to be $500 on their Account Page, which is a huge amount of money, much higher than the industry standards. In fact, on their FAQ Page, we found quite a different story, which is a major scam sign!
The funding methods are said to be Wire Transfers, Credit/Debit cards, Neteller, PayTrust, UnionPay and Crypto e-wallet.
No minimum withdrawal amount or withdrawal fees specified. No dormant account policy or fees for inactivity determined. But, given the fact that BGIFX is a clone broker, none of their Terms and Conditions should be regarded as valid!
No deposit bonuses offered, there is an Introducing Broker program, but no further details are available.
We need to repeat it once again, BGIFX is a highly sophisticated scam design that might easily put many traders and investors into deception. It would be best if you always were wary before making any investments, check thoroughly, or you might end up being scammed.
HOW DOES THE SCAM WORK
Firm cloning is a type of investment scam that is becoming increasingly popular recently. The scammers use the names, registration numbers, address etc. of businesses and individuals, which are duly registered, regulated and authorized to sell financial products and services. Doing this, the fraudsters are trying to gain the trust of the customers and trick them into believing that they are dealing with a genuine and distinguished, renowned company. It is an effective way to take off the guard of the wary investor, who can easily fall in the scammers' trap.
WHAT TO DO WHEN SCAMMED
No one is immune to scam; anyone can fall into the trap. Scammers are constantly looking for new and different ways to scam consumers. What you need to do first, in case you got scammed, is to protect yourself from further risks. Contact your bank and explain to them your situation, they will give you important instructions to follow and will help you, if possible, recover your money.
Report what happened to you, file a complaint, contact the financial regulator, contact other government institutions related to trading and investing. Seek help actively!
Share online your experience; it is important to protect others, as well. Be responsible!