Beware! Axis Market FX is an offshore broker! Your investment may be at risk.
RECOMMENDED FOREX BROKERS
Don't put all your eggs in one basket. Open trading accounts with at least two brokers.
Warning! Axis Market FX is a Forex broker that introduces itself as a UK entity but fails to provide the public with evidence about its legitimacy and authorisation. They claim to be regulated and secure Forex broker, but precisely the opposite is accurate, and we will show you why in the full Axis Market FX review.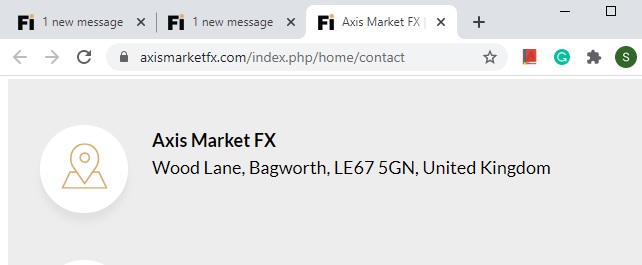 Axis Market FX REGULATION AND SAFETY OF FUNDS
Axis Market FX is an anonymous Forex creature that withholds critical information about itself. They list a UK address in Leicestershire but fail to give any other information that will undoubtedly prove that it's a legit Forex broker. There isn't even a company mentioned that is supposed to own and operate Axis Market FX. In their T&Cs, however, they claim the laws of the Marshall Islands govern the contract between the traders and the company, but it doesn't change anything. The island nation doesn't regulate the Forex brokers operating there, which means that the funds of the traders are not protected in any way. The Marshall Islands brokers do not comply with any rules, and they can act entirely on their sole discretion, which at times may harm the traders.
Your funds are not safe if you deposit with Axis Market FX, it's an unlicensed, unauthorised and unregulated Forex broker, which mislead the customers by introducing itself as a regulated entity.
Your broker should be legit, transparent and preferably regulated in EU or UK, as these jurisdictions provide the safest environment for your funds. ESMA, the European Securities and Markets Authority imposed several customer protection measures, designed to work for the benefit of the traders. A fine example is the negative balance protection rule that the Forex brokers are bound to keep, meaning that the investors cannot lose more than the sum deposited. In case the balance goes negative, the broker has to bring it back to zero as soon as possible, at no cost!
But most importantly, money protection funds were inaugurated, such as ICF in Cyprus and FSCS in the UK, which was set up to protect the deposits made by the clients. Under CySEC(Cyprus) supervision you can claim up to 20 000 EUR in compensation, while in the UK under FCA you are guaranteed of even up to 85 000 GBP. Each EU member state is compelled to create and further operate similar insurance funds, which are seen to be the last resort for the traders, in case a Forex broker faces difficulties to meet its financial obligations.
Axis Market FX TRADING SOFTWARE
Axis Market FX doesn't offer MetaTrader4 or MetaTrader5 accounts to its customers. What's more, they don't even present a functional trading platform, which is strong evidence of a scam. Their so-called chart includes a TradingView chart serving for information purposes only and doesn't even have a trading panel! Stay away; it's a scam Forex broker!
Axis Market FX introduced on its Home page that the EUR/USD spread is 3 pips, which is way too high, compared to the rest of the industry, but it's not valid in reality. The spread is the most crucial trading condition because it forms part of the trading costs for the customers—the lower the spread, the bigger the potential profits. The usual EUR/USD spread is below one pip, and some of the legit brokers will offer difference between Buy and Sell as low as 0.1 pip even with their micro account.
The leverage levels are said to be up to 1:300, but this piece of information is fake, as well. The leverage makes the financial markets accessible to everyone, but it's a double-edged sword. It means that you can buy or sell tens and hundreds of thousands dollars with one click, by paying just a fraction of the price. That's called marginal trading, but you should know that if the leverage is misused, you might register lightning-quick losses rather than profits. EU and UK imposed a leverage cap of 1:30 because the higher leverage is considered inadequate for the retail Forex traders.
Axis Market FX DEPOSIT/WITHDRAW METHODS AND FEES
The minimum initial deposit is said to be $500, which is much higher than the industry standards- the legit brokers will usually ask for no more than $100. Some will be glad to accept even as little as 5 to 10 bucks if you want to open an account and start trading, but you should know that you cannot make money with such a tiny deposit.
The funding methods are said to be Wire Transfers, Skrill, Neteller and Fasapay, but that's a big fat lie because the only way you can fund your account is through Bitcoin. You should know that it's almost impossible for you to get a refund if you fund your account with Bitcoins. It's a shred of substantial scam evidence if a broker accepts only crypto payments as a funding method!
The minimum withdrawal amount is said to be $100 for Debit/Credit card and $500 for Wire Transfers, which is truly an unfair clause. In comparison, the legit Forex brokers will let you withdraw as much as you want. You will also have to execute at least 5 trades to become eligible for withdrawal, and this is yet another scam clause, stay away from this broker.
Axis Market FX charges unbearable fees, and it shows that this broker is making money by plundering the traders' accounts! Each withdrawal is subject to a 10% fee if the sum is less than $200. At the same time, a withdrawal fee of $50 for Wire Transfers and $25 for Credit/Debit cards applies. There is even a tax fee of 20% that the traders have to pay, have a look:
The dormant account policy includes scam clauses, as well. Your account becomes dormant after only 30 days of inactivity and will be subject to a 5% balance deduction each month. It's a robbery, and no trustworthy Forex broker is going to plunder your account so ruthlessly. The legit brokers are going to let a year pass before they make your account dormant and will charge no more than $20 per year.
Axis Market FX offers bonuses to the traders, but the bounding conditions are typical for a scam Forex broker. For $200 deposit bonus you will have to execute $2 million in trading volume, and you will have to do it for a month to become eligible for withdrawal. Our readers should know that the bonuses are not free money but a leverage tool that significantly increases the risk. The trading incentives were banned in the EU and UK but became the favourite marketing tool for the scammers. Literally, every scammer out there will offer you bonuses or other awards. You should avoid brokers offering bonuses because you will either get scammed or lose your money because of the higher risk.
HOW DOES THE SCAM WORK
Fraudsters are working in social media nowadays; more and more scammers will first introduce their "services" to the people through Facebook or Instagram. You will click on a page, they will contact you, probably offer you a demo account and after some time you will be invited to register, enabling you to invest and "make guaranteed profits". Once signed-up they will require you to deposit money, and this is just the beginning because in the most of the cases the scammers will ask, again and again, no matter the results of your trading. The end is always the same: a robbed-off investor who lost his hard-earned money.
WHAT TO DO WHEN SCAMMED
No one is immune to scam; anyone can fall into the trap. Scammers are always looking for new and different ways to scam consumers. What you need to do first, in case you got scammed, is to protect yourself from further risks. Contact your bank and explain to them your situation, they will give you necessary instructions to follow and will help you, if possible, recover your money.
Report what happened to you, file a complaint, contact the financial regulator, contact other government institutions related to trading and investing. Seek help actively!
Share online your experience; it is essential to protect others, as well. Be responsible!