Beware! CFMerchants is an offshore broker! Your investment may be at risk.
RECOMMENDED FOREX BROKERS
Don't put all your eggs in one basket. Open trading accounts with at least two brokers.
CFMerchants is an offshore broker that offers trading in forex, commodities, indices and cryptocurrencies. They advertise 3 types of accounts – ECN, Prime and Pro – starting from $10 minimum deposit.
CFMerchants also have Demo and Islamic, or swap-free, accounts. We signed up for a real account, which required submitting personal information – First and Last name, Email address, Phone number, Country and Physical Address. The registration process was successful and we were taken to the client area. A confirmation email was sent to our mailbox, but it contained the login credentials, which is against privacy and security guidelines.
CFMerchants Regulation and safety of funds
To be honest, in terms of design and features the website looked acceptable until we got into the details. The Contacts page did not have an address or a phone number, only an email – this is surprising for a company claiming global presence and services. CFMerchants is the trading name of Commodity and Forex Merchants Limited, which alleges to be registered since 2001 and in four different jurisdictions.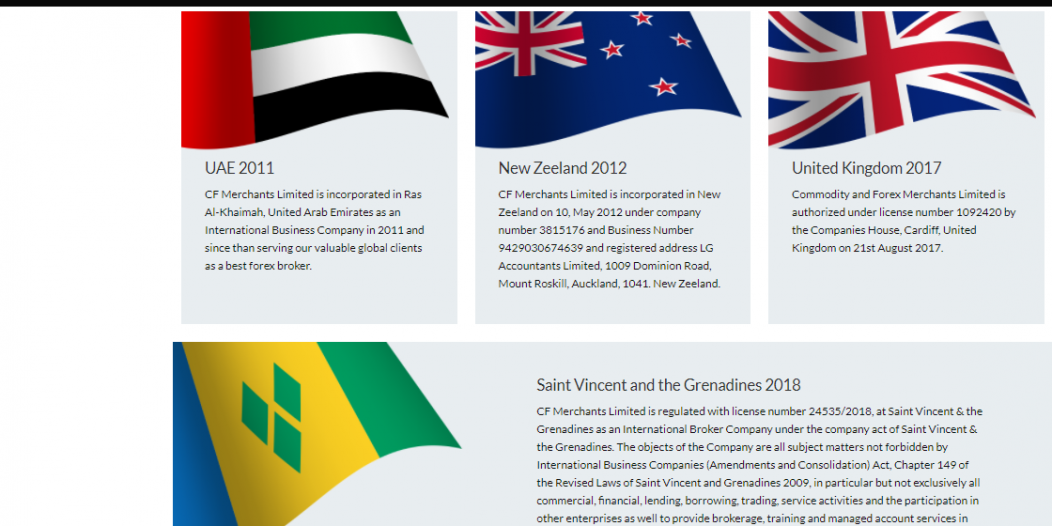 The first thing we notice is the typo in New Zealand's name. When we check the company's registration in that country, we see that it has been REMOVED since 2015.
The UK registration also turned out not to be current – the company has been DISSOLVED since January 2020. We should note also that the Companies House is just a registering body; it does not regulate forex trading or any financial services.
The United Kingdom is one of the most heavily regulated markets and forex brokerages there fall under the oversight of the Financial Conduct Authority (FCA). Together with the Cyprus Securities and Exchange Commission (CySEC), which regulates forex trading in the EU, they impose some of the strictest rules on their licensees. Brokers have to maintain the Minimum Capital Requirements of €730 000 to guarantee their good financial standing, and must participate in Compensation Schemes that provide additional guarantees to investors' funds in case the broker goes bankrupt – up to 85,000 GBP in the UK and 20,000 EUR in the EU. There is also a Client Account Segregation requirement – clients' money must be kept separate from the broker's operating funds and a Negative Balance Protection policy – traders may not lose more than the initially invested funds.
In the case of CFMerchants we find many claims of security of funds, some of them very similar to the policies these watchdog agencies have – for example, Segregation of Client Funds, Risk Management and Top Tier Liquidity with Major Banks. What the brokerage lacks, however, is regulation by a recognized watchdog organization.
In our opinion, regulation and licensing is the first thing one should look when choosing a broker to invest with – it is more important than the trading platform or conditions it provides. In the absence of these, we have to warn our readers that their funds would not be safe with an unregulated entity such as CFMerchants.
CFMerchants Trading Software
CFMerchants offers the MetaTrader 4 (MT4) trading platform. MT4 is the world's number one platform, preferred by over 80% of users. It offers an intuitive and user-friendly interface, advanced charting and analysis tools, as well as copy and auto-trade options. It can be further customized to create different trading strategies using its proprietary MQL4 programming language.
The software was developed by the Russian company MetaQuotes back in 2005, which has since then released a newer and improved version – MetaTrader 5 (MT5). Though its adoption is still lagging, MT5 boasts a number of advantages over its predecessor. Its execution is faster, it supports more trading instruments and has a hedging option, as well as additional order types.
CFMerchants Trading Conditions
Although the broker advertises spreads as low as 0 pips in large letters on their website, when we scroll down we see that for the EURUSD, the most traded currency pair, the spread is 1.1 pips.
This is in line with what most established brokers usually offer – anything above that would not make money for the trader but would guarantee good profits for the brokerage.
The leverage CFMerchants offers, however, is extremely high – 1:1000. Such leverage entails significant risks, especially to inexperienced traders. Although it allows for making bigger profits, one may incur great losses too, often much greater than the invested funds. That is the reason why, most regulatory authorities impose leverage caps for non-professional traders: in the USA it is 1:50, while for brokers licensed in the EU and the UK it is 1:30. Even the Australian Securities and Investments Commission (ASIC), which does not enforce such rules currently, has announced recently that from 29 March 2021 it will restrict leverage for major currency pairs to 1:30.
CFMerchants Deposit/Withdrawal Methods And Fees
The brokerage offers a number of payment methods for deposit and withdrawal. Although in the website's footer we see a Bank Wire logo, in the Deposit & Withdrawals page we see that along with the other standard method, credit / debit card, it is "Coming Soon."
The minimum amounts are $10 for deposits and $15 for withdrawals with the exception of Local Deposits where they are $50. CFMerchants claims they do not charge fees for these transactions except for withdrawals under $100 where $20 per transaction will be charged as processing fee. The processing times presented in the above table are normal.
In the Client Agreement, however, there is a clause that the company "may introduce additional fees and charges, and may change any existing fees and charges, at any time by giving the Client not less than 5 Business Days' notice of such changes." We have to mention also that the broker offers bonuses (subject to a minimum deposit of $1000 of course), which is not a common practice with respectable brokers – actually the ones licensed by watchdog agencies in Europe are prohibited from doing that.
In conclusion, we want to emphasize again that despite this broker's tolerable trading conditions and the fact that it offers an established trading platform, what is most important is whether it is regulated. Since CFMerchants is not regulated we believe it might be a scam broker, and investing with them is not safe!
How does the scam work?
Here we will outline the most common scamming scenario. The first step is to capture the users' attention with ads promising fast money. When they click on such an ad, they are redirected to a website that would ask to provide their email address and phone number. This personal information is then used by the scam brokers who will start calling and asking to invest with them. The initial deposit is usually around $250 from which these brokers will make a fat commission.
After that, users are transferred to senior brokers. These are expert con-artists who will sweet-talk them into putting even more money. When the traders decide to get out, however, it turns out it is not that simple. The scammers will talk them into postponing their withdrawals or will draw out various reasons to deny the request. All of this is with the objective to miss the limited time period for filing a chargeback with their bank and get their money back.
We should note that VISA and MasterCard have recently taken measures to combat online scams and are classifying all forex transactions as high risk. Furthermore, they have increased the period for filing a chargeback from 6 months to 540 days.
What to do when scammed?
In the event you become a victim of such a scam there are some things you should know. If you used a major credit card to fund the account you should immediately file for a chargeback with your bank or credit card provider. In case you supplied sensitive financial information to the scammers, such as account details and passwords, you should cancel your credit card or change your pass.
If you used bitcoin or bank wire, however, chances of recovering your funds are slim. Do not get hooked by any "recovery agents", who prey on scam victims, using their hopes of retrieving their money. These are just another type of scammers who will ask you for an upfront fee in order to get your money back, but once you pay them, you will not hear from them again.