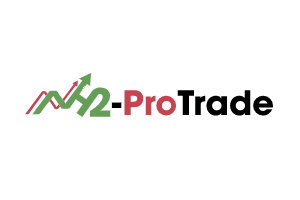 Beware! H2-ProTrade is an offshore broker! Your investment may be at risk.
RECOMMENDED FOREX BROKERS
Don't put all your eggs in one basket. Open trading accounts with at least two brokers.
H2-ProTrade did not strike us as a special kind.  There are far too many signs that point to the other direction, that one cannot ignore. Nor should one ignore them, for it's these signs that define a broker, in the end. H2-ProTrade is abundant in such indicators, that point to its suspicious nature and activitrs. Please read the review for more information, and before you deposit anything.
A simple registration process followed that did not increase our trust in the broker. Usually, the registration process is the doorway to the broker's trading and payment features, and as such has to showcase a sense of identity and, in a certain way, hospitality. Here we felt like nothing, as the procedure was as bland as it was easy.
After the registration, we were led to a sloppy user area, which immediately gave its best shot in the form of a third party chart, that aims to convince users into thinking that this is H2-ProTrade's own software for trading. Well, it isn't.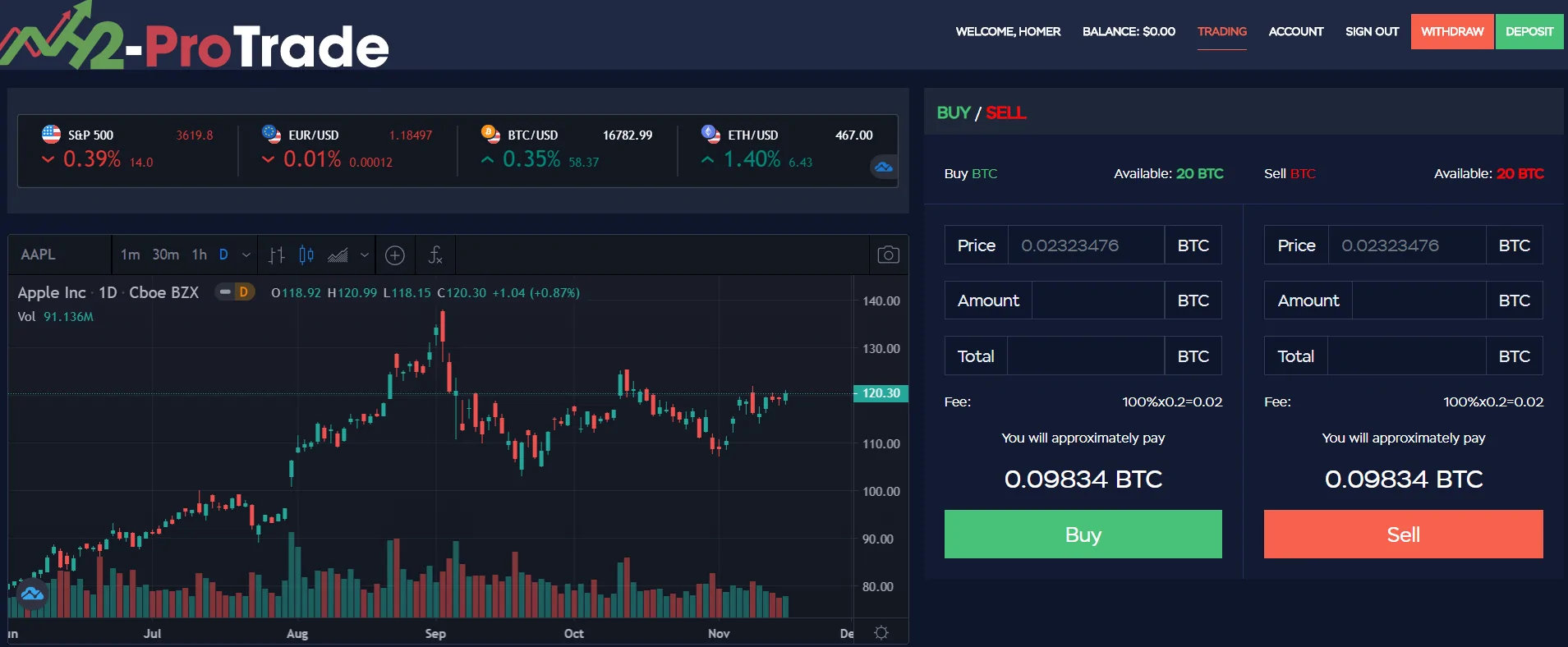 Judging by the chart, none of the trading conditions actually apply to the broker. These charts and the trading conditions represented on them do no coincide with the broker using them. This has been covered countless times before! This is not a trading platform! Furthermore, we could find no other means of trading.
Thus all trading conditions found at H2-ProTrade are irrelevant and downright useless. In other words, non of the spreads, leverages, and trading instruments apply.
The website is available in English, Italian, Spanish, and German.
H2-PROTRADE REGULATION AND SAFETY OF FUNDS
The footer puts the broker in Switzerland. We find this very hard to believe. In Switzerland, only banks are allowed to offer FX and CFD trading services. Forex and banking licenses are issued by the Swiss Financial Market Supervisory Authority (FINMA).
All such brokers/banks must: maintain at all times an operational capital of at least 20 000 000 Swiss Francs; issue regular fiscal year reports; and adhere to some of the strictest guidelines in the industry. In fact, FINMA falls into the same category as the US's CFTC and NFA.
There is no doubt that H2-ProTrade cannot meet these, and other, requirements. Thus the broker is not licensed in Switzerland.
Leaving what we said behind, there are no actual clarifications on a regulation/license. We browsed through the website thoroughly and found no real evidence suggesting that H2-ProTrade is regulated.
And thus, H2-ProTrade is NOT LICENSED by any authority, and as such is a risk to all investments, not to mention to all personal details.
There is no reason at all to invest in an unregulated broker. The best advice there is, concerning the choice of a broker, is to always check for a license. If the broker has an FCA and CySEC license you are off to possibly the best start, as these are some of the top regulators in the industry. Usually, legitimate FX overseers integrate a set of rules to each of its listed brokers. Brokers form an agreement with them to follow very strict guidelines. Furthermore, some agencies, like the FCA or CySEC, have compensation schemes that reimburse clients whose brokers have become insolvent. As you can see, a regulated broker benefits not only the brokerage itself, but the traders as well.
H2-PROTRADE DEPOSIT/WITHDRAW METHODS AND FEES
According to the payment area, the minimum deposit is $100. The payment options are as follows: Neteller, Wire Transfer, and a bunch of cryptocurrency options.
Withdrawals, on the other hand, can only be paid out through crytpo wallets, which does not strike as very trustworthy. The minimum amount to withdraw is $1. We expect processing times to be immediate if the broker actually pays out the user, which we highly doubt it does. There seem to be no withdrawal fees.
H2-ProTrade is yet another unregulated broker that comes out of nowhere, and will sooner or later disappear as abruptly as it appeared. Zero are the reason to deposit in this one. In fact, if you do deposit,m you will enter a world of financial loss and frustration! Stay away!
How does the scam work?
If things feel uneasy or suspicious, then you are probably being scammed. Most fraudsters adapt the same scam structure, however, they might add their own little nuances. The point is, that if you think you are in a scam, then you probably are!
The first step is the online ads. These annoying pop-ups or side distractors are the essence of scammer brokers. It's through them that the user is lured into the fake broker website. The link of the ad leads to a website or a registration form. Both require the user to write down his or her personal details, like email and telephone number. Do not give these away. The scammers will contact you if you give these details away, and will sooner or later try to charm his/her way into your wallet, by asking you to deposit.
After a deposit is made, and hopefully it isn't, then the first step of the same is complete. The following step concerns the account manager, a.k.a the advanced scammers. These individuals are charming convincers, and if they succeed, it means that you have deposited a second time. This can go as long as the user keeps depositing. When suspicious arises, one of these things will probably happen: the broker will delete the account of the user without a reason; the broker will not allow for withdrawals, or the broker will keep finding ways to stall withdrawals.
What to do if scammed?
Filing for a chargeback is the best advice. VISA and MasterCard have prolonged their chargeback time span to 540 days.
If the deposit is made through wire transfer, then change your user name and password as soon as possible. Another step is to contact the bak as they might have a specialized procedure for such cases.
Another crucial advice: NEVER deposit in unregulated brokers through bitcoin or any other form of cryptocurrency. These payment methods are untraceable, meaning that once a deposit is made, it cannot be traced. The money is lost.
Last but not least. recovery agencies are definitely a scam. These programs, or whatever they call themselves, offer help for defrauded users…for a price. Once the fee/tax is collected, these agents disappear, leaving you at a bigger loss.