Beware! ProfitPipsMarkets is an offshore broker! Your investment may be at risk.
RECOMMENDED FOREX BROKERS
Don't put all your eggs in one basket. Open trading accounts with at least two brokers.
ProfitPipsMarkets is yet another offshore broker with a name that's similar to the ones that other offshore FX creatures use. The name aside, it's a broker that lies to the public and puts many pieces of conflicting information on their website. To make things worse, they fail to supply the customers with a functional trading platform, which might have been just a temporary technical problem, but nonetheless a major red flag! Find out everything you need to know about this shady Forex broker in the full ProfitPipsMarkets review.
ProfitPipsMarkets REGULATION AND SAFETY OF FUNDS
ProfitPipsMarkets is an offshore Forex broker that's purportedly owned and operated by an SVG company called Veis Market. They claim to be FSA regulated, as seen on the picture above, but that's utter nonsense because St. Vincent and the Grenadines is an offshore jurisdiction known for the lack of adequate financial regulation. SVGFSA- the financial authority there doesn't even issue licenses for Forex brokers, and that's a big problem for the traders. Furthermore, ProfitPipsMarkets lists a UK address, but claims to be a member of ICF- Investor Compensation Fund and also reassure that the clients are entitled to claim of up to 20 000 EUR. Still, at the same time, a leverage level as high as 1:500 is available, which undoubtedly proves that they are either non-regulated or breaching the rules that they have to comply with! Our research in the registers of CySEC (Cyprus, where ICF operates) and FCA (the British financial regulator) produced no results whatsoever, as expected!
Your funds are not safe if you make a deposit with ProfitPipsMarkets, because it's an unlicensed, unauthorised and unregulated Forex broker, which is consciously trying to lead the traders up the garden path.
The best Forex brokers to trade with are either EU (mostly CySEC regulated) or the UK (FCA regulated) ones because Europe successfully created the safest environment for the traders. The European brokers have to comply with a variety of rules and regulations that were implemented as customer protection measures, increasing the safety of the financial systems there. These include the minimum capital requirement of 730 000 EUR, segregation of the clients' funds, predefined stop-out and margin call levels, negative balance protection for the clients' accounts and others. Most importantly, however, each EU member and the UK had to establish money protection schemes that further contribute to the health of the system. In Cyprus (CySEC) the traders can claim up to 20 000 EUR in compensation per client, while in the UK (FCA) the deposits are guaranteed of up to 85 000 GBP per client.
ProfitPipsMarkets TRADING SOFTWARE
ProfitPipsMarkets claims to offer MetaTrader5 to its customers; MetaTrader4 is not available for trading with them. They bet on the most popular Forex trading platform in the world, but actually, fail to deliver. Metatrader is acclaimed for its stability and reliability, but it also comes with sophisticated trading tools such as Expert Advisors, Automated Trading, Complex Indicators and even its own marketplace.
All of the download links available, however, were broken and we were unable to download the ProfitPipsMarkets MT5 modification. The web-based MT5 was also inaccessible, and that's a major red flag, no matter the assumptions that it might have been some temporary problem!
On their website, we saw them claiming that the spread to trade with is 1 pip, but it comes with the advanced ECN accounts, which also require commissions to be paid. The starter account spread is 3 pips, which is a difference between Buy and Sell that's way too high if compared to the regulated Forex brokers. The spread forms part of the trading costs, and it directly affects the profit potential.
The maximum leverage level possible is 1:500 when you register an account on the Dashboard, but at the same time, on two separate places on the website they claim to offer maximum ratios of 1:300 and 1:400 respectively. It comes to show once again that it's a broker that should be avoided. The leverage itself is a powerful tool that allows the traders to amplify the potential profits, but it comes with risks that increase proportionally. If 1:500 is utilised, the trader might zero its account down in a single bad trade, especially if there isn't a predefined stop-out level. The offshore brokers are not bound to provide the traders with negative balance protection, so in times of volatility, the balance in the account might even go negative!
ProfitPipsMarkets DEPOSIT/WITHDRAW METHODS AND FEES
The minimum deposit is said to be $10 with the Mini account, which is a flexible requirement that makes ProfitPipsMarkets accessible for traders that intend to spend less on Forex trading. But they are liars, as already proven, so you shouldn't get attracted by their favourable deposit requirements.
And then comes the next lie! On their website, they claim to offer an excess of funding methods, but in reality, the traders can make a deposit only via Perfect Money, Bitcoin and Wire Transfers!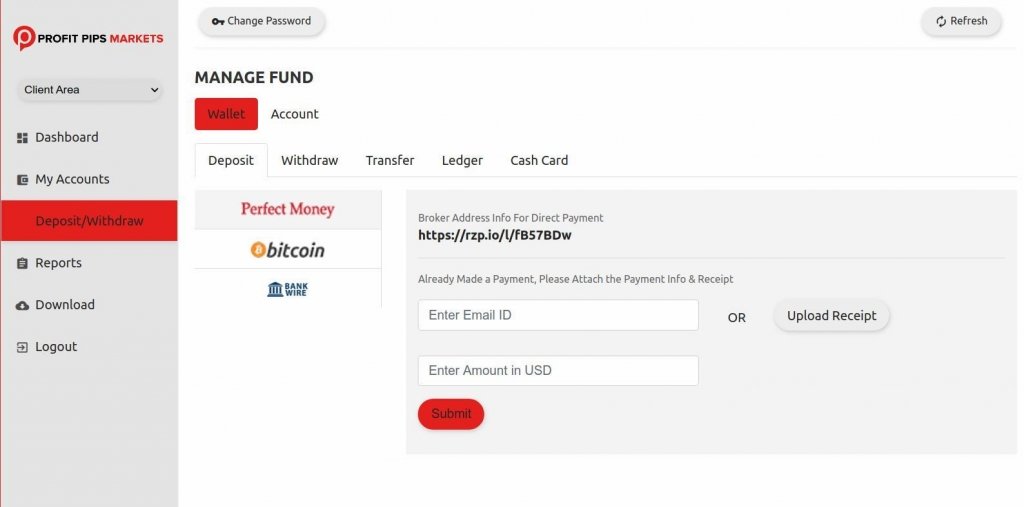 Warning! There is no T&Cs, Disclaimer or any other contract that arrange the conditions for both of the parties in the agreement! That's a scam sign whatsoever! You shouldn't make deposits unless the broker presents you with a type of contract that you have to sign to start trading!
No minimum withdrawal amount restrictions apply, and there are no withdrawal fees known.
No dormant account policy available and no fees for inactivity that apply. It's an essential set of rules and requirements that deals with the accounts that have become inactive- no login or trading.
No bonuses are available at the moment. The traders should know that the bonuses are not free money, but a leverage tool that further increases the risks for the traders.
HOW DOES THE SCAM WORK
It's an awful experience to get scammed, and that's why you should learn how to spot the scam brokers as soon as you see them. While at times, it might not be as easy, there are certain things that you should know. Most of the scam schemes are either based offshore or being illegally operated. Offshore jurisdictions such as the Marshall Islands, the Commonwealth of Dominica or St. Vincent and the Grenadines fail to adequately regulate their financial sectors and the three mentioned do not even issue Forex broker licenses. It makes it easy for scammers to quickly form companies there and begin to unlawfully sell Forex products and services throughout Europe, America and the rest of the world. Lack of regulation equals lack of customer protection and safety, so even if the broker is not ill-intentioned, the traders remain vulnerable. That's why you should always avoid offshore brokers, no matter the promises that they make.
WHAT TO DO WHEN SCAMMED
No one is immune to scam, and anyone can fall into the trap. Scammers are always looking for new and different ways to scam consumers. What you need to do first, in case you got scammed, is to protect yourself from further risks. Contact your bank and explain to them your situation, they will give you necessary instructions to follow and will help you, if possible, recover your money.
Report what happened to you, file a complaint, contact the financial regulator, contact other government institutions related to trading and investing. Seek help actively!
It's very important not to rush blindly trying to recover your funds because many scam recovery agencies and individuals are stalking, aiming to double scam the victims. These will most likely ask for an advanced payment, but will do nothing to help you recover your losses!
Share online your experience; it's important to protect others, as well. Be responsible!