Beware! DTM-Trading.asia is an offshore broker! Your investment may be at risk.
RECOMMENDED FOREX BROKERS
Don't put all your eggs in one basket. Open trading accounts with at least two brokers.
DTM-Trading.asia is an illegal Forex broker that doesn't even present legal documents to the traders. But it's obviously not a problem for them as they boldly claim to be an EU regulated company. In fact, there is absolutely no information about this Forex broker to be found, which is a strong argument to stay away from it. But there are some even more disturbing facts we were able to unearth that we are going to share with you in the full DTM-Trading.asia review.

DTM-Trading.asia REGULATION AND SAFETY OF FUNDS
DTM-Trading.asia is an anonymous FX creature, which has no license and it's in no way authorised to sell financial products and services. They list an address in Singapore, but our research in the register of MAS (the Singapore financial authority) didn't produce any results. It only means that DTM-Trading.asia is an illegal Forex broker.
What's most disturbing though, proving that DTM-Trading.asia is a scam website is its twin- Elite Trade FX, which is 99% identical to DTM-Trading.asia. You can see the resemblance at the bottom of this section. Your funds are not safe if you make a deposit with DTM-Trading.asia because it's not even broker, but a cheap website that cost the scammers almost nothing to build! Avoid DTM-Trading.asia and report immediately if they contact you!
Forget about DTM-Trading.asia and start trading with CySEC regulated (EU) or FCA regulated (UK) brokers, which are not surprisingly the leading companies in the retail Forex industry. The customer protection is placed on top of their priority list, not because they want to, but because they have to. In these domains, the Forex brokers have to comply with many strict rules and regulations, such as minimum capital requirements of 730 000 EUR, personnel qualification standards, segregation of the clients' accounts etc. But most importantly, there are money protection schemes in operation, such as ICF in Cyprus and FSCS in the UK, which guarantee the deposits of the traders. Under CySEC(Cyprus) supervision, you can claim up to 20 000 EUR in compensation per client, while in the UK under FCA you are guaranteed of even up to 85 000 GBP per client. Each EU member state is compelled to create and further operate similar insurance funds, which are seen to be the last resort for the traders, in case a Forex broker fails to meet its financial obligations.
DTM-Trading.asia TRADING SOFTWARE
DTM-Trading.asia claims to offer MetaTrader4 to its clients, but that's not true, and apparently, they are trying to take advantage of the MT reputation. What you can download from their website is a generic distribution, meaning that DTM-Trading.asia doesn't have a Metatrader license! The conclusion is that DTM-Trading.asia doesn't offer any functional platform to the traders, even a web-based one. Moreover, we created an account, but we cannot gain access because DTM-Trading.asia still hasn't sent us an e-mail confirmation, which is a strange case though. Usually, the similar scam brokers send the link instantly and even start asking for deposits from the people that have just signed up!
The spread is said to start from 0.1 pips, but we cannot confirm that statement as valid. The spread forms part or all of the trading costs, and it's the price the trader has to pay to open a position. The lower spreads benefit the clients and increase the profit potential.
The maximum leverage level possible is 1:500, but we cannot verify it's true either. The leverage is the other fundamental aspect, and in fact, it makes retail trading possible. The leverage allows the traders to multiply the size of their positions, but at the same time, the risk of loss escalates. This fact alone made the EU, UK and Australia (from 2021) impose a leverage cap on the market- 1:30 as a customer protection measure. Canada and the US agreed on 1:50, and we do not recommend that the traders should search for increased leverage brokers because they might quickly end up being scammed.
The best ones to trade with are the regulated MetaTrader4 and MetaTrader5 Forex brokers because MT is the best retail FX platform on the market. It's stable and reliable but also features some sophisticated tools that the traders can hardly find anywhere else for free. We are talking about the Expert Advisors, Automated Trading, Complex Indicators, Strategy Testing and even the marketplace Metatrader created where the traders can find even more third-party-developed trading tools to implement in the strategy.
DTM-Trading.asia DEPOSIT/WITHDRAW METHODS AND FEES
The minimum initial deposit is said to be $1, but as already confirmed DTM-Trading.asia is not a broker to trade with. Needless to say, the traders cannot make any profits with such a tiny deposit. The industry standard though is $100 on average as most of the brokers will not ask for more from the clients to start trading. But in fact, on other sections of their website, we saw them claim that the minimum deposit they will accept is $10 and $100, which is an information discrepancy and yet another red flag to note.
DTM-Trading.asia claims to accept a variety of funding methods- Credit/Debit cards, Wire Transfers, Skrill, Neteller, WebMoney, Perfect Money and Bitcoin. Still, we cannot confirm that all of these payment methods are available to make a deposit.
Warning! DTM-Trading.asia doesn't even present Terms and Conditions, User Agreement or any document that will serve as a contract between the parties! This fact not only confirms DTM-Trading.asia is an illegal entity, but also means that the conditions that apply to trade with them remain unknown. As a result, we have no information about minimum withdrawal requirements, dormant account policy, fees, or bonuses if there are any. Below, we'll give a concise explanation of the conditions above-mentioned.
Most of the legit brokers do not usually restrict the traders as to the amount that they can withdraw, so the traders can pull out as much money as they want.
The dormant account policy is a set of rules that determine how the brokers handle the accounts that have become inactive- no login, no trading. The legit brokers will usually charge a monthly administrative fee of 5 to 10 USD at most, but the scammers will include unfair clauses to pillage the account and pocket the remaining balance.
The bonus is one of the favourite marketing tools of the scammers. We have to make it clear- the bonuses are not free money, but a leverage tool that further increases the risk. As if it's not enough, the scammers are also going to bound the bonuses with separate terms and conditions that effectively lock the funds into the account, making it impossible for the traders to withdraw. A minimum trading volume that's almost impossible to reach will apply, and the traders might consider their money lost once they accept a bonus from the broker!
DTM-Trading.asia is a scam broker!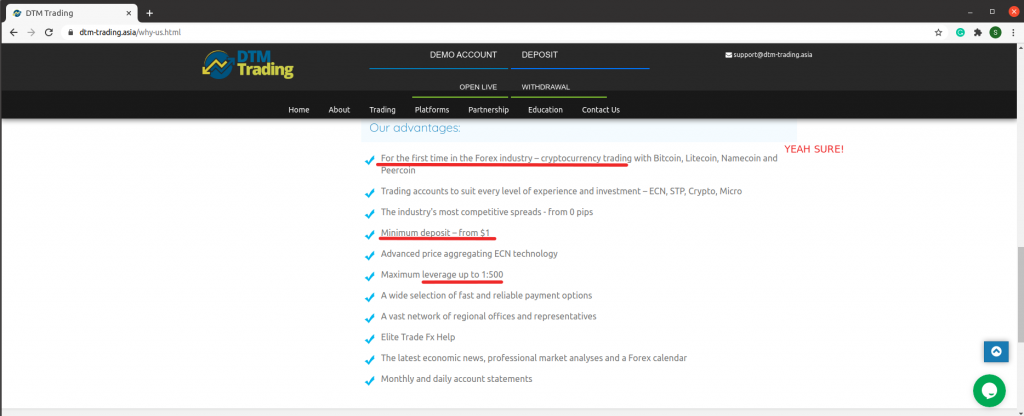 HOW DOES THE SCAM WORK
A group of scammers usually operates many different scam brokers, scam websites and call centres. Sometimes they will simply rely on the quantity; they will publish tens or hundreds of websites and will wait for traders and investors with little or no experience to bite. Nowadays, it's very cheap to create one, and it looks like a profitable strategy, as they carry on doing it. At times the websites that the traders will encounter will be absolutely the same with only the name, and the logo changed! Beware, and always do the thorough research before you get ready to make an investment and start trading.
The scam itself is a criminal activity. Mostly, the scammers are hiding behind offshore companies and brokers while trying to remain anonymous and difficult to trace. There is no or very light FX regulation in jurisdictions such as the Commonwealth of Dominica, the Marshall Islands or St. Vincent and the Grenadines, making them some of the most popular destinations for dodgy enterprises and scam Forex brokers. Regulation means customer protection and safety, and financial authorities such as CySEC or FCA will make it impossible for a scam Forex broker to conduct illicit activities and harm the traders under their supervision. That's why you should always trade with regulated brokers!
WHAT TO DO WHEN SCAMMED
No one is immune to scam, and anyone can fall into the trap. Scammers are always looking for new and different ways to scam consumers. What you need to do first, in case you got scammed, is to protect yourself from further risks. Contact your bank and explain to them your situation, they will give you necessary instructions to follow and will help you, if possible, recover your money.
Report what happened to you, file a complaint, contact the financial regulator, contact other government institutions related to trading and investing. Seek help actively!
It's very important not to rush blindly trying to recover your funds because many scam recovery agencies and individuals are stalking, aiming to double scam the victims. These will most likely ask for an advanced payment, but will do nothing to help you recover your losses!
Share online your experience; it's important to protect others, as well. Be responsible!