Beware! Pro24fx is an offshore broker! Your investment may be at risk.
RECOMMENDED FOREX BROKERS
Don't put all your eggs in one basket. Open trading accounts with at least two brokers.
Pro24fx is an offshore broker that offers trading in Forex, Commodities, Indices and Cryptocurrencies. A couple of things make an impression as soon as you open the website. The first one is a big popup window advertising a 50% Bonus for Crypto deposits – anytime you see a bonus offer, especially one that they are sticking in your face, you should be wary since bonuses are prohibited in most regulated markets.
The other thing is the logo of AnyDesk remote desktop application on the left side of their home page, prompting you to install this software which will grant access to a third party to personal information stored on your PC, including credit card details and bank account passwords.
The broker does not advertise different types of accounts on its website, but during registration one can choose from four different types – Micro, Standard, Premium and VIP. It is not explained anywhere, however, what is the difference between them.
The registration form asked for our names, email address, phone number and address, as well as other information that was not required to complete it. Upon submitting it we received a message in the browser that our account is activated, and an email with credentials for the MT4 trading platform.
The client area has the usual features to Deposit / Withdraw funds, an option to change your initially assigned leverage of 1:100 to up to 1:500, and a link to the trading platform. You can also "supposedly" open a Demo account, which we tried to do, but received an error message "Invalid Entries Please Try Again" – not really sure what could be Invalid since all entries were actually selected from drop-down menus:
Pro24fx Regulation and safety of funds
In the Terms and Conditions we read that this Website is owned and operated by Honest Capital Ltd. They list a UK phone number and an address in Saint Vincent and the Grenadines. SVG is an offshore jurisdiction in the Carribean that does not regulate forex, binary options, or crypto-currency trading or service providers.
Our internet search for Pro24fx did not return many results, but for Honest Capital we found out that the Italian regulator, CONSOB has ordered the black-out of its website in February of 2020. The website in the warning is different, and the domain is currently for sale, but that is a regular scam tactic – con artists use a website until it is blacklisted and when that happens they switch to another domain.
In the FAQ section we find a statement that Pro24fx "is legally required to preserve liquid capital that is sufficient to cover all client financial activities" and that "investor funds are insured and held in segregated fiduciary bank accounts that can only be used for client payment." As we noted above, however, offshore jurisdictions do not regulate forex brokers, and we know from experience that if a broker is regulated by one of these watchdog organizations, such as the Cyprus Securities and Exchange Commission (CySEC) or the UK's Financial Conduct Authority (FCA), that do require and enforce rules like Minimum Capital Requirements and Client Account Segregation, they will put this information in a prominent place on their website, together with the license number the institution has issued to them.
This is not the case with Pro24fx, however; they are an unregulated, offshore broker and investing money with them is not safe!
Pro24fx Trading Software
The broker provides the MetaTrader 4 (MT4) trading platform as a Desktop application, a web-based platform and mobile apps. The WebTrader is advertised as this easy-to-use, requiring no download software that has lots of features and allows for instant online trading on both demo and trading accounts. Actually this turned out to be very far from reality – what we saw was a black screen with inactive links to open or login to an account and not working charts and functionalities – a completely useless software: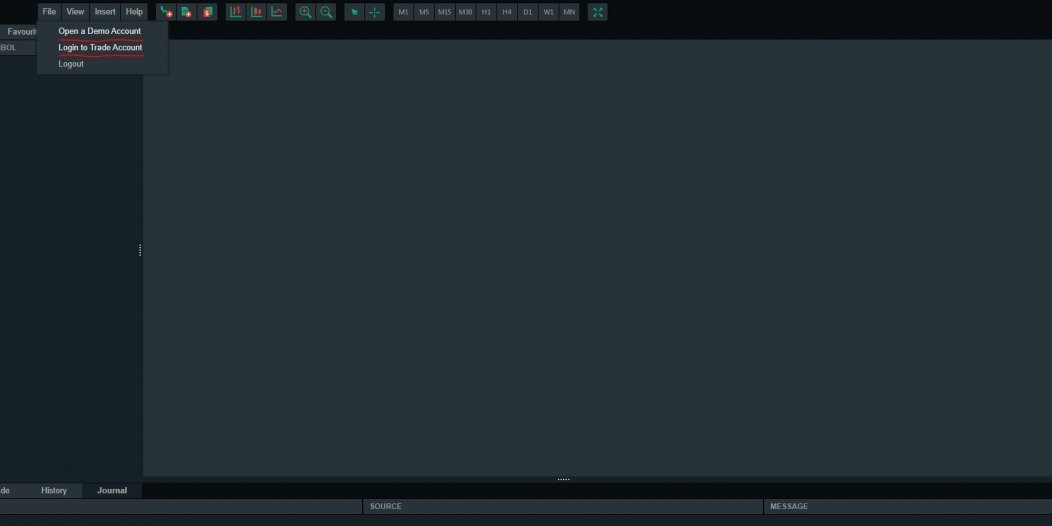 The mobile apps are also presented as MT4 versions, but the app store links have nothing to do with MetaQuotes – the company that developed the MT4 platform. We did not check these apps, but considering what we saw so far, it's safe to assume they are not as professional.
MT4, on the other hand, is the world's most popular platform, allowing users to perform trading operations and technical analysis on many financial instruments. It has a large number of built in trading indicators and graphical objects, possibility of writing own scripts using the proprietary MQL4 programming language, and supports various time frames. It is also available as a web and Mobile (iOS and Android) application, but as we saw these are not offered by Pro24fx.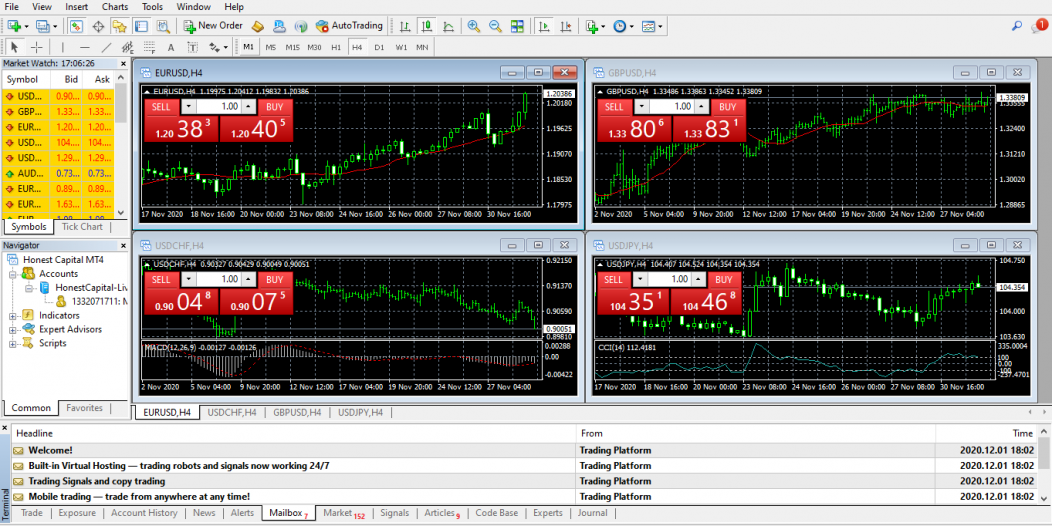 Pro24fx Trading Conditions
The EURUSD spread we see in the MT4 trading platform above fluctuated around 2.2 – 2.3 pips. Although not very wide, most regulated brokers offer spreads of 1 – 1.5 pips for this most traded currency pair.
The leverage that was initially assigned to our account was 1:100, but one can ask to raise it to up to 1:500. Such leverage can be quite risky – it can make big profits, but if you lose, the losses will be huge too, often much greater than the invested funds. That is why, most regulatory authorities impose leverage caps for non-professional traders: in the USA it is 1:50, while for brokers licensed in the EU and the UK it is 1:30.
Pro24fx Deposit/Withdrawal Methods And Fees
The broker provides standard payment methods – Wire transfer and Credit card (VISA and MasterCard). In the client area transaction interface there is a link to a Deposit & Withdrawal Policy to which one has to agree in order to make the transaction. The strange thing is this page is not accessible from the website although it contains vital information for anyone considering an investment with the broker.
In the table above we see more methods than what were available in the client area, including popular e-wallets, such as Skrill and Neteller. The minimum transaction amounts, €100 for deposits and €10 for withdrawals, and the processing times are normal, but there are a couple disturbing things. First of all, they do not specify what will be the commission on deposits below €5000 or "where there is a lack of trading activity." The other thing is even worse because someone was sloppy enough to put the wrong website name – most probably it is again one of the blacklisted websites that was abandoned when it was denounced.
Last but not least, the Credit Card deposit option in the client area did not open a payment processor interface but navigated to an educational website offering courses, eBooks and Market research for sale!
Overall, we want to emphasize again that Pro24fx is an offshore, unregulated broker, and one should not risk investing with them!
How does the scam work?
Here we will outline the most common scamming scenario. The first step is to capture the users' attention with ads promising fast money. When they click on such an ad, they are redirected to a website that would ask to provide their email address and phone number. This personal information is then used by the scam brokers who will start calling and asking to invest with them. The initial deposit is usually around $250 from which these brokers will make a fat commission.
After that, users are transferred to senior brokers. These are expert con-artists who will sweet-talk them into putting even more money. When the traders decide to get out, however, it turns out it is not that simple. The scammers will talk them into postponing their withdrawals or will draw out various reasons to deny the request. All of this is with the objective to miss the limited time period for filing a chargeback with their bank and get their money back.
We should note that VISA and MasterCard have recently taken measures to combat online scams and are classifying all forex transactions as high risk. Furthermore, they have increased the period for filing a chargeback from 6 months to 540 days.
What to do when scammed?
In the event you become a victim of such a scam there are some things you should know. If you used a major credit card to fund the account you should immediately file for a chargeback with your bank or credit card provider. In case you supplied sensitive financial information to the scammers, such as account details and passwords, you should cancel your credit card or change your pass.
If you used bitcoin or bank wire, however, chances of recovering your funds are slim. Do not get hooked by any "recovery agents", who prey on scam victims, using their hopes of retrieving their money. These are just another type of scammers who will ask you for an upfront fee in order to get your money back, but once you pay them, you will not hear from them again.
Rich Snippet Data
Reviewer
Review Date
Reviewed Broker
Broker Rating