Beware! TradeTime is an offshore broker! Your investment may be at risk.
RECOMMENDED FOREX BROKERS
Don't put all your eggs in one basket. Open trading accounts with at least two brokers.
TradeTime is a broker that offers trading in Forex, Indices and Commodities. They provide a 3-step solution to a customised trading account, where clients first define how much they want to invest and in what instruments, then customise account name and dashboard, and finally they are ready to trade.
We went through this process a couple times providing different answers to the questions presented, but the result was always the same (the screenshot above), so in our opinion this is just a show designed to make potential investors believe this broker provides a unique and valuable product.
Anyway, we tried to open an account: it required us to submit basic personal details in the first step – Names, Email address, Phone number, then Date of Birth, Address and select Currency (USD or EUR) in step 2. At submitting the data, however, nothing happened except a small red "502" appeared, probably meaning Bad Gateway server Error.
After a few minutes we received an email with a verification link which when clicked said our email was confirmed, but login still did not work. We tried to use the Forgot Password feature, but that also did not work – we did not receive anymore emails from them. Overall, the entire login / registration process was bugged, so we were not able to login to our account.
TradeTime Regulation and safety of funds
In the bottom left corner of the registration popup, there was a note "Regulated by VFSC. Reg. no. 17903." The Vanuatu Financial Services Commission is the body responsible for the regulation and oversight of forex trading in Vanuatu, but its regulation regime is very slack compared to the watchdog agencies in the big financial markets like the USA, European Union, Australia or the United Kingdom. What is more, it turned out that the registration number belongs to a different company.
In the Terms and Conditions, there is another company name, Capital Process ltd., Company ID 204264063, registered and operating under the laws of Bulgaria. The regulations in this small southeast European country allow for a quick and inexpensive company registration process (you can register a firm with 1 EUR capital) and is often used to set up call centres for customer support services due to lower labour costs and relatively high percentage of people speaking English.
When we Searched for the company name and ID we found it in a list of non-licensed investment intermediaries published by Bulgaria's regulator, the Financial Services Commission, so this also turned out to be misleading information. Everything about this broker leads us to believe it is a scam operation!
They have made a name for themselves, however. In the beginning of November this year the Spanish financial watchdog – the Comision Nacional del Mercado de Valores (CNMV) – has alerted the public that the broker is not authorised to provide investment services:
Later in the month UK's Financial Conduct Authority (FCA) also issued a warning against TradeTime: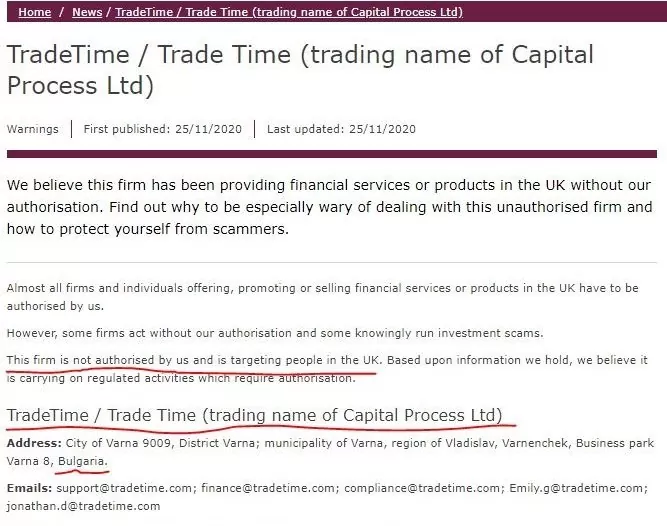 The broker may claim to provide "highest financial standards" and "safety of funds" to its clients, but these are nothing but empty statements that cannot be corroborated. Regulated brokers on the other hand must adhere to very strict rules. Watchdog agencies, such as the FCA and the Cyprus Securities and Exchange Commission (CySEC), require that brokerages maintain a net capital of at least EUR 730 000 in order to make sure that they are well-capitalized to protect investors from unfavorable events. They also have to keep clients' funds separate from their operating funds and participate in Compensation Schemes, which provide additional assurance for investors' funds up to a certain amount (85,000 GBP in the UK and 20,000 EUR in the EU).
TradeTime, however, is NOT a regulated broker, so anything they say or promise on their website must be checked first. And we would advise our readers to select a broker regulated by a recognized authority.
TradeTime Trading Software
The broker offers the MetaTrader 4 (MT4) trading platform that you can download for PC, Android or iPhone/iPad directly from their website. MT4 is the industry standard in Forex trading used by millions of traders worldwide. It offers an intuitive and user-friendly interface, advanced real-time charting and analysis tools (trading indicators), as well as one-click trading and multiple order execution types.
TradeTime also advertises their own proprietary software, supposed to be the "next generation platform" providing "high grade customisation while maintaining robust core industry standard features." We cannot verify this, however, because opening an account could not be completed.
TradeTime Trading Conditions
The broker claims to offer spreads from 1.1 pips and leverage of up to 1:400 as can be seen in the screenshot above. Although this spread is quite competitive, it cannot be checked, and considering all the inconsistencies and false statements we came across so far, it is hard to believe.
The leverage of 1:400 is very high, however. Leveraged trading comes with significant risks, especially to inexperienced traders. Although it allows for bigger profits, one may incur great losses too, often much greater than the invested funds. That is why, most regulatory authorities impose leverage caps for non-professional traders: in the USA it is 1:50, while for brokers licensed in the EU and the UK it is 1:30. The Australian Securities and Investments Commission (ASIC) also recently announced that from 29 March 2021 it will restrict leverage for major currency pairs to 1:30.
TradeTime Deposit/Withdrawal Methods And Fees
According to the broker's website you "can fund your account with credit and debit cards, bank transfers, and a range of online payment methods". The minimum deposit amount is $250, which is more than double the standards of regulated brokers – they ask for $100 from the traders on average.
As we already noted, we can only use the website as a source of information regarding trading and payment transaction conditions. In the Terms and Conditions, for example we read that the provision of the Company's services is subject to payment of "brokerage fees, commissions, special service and other fees" which supposedly can be found in a "fee schedule" on their website.
There was no such document to be found on the broker's website though, so they can charge anything they want to. We have seen so many false statements TradeTime makes, that we are certain beyond a doubt they are a scam. Stay away from them!
How does the scam work?
The usual scam operates on a multi-level, though very basic model. The users will be tempted to click on an Internet ad promising quick and easy profits. If they do, it will take them to a website that will ask for their personal details, including email address and phone number. Once they submit this information, an avalanche of emails and phone calls will be unleashed. Scammers will promise the world to these potential traders in order to induce them to make an initial deposit between $200 and $300.
These "brokers" will get a fat commission from the deposited sums and will transfer the unsuspecting users to "senior" scammers. The latter are smooth talkers who will try to persuade users to invest more funds, using phrases like "now is the right time" and "the moment is perfect for making hefty profits". Of course, these are empty words, and traders will soon have doubts whether they have not been played.
When they try to withdraw their money, these doubts will be confirmed: the con-artists will do anything to deny or at least delay their withdrawals. From trying to convince the traders that they are making a big mistake to withdraw funds now because they will lose big profits, to asking for additional documents or citing clauses in the accepted agreements, to transferring you to another department, there is a single objective to delay the users from filing for a chargeback with their financial institution and lose any chances of recovering their money.
What to do if scammed?
Anyone can fall prey to such a scam. In the unfortunate event this happens to you, there are a few things you can do. If you deposited using a credit card you should immediately file for a chargeback. In an effort to combat online fraud VISA and MasterCard have extended the period in which one can file a chargeback to a year and a half, so there is a big chance that you may be able to recover your funds. If however, you used a bank wire or bitcoin to deposit, chances to get your money back are almost none.
We should also warn against "recovery agencies" who prey on victimized traders by claiming they can recover their funds. These scammers will ask you to pay a fee for this service, but will only take your money and do nothing.
Rich Snippet Data
Reviewer
Review Date
Reviewed Broker
Broker Rating