Beware! Shift Holdings is an offshore broker! Your investment may be at risk.
RECOMMENDED FOREX BROKERS
Don't put all your eggs in one basket. Open trading accounts with at least two brokers.
Shift Holdings is an offshore broker that offers trading in Forex, Indices, Stocks, Commodities and Futures. They have four types of accounts starting from a $250 minimum deposit requirement, and going to $50,000. The other differences are in the trading conditions – spreads from 2.8 to 0.1 pips and leverage from 1:100 to 1:400.
To open an account we had to provide First and Last names, Email address, Phone number, and Country of residence. At completing the registration process successfully we were redirected to the client area and received an email with the account credentials in plain sight – not a good practice in terms of security and privacy since email communications can be intercepted. The email contained also a link to "confirm your email address, and then you will be able to log in to your Shift Holdings account", but we were already logged in.
Shift Holdings Regulation and safety of funds
The broker's website is owned and operated by Share Oracle Ltd, with an address in the Commonwealth of Dominica. Dominica is an offshore jurisdiction in the Carribean that does not regulate forex brokers, which makes it an attractive destination for scam operations.
The Contact Info page provides a UK phone number and what looks like a placeholder for a registration number. Similar to the opening statement in the Terms and Conditions document, however, the registration number is missing.
We tried to find more information about this broker on the internet. For Shift Holdings there was not much data – it seems it is a newly-forged entity. Share Oracle Ltd, however, was a different story – there was a warning issued in May 2020 by the UK's regulator, the Financial Conduct Authority (FCA), that the firm has been providing financial services or products in the UK without authorisation:
Although the alert is for a different website, the parent company and its address are exactly the same as the ones for Shift Holdings. This is a common scammers' tactic – as soon as their website falls under the radar of authorities they shut it down, only to resume their operations under a different domain soon after.
Shift Holdings is big on words – they "adhere to the strictest regulatory standards, with the express purpose of … protecting the integrity of your account" and "are dedicated to ensuring that your funds are secure". The question is which regulatory organization sets the standards the broker adheres to – a rhetorical question of course since it is clear that Shift Holdings is NOT regulated.
This is another common practice of scammers to quote requirements for licensed and regulated brokers with the aim of providing a false sense of security in their clients, but in the case of offshore brokers these are empty claims since there is no oversight over the compliance to these rules.
Top watchdog agencies, such as the FCA and the Cyprus Securities and Exchange Commission (CySEC), have very strict policies – Client Account Segregation requires that clients' funds are kept separate from the broker's operating funds. while Negative Balance Protection ensures that traders cannot lose more money than what they invested. Others include a Minimum Capital Requirement of 730,000 EUR in order to guarantee the broker's good financial standing and participation in Compensation Schemes, which provide additional assurance for investors' funds up to a certain amount (85,000 GBP in the UK and 20,000 EUR in the EU).
Shift Holdings, however, is an offshore, unregulated broker, so anything they say or promise on their website should be taken with a grain of salt. They may claim your money is safe with them, but we would not advise risking that.
Shift Holdings Trading Software
The broker offers the MetaTrader 4 (MT4) platform as a Desktop, Web and Mobile (Android and iOS) application. MT4 is the world's number one platform, preferred by more than 80% of users. It offers an intuitive and user-friendly interface, sophisticated charting and analysis tools, as well as copy and auto-trade options. It can be further customized to create different trading strategies using its proprietary MQL4 programming language.
Shift Holdings also advertises their "unique web trader that has been developed only for [their] clients traders [and] offers outstanding customization, personalization, advanced charts, and technical tools." We could not find this software, however, neither on their website, nor in the client area.
Shift Holdings Trading Conditions
With a MT4 Demo account we were offered a 2.7 pips spread for EURUSD, which is in line with what the broker advertises for their starter account. In the Trading section of their website, however, they list a considerably lower spread of 1.5 pips for this most traded currency pair.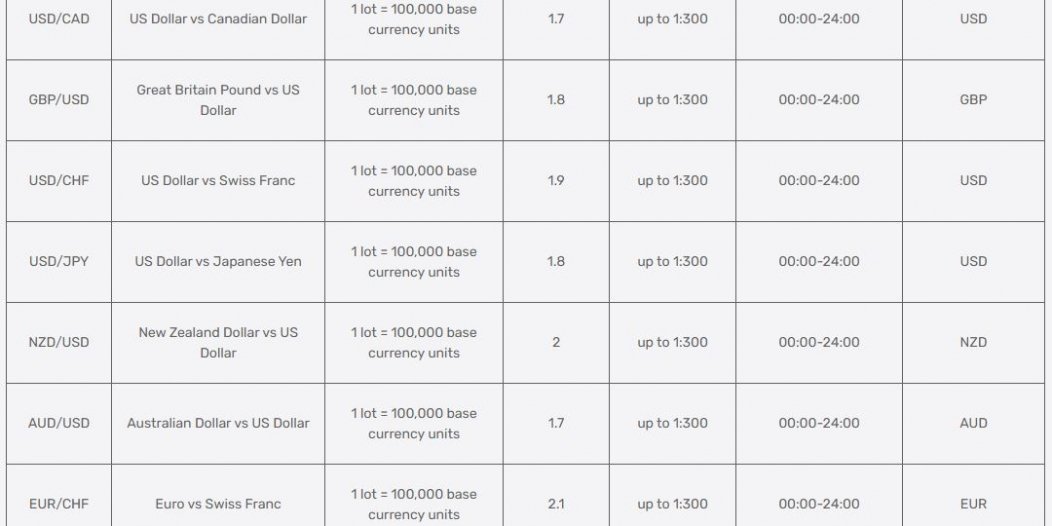 Regulated brokers generally provide a spread of 1 – 1.2 pips for EURUSD; wider spreads make the cost of trading very high. They would guarantee hefty profits for the brokerage on the back of traders' losses.
The leverage Shift Holdings offers is up to 1:400. Trading on such high leverage comes with significant risks, especially to inexperienced traders. Although in theory it allows for bigger profits, one may incur great losses too, often much greater than the invested funds. That is why, most regulatory authorities impose leverage caps for non-professional traders: in the USA it is 1:50, while for brokers licensed in the EU and the UK it is 1:30. The Australian Securities and Investments Commission (ASIC) also recently announced that from 29 March 2021 it will restrict leverage for major currency pairs to 1:30.
Shift Holdings Deposit/Withdrawal Methods And Fees
On their website, Shift Holdings claims to support different means of funding your account – credit cards, debit cards, wire transfer, e-Wallet, and more. Unfortunately, we could verify this in the client area because from the beginning most features there did not work due to the account not being approved. The only things that worked were SETTINGS to update profile and contact information and DOCUMENTS upload.
The minimum deposit amount is $/€/£250, which is more than double the standards of regulated brokers – they ask for $100 from the traders on average. The minimum withdrawal requirement is not so big, $50, but legitimate brokers rarely put a threshold on the withdrawal amount for their clients. Shift Holdings also claims they do not charge any deposit or withdrawal fees, or any commissions or fees on trades – something we cannot verify, however.
The broker offers bonuses, but with a big catch – in order to withdraw funds from an account that has been credited with a trading bonus, the trader will be required to execute a minimum trading volume of the bonus amount divided by 4 (four) within 60 days. This is a common scam practice to lure investors and it is prohibited by major regulatory organizations. Considering all this, we would advise our readers not to invest money with an unregulated, scam broker such as Shift Holdings!
How does the scam work?
The most common scams are quite simple and straightforward and involve a multi-level scheme that usually goes by the following scenario. Internet users are lured by the numerous ads promising quick and easy fortunes by trading in the Forex world. When they click on such an ad they are redirected to a website tailored to the continuation of these false pledges, which asks them to register with their personal information. This data is then used by the scam brokers who immediately start to work on getting them to make an initial deposit of $200 – $300 by making even greater promises of big profits.
Once the users make their first deposit, the scam brokers get a fat commission on it. Now the senior scammers enter the scene. They are smooth talkers who will not stop at anything to convince traders that they are on their way to become very rich, if only they follow their advice and deposit more money to trade with.
Sooner or later the users will start suspecting something is not right and will want to withdraw their funds. This will not prove very easy, however. The scammer will do everything to delay their requests, by persuading them now is not the right time, asking for additional documents, or referring to specific withdrawal clauses. This is also part of the scam since the con-artists are trying to delay the users from filing for chargeback with their financial institution, and they miss the time frame for such chargeback, traders will lose their money without a chance of getting it back.
What to do when scammed?
If you're scammed you should immediately file for a chargeback with your credit card provider. Good news is that VISA and MasterCard recently extended the chargeback period to a year and a half in an effort to combat online fraud. If you deposited with bitcoin or bank wire there is not much chance.
If you provided the scammers with any bank account or credit card details, such as security codes or passwords, make sure to cancel the card and talk to your bank. Also, if you are being approached by any "recovery agencies" promising to get your money back for a fee, do not fall for that. This is a piggyback scam, using the vulnerability of recently defrauded people and their hope the fraud may be reversed, and it will not recover your funds. These so-called agents will collect their fee and you will never hear from them again.
Rich Snippet Data
Reviewer
Review Date
Reviewed Broker
Broker Rating