Beware! ExMarkets is an offshore broker! Your investment may be at risk.
RECOMMENDED FOREX BROKERS
Don't put all your eggs in one basket. Open trading accounts with at least two brokers.
Basic infographics and lack of imagination is what meets the eye when you look at ExMarkets website. We look at some key features to advise you whether it is safe to trade with this company.
ExMarkets Regulation and safety of funds
The first thing anyone looking for a reliable broker should do is check the registration and the license of the company. We found some interesting facts about ExMarkets. First of all, the provider of the website is Chain Framework Ltd registered in the British Virgin Islands which is an offshore zone for forex trade. It means that there is no guarantee of funds for its clients as the company may choose to shut down the website at any moment and clients' funds will be gone or will be feeding the food chain of scammers.
The second interesting fact which we found in the footer of the company's website is that the address of the broker is in Lithuania. What you need to know about this jurisdiction is that the main regulator for forex brokers is the Bank of Lithuania. We checked its register to find out if ExMarkets holds a license (image below). As you can see, our search came back empty as there is no such broker registered with the Bank of Lithuania.
Regulated brokers in Lithuania and any other brokers in the EU must meet rigid requirements in order to get their license. First of all, they must provide an initial capital of no less than 730,000 EUR which among other things serves as a preventive measure against scammers as they would not invest such a huge amount of money for the benefit of looking legit. Other measures for the protection of clients' funds are the daily reporting on transactions for the sake of transparency, keeping clients' accounts segregated with tier-1 banks and protection of negative balance. In addition to that, forex brokers must deduct funds towards a compensation fund or scheme from which their clients can be reimbursed in case of bankruptcy. If the broker is regulated by CySec and contributes to the local Investor Compensation Fund, then its clients can be repaid up to 20,000 EUR per person. For the UK, the amount of compensation can reach up to 85,000 GBP per person but only if the broker is regulated by FCA.
ExMarkets Trading software
ExMarkets is a forex broker trading in cryptocurrencies and the trading software offered to its clients is a web trader which is a browser-based platform offering very basic functionality and a third party chart developed by TradingView (screenshot below). The only trading product offered on this platform is cryptocurrency and you see displayed the chart for the BTC/USDT pair and its fluctuation in price in a given timeframe. From the bid/ask price for BTC, we find out that the spread $12 which is within good parameters.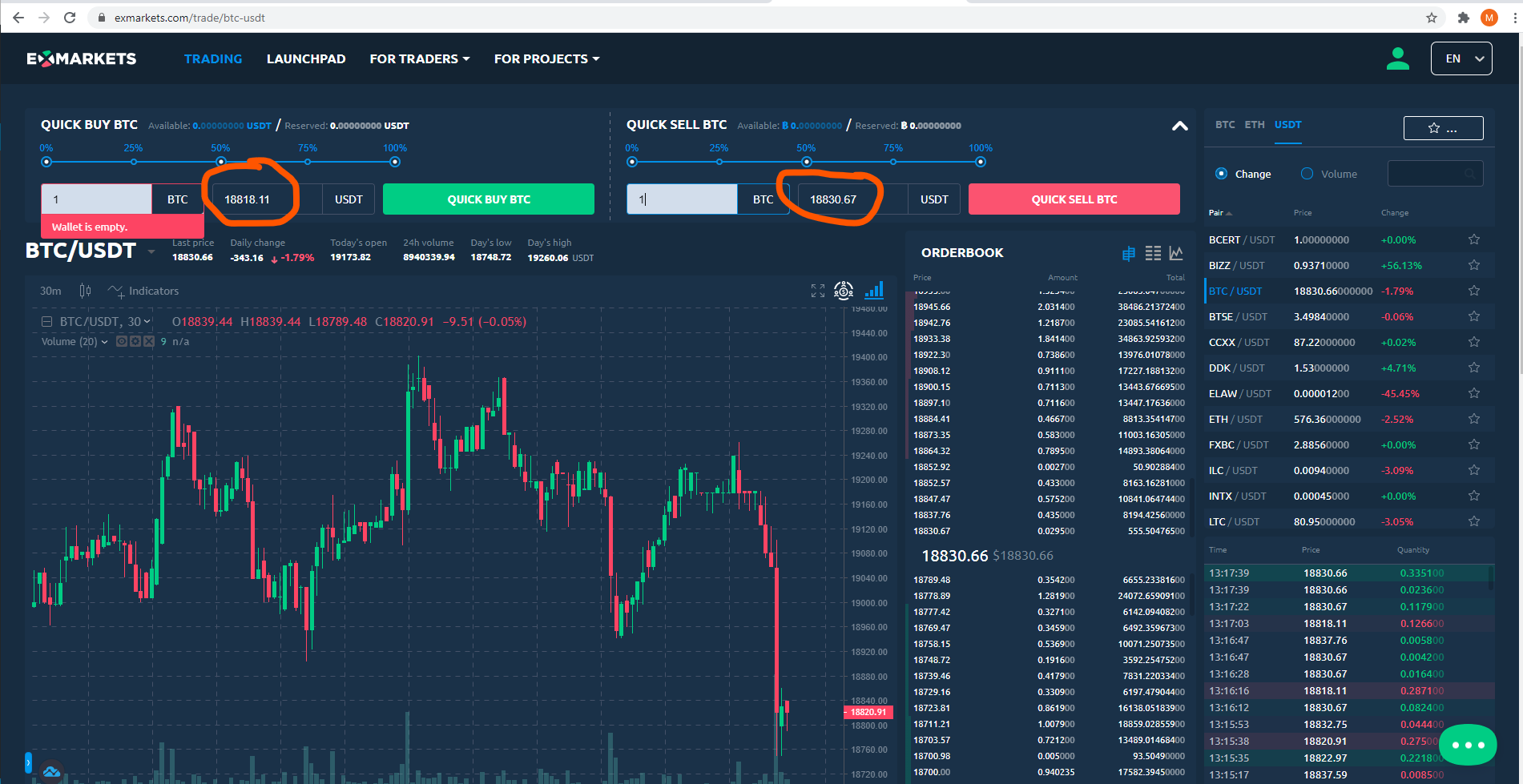 As you can see this crypto-trading platform allows the trading of one digital currency for another. The orderbook that this platform offers contains a list of orders and records the interest of buyers and sellers in the particular crypto exchange which is valuable trading information and helps the traders to decide which order they can execute.
ExMarkets Deposit/Withdrawal methods and fees
There is only one account type and after registration and receiving a PIN for the user, clients can start their trading. The minimum initial deposit amount is 1 BTC and there are no deposit and withdrawal fees.
As payments in cryptocurrency are the only payment option, we ask you to read carefully the last section of this review to see what implications it may have on your chargeback options.
How does scam work?
Scam works in different ways. It could be either that you receive an unsolicited telephone call or you see one of these flashy ads on the Internet or the social media promising you a quick and easy profit. Scammers will promise you the sky and the earth until you give way to temptation and deposit money. Once you give them money you get caught in the scammers' mousetrap and the cheese in the shape of a big fat money fall is gone! It may take some time before you realise that you are being scammed. Scammers are smooth talkers and they are masters of deception. They will give you some excuses as to why the big profit hasn't come yet and will try to lure you to make even a bigger investment because according to them, the more you invest, the more you profit. After you have been waiting for a while and you finally come to your senses, you realise that you are being scammed. All you want now is to get your money back and get out of there. However, the scammers won't make it easy for you! They will try to delay you so that you miss the deadline for applying for a chargeback.
What to do if scammed?
There are a few things that you must do immediately – file for a chargeback if you have paid using a VISA or MasterCard. Those two payment providers allow you 540 days time frame within which you may file for a chargeback.
However, the chances are grim if you have used bank transfer or Bitcoin as a payment method. There is no chance you'll be able to recover your money.
In such a desperate situation, some so-called 'recovery agents' may approach you with offers to recover your money for a fee. Be cautious as you may be dealing with another type of scammers. Always check the information about the recovery agency – make sure it is legitimate and transparent in the public eye. Also, some scammers publish personal comments after our review about how they have been scammed and how they found a recovery agent who helped them get their money back. Do not trust such comments and do not use the published contact info in them as it will lead you to another scammer!
And lastly, a reminder to cancel your credit card if you have given your CVV code to the scammers and erase any software from you PC that gives the scammer access to your personal data.