Beware! BTCapital is an offshore broker! Your investment may be at risk.
RECOMMENDED FOREX BROKERS
Don't put all your eggs in one basket. Open trading accounts with at least two brokers.
If you are considering trading with BTCapital, you are wasting your time and putting your hard-earned money at risk. Broken or non-existent links and Terms and Conditions that heavily benefit the broker is what you can expect to find on its website. Further down we provide you with more reasons why you should not trade with BTCapital.
BTCapital Regulation and safety of funds
First of all, any self-respecting and legit broker will have an address and registration with the financial services authorities of the respective jurisdiction. This one does not! We looked everywhere for clues and the only speculation we can make is that this broker may originate from Bulgaria as in the Terms and Conditions we find that the agreement between the company and the client is governed by the laws of Bulgaria. However, it is also mentioned that this is a non-exclusive jurisdiction. We checked the register of the Bulgarian Financial Supervision Commission, just in case, but this broker did not appear to be there. Another wild speculation is based on the domain of BTCapital website which is .me. This is the country code domain for Montenegro but it is also globally available for registration without any restrictions, so this speculation is non-conclusive. Anyway, you should be wary of brokers without proper registration and an address and without any license as you are probably dealing with scammers.
And if you think that this broker may provide safety for your funds, you are very wrong. We ask you to read carefully the text in the image below to see that this broker will put your funds with the funds of other clients, use them as collateral and will treat them as legal and beneficial property of BTCapital.
You should be very worried about your money if you see such a clause in any broker's legal documents. Also, you should be aware that licensed brokers will never do that. On the contrary, they will keep your funds segregated with tier-1 bank establishments and will report their transactions on a daily basis to provide transparency and avoid shady deals. Other things licensed brokers can do to provide protection against scammers is being well-capitalised and deposit initial capital that scammers will never be able to match. For example, in the US, forex brokers must declare an initial capital of $20 million and in Australia, 1 million AUD. Such huge amounts serve among other things as a barrier against scammers and to protect clients in case of unfavourable events.
On the other hand, brokers in the EU and the UK provide an initial capital of only 730,000 EUR. However, they also participate in compensation funds or schemes which provide reimbursement to traders in case their broker becomes insolvent. If the broker is licensed by CySec and participates in the local Investor Compensation Fund, its clients will be repaid up to 20,000 EUR per person in case of bankruptcy. In the UK, the amount of compensation is much higher – up to 85,000 GBP per client but only if the broker is regulated by FCA and participates in the local Financial Services Compensation Scheme.
We hope that the links we provided above will serve you well in choosing the best licensed forex broker that will meet your trading needs.
BTCapital Trading software
As we already mentioned there are some missing links on BTCapital website and one of those is the link to register and open an account. If you visit the website, you will find out that there is only a 'long in' button which does not allow to open an account. If you click on the section about platforms, you will see that it does not open any information about the trading software, hence, we are not able to advise you on this subject.
However, we need to mention that what you should look into a trading platform is how well it can enhance your trading experience. There are two top-notch trading platforms that are popular with around 80% of the brokers for their proven advantages compared to other platforms. We are talking, of course, about the MetaTrader 4 and MetaTrader 5 trading platforms. These two platforms derive their reputation from the excellent package of trading tools and instruments they offer to the traders and which contain an auto trading option, trading signals, code base with customs scripts, an app market, a financial calendar, VPS, etc. The charting options offered by MT4 and MT5 are considered to be one of the best as they contain many charts to choose from, time frames, colours, etc., even the option to create personalised templates. Last but not least, we want to mention the array of technical analysis indicators, such as moving averages, Bollinger Bands, Fibonacci retracement and others, that help traders predict the future direction of exchange rates and make a profit.
How a platform is set up by the broker also matters. We did not get access to the trading platform but we can look at the information in the account types which is in the last screenshot. What we see as leverage is 1:2 for UST pairs and 1:4 for other pairs. We must tell you that the existing cap on leverage for cryptocurrency pairs in the UK and the EU is 1:2. Leverage of 1:4 as offered by BTCapital will put your funds at risk as it will amplify the exposure to risk and you may suffer a substantial financial loss.
BTCapital Deposit/Withdrawal methods and fees
Looking at the image below, we see that BTCapital offers 5 different trading accounts – Starter, Global Plus, Global Premium, Global Wealth and VIP. The minimum initial deposit for the Starter account is 5,000 EUR. We consider this to be too high and if you open the links we provided above, you will notice that licensed brokers ask for as little as $1-5. The other accounts start at 10,000 EUR, 50,000 EUR, 100,000 EUR and 250 EUR respectively.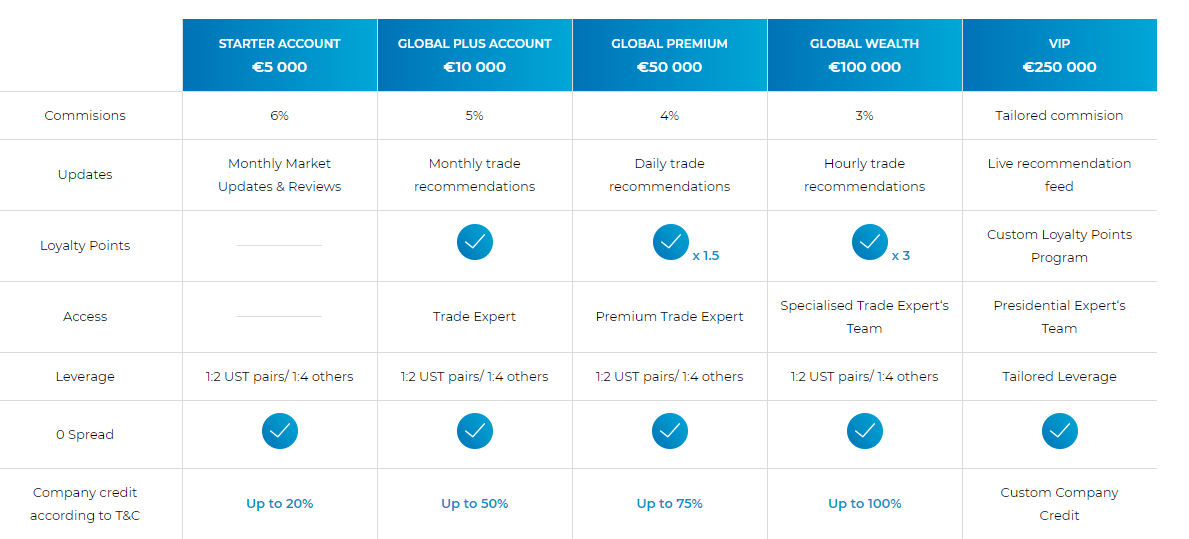 From the information available on BTCapital's website, we find out that the minimum withdrawal amount is 100 EUR/USD/GBP. We advise you to read very carefully the Terms and Conditions document as there are many clauses that can affect your funds. Here are some highlights – if the trader makes a withdrawal request but he/she hasn't executed a minimum trading volume equal to 1% of the deposit, the broker will return the withdrawn funds but will charge 4.5% in the form of a funding cost. To process a withdrawal request may take up to 7 business days but it may take 1-60 business days before the funds reach your credit card or bank account!
According to BTCaspital policy, an account that is classified as inactive will be charged a monthly fee of 100 EUR. However, there is no mention what the period of inactivity is before that fee is charged.
If you look again at the image containing the account types information, you will notice that each account can receive company credit which varies from 20% to 100% and above for VIP account. Company credit is another word for bonuses. You may not be aware, but company credits/bonuses normally have some hard to fulfil conditions attached to them. In this case, to be eligible to withdraw the credit or the profits, the client must execute a trading volume that is equal to the amount of credit multiplied by 50,000. To us, it sounds like a joke but your laughter may turn bitter should you decide to accept a bonus under such conditions. Be aware that legit brokers do not offer bonuses or company credits or any other incentives and this is the demarcation line between them and shady brokers like BTCappital.
How does scam work?
A lot of people get scammed in different scammers' schemes not because they are naive but because scammers are masters of persuasion and manipulation. It all starts with unsolicited telephone calls or a flashy ad on the Internet or social media. Sometimes people give up to temptation and invest money in shady schemes made to look legit and attractive and always promising quick and easy money fall. Once you deposit money into any of these schemes, you reach a point of no return! Your money is gone down the scammers' food chain and you'll have a lot of trouble recovering it. Scammers will do anything in their power to delay you, so you miss the opportunity to file for a chargeback. They will ask you for this and that document and will find hundreds of reasons not to let you retrieve your money. The trick with offering bonuses in forex trading is one of those as your funds are mixed with the bonus money and it takes a lot of hassle to fulfil the broker's requirements before you are able to withdraw any funds.
What to do if scammed?
Speed does it! You need to act very quickly if you want to recover your money. Immediately apply for a chargeback if you have made your deposit via credit card. Fortunately, VISA and MasterCard give you 540 days within which to apply for a chargeback.
If you have paid via wire transfer or Bitcoin, chances of retrieving your fund are grim. Anyway, we want to warn you that some of the so-called recovery agents may approach you and offer to retrieve your funds. For a fee, of course! Be cautious when dealing with them as it may be another form of scam! Always check if the recovery agency is legitimate and visible to the public!
Another thing we advise you to do is to immediately cancel any credit cards if the scammers have your CVV code. Also, make sure to erase any programs on your computer that give scammers access to your personal data on your PC.