RECOMMENDED FOREX BROKERS
Don't put all your eggs in one basket. Open trading accounts with at least two brokers.
OBRinvest is a CySEC regulated broker licensed by the Cyprus financial authority to operate throughout Europe, except for Belgium. They offer various accounts traded on MetaTrader and proprietary web-based software, which apparently they develop by themselves. 
On the other hand, OBRinvest is a costly broker inflicting hefty fees on its clients. Find out all the details traders need to know about this broker in the full OBRinvest review.
OBRinvest

REGULATION AND SAFETY OF FUNDS

OBRinvest introduces as a Cyprus regulated broker, and we could quickly confirm it's true. It's a CySEC authorised investment company compliant with the rules imposed by the local financial authority. The majority of the requirements are customer protection oriented, laid out to make the financial sector secure for the traders. The set of rules OBRinvest complies to include the minimum capital requirement of 730 000 EUR, segregation of clients' funds, negative balance protection for traders accounts and predefined stop-out levels, to name a few.

But most importantly, OBRinvest participates in the Investor Compensation Fund, set up to further protect clients' money. When trading with CySEC brokers, you can claim up to 20 000 EUR in compensation if things go wrong caused by brokers' insolvency. Your funds are safe if you deposit with OBRinvest because it's a licensed and regulated broker abiding by the law. However, we don't recommend this broker for some features we will discuss later in this review.

Now, look at the European brokers and British brokers we recommend. Those companies are safe and reliable, and among the FX industry leaders for the solid regulatory framework, they operate within. Like Cyprus, the UK also created a deposit insurance fund, but the British protections are of even up to 85 000 GBP per client. Apart from that, the other rules imposed on the brokers are mostly the same in Cyprus and the UK, with very few exceptions.
OBRinvest

TRADING SOFTWARE

OBRinvest provides MetaTrader4 and a web-based platform. You'd better stick to the MT because the web-based software cannot offer the same features and trading experience. 

The EUR/USD spread we came across was 2.3 pips, which is no longer a competitive Buy/Sell difference. The spread forms part of the trading costs, so lower rates benefit traders and improve profit potential. The industry standard in 2021 is 1 pip and below, so you can find many brokers offering better trading conditions. 

See our list with MetaTrader4 brokers and MetaTrader5 brokers. MT is the most popular retail Forex trading platform worldwide, which traders prefer for its reliability and ease of use. It features sophisticated trading tools rare to find elsewhere for free such as Expert Advisors, Algo Trading, Complex Indicators, reliable Strategy testers and even a marketplace with more than 10 000 trading apps available by the time.

The maximum leverage OBRinvest offers is standard for EU- 1:30 for retail traders. The leverage is a hazardous tool, so EU, UK and Australia (from 2021) capped the maximum allowed ratio to 1:30 as a customer protection measure. Canada and the US agreed on 1:50. Brokers offering higher ratios are not recommended due to the absence of adequate regulation, the risks aside. The Swiss brokers, are not leverage restricted, but Switzerland keeps scam away with its capital adequacy requirements- more than 22 mln USD to get an FX license.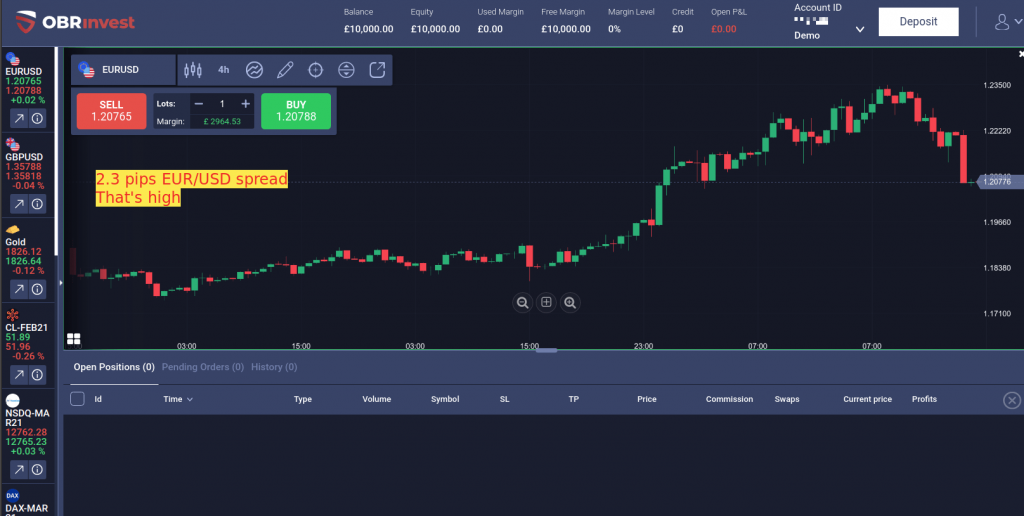 OBRinvest

DEPOSIT/WITHDRAW METHODS AND FEES

The minimum initial deposit with OBRinvest is 250 EUR, which is a bit of a hefty requirement, compared to other regulated brokers which accept as little as 5 to 10 dollars to let traders begin. The funding methods we can confirm are Credit/Debit cards and Klarna. However, as we tested out their payment systems, it turned out that clients can deposit without proof of identification, which we consider a downside and a red flag we need to raise. The reputable brokers are fully compliant to KYC and AML procedures, so OBRinvest certainly undermines its credibility. 

There are no minimum withdrawal restrictions, but the withdrawal fees are burdensome. Each bank card withdrawal will be charged with 3.5% of the sum, while the Wires cost 30 EUR/USD/GBP. It's way too much compared to most regulated FX companies, which do not collect fees from traders to process the withdrawal requests. The processing time is unknown, though.

The inactivity fees inflicted are even worse. After only a month of inactivity, an account becomes dormant, and a charge of 80 EUR per month applies, which is a rate totally unacceptable. Also, OBRinvest considers the account dormant in case of insignificant trading- less than 2 trades executed per month. So, if a trader stays out of the market for a year, he/she has to pay almost $1000 to the broker to keep the money in the account. That's senseless.

As a CySEC regulated broker OBRinvest is not allowed to offer bonuses or trading incentives. 

Overall, OBRinvest is a legit broker, which can guarantee clients' funds' safety, but the services they offer are way too expensive. Our advice is to find a company that will not empty your account out by imposing irrational fees and demands.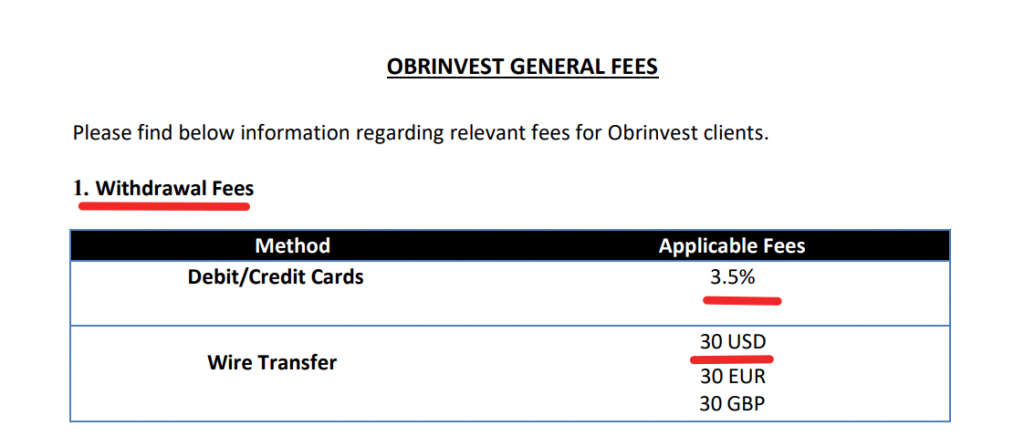 HOW DOES THE SCAM WORK
One can see hundreds and thousands of promising ads on the Internet and social media. Unfortunately, many of these are fraudulent schemes targeting to rip the people off their hard-earned money.
If you click and provide scammers with your e-mail and contact number they'd ring you immediately and will promise you anything to make you deposit money with them as quickly as possible. Most of the scammers are experienced manipulators, and before you know it, they will ask for your bank card numbers to make the deposit instead of you and save you the hassle. The urgency is a warning sign, and they are always in a hurry to persuade you to start investing with them.
But the first deposit is only the beginning. Gradually they would ask for more money from you no matter the results. If you lost on the market, they'd persuade you to put more money and recover the losses. If you traded well, they'd convince you to put more money and increase the profits. The troubles start when you ask for a withdrawal. The scammers would do anything to discourage you and even ask you to pay them if you want to withdraw. The scammers' mantra is "give me your money", they'd insist every day you should deposit more and more, for no obvious reason. Legit companies do not bother you on the phone to deposit with them, so if someone urges you to start investing, it's most probably a scam.
WHAT TO DO WHEN SCAMMED
Unfortunately, no one is immune to fraud. In case you got scammed, you need first to protect yourself from further risks. Contact your bank and explain to them your situation, they will give you necessary instructions to follow and will help you, if possible, recover your money.
Report what happened to you, file a complaint, contact the financial regulator, contact other government institutions related to trading and investing, call the police if you feel necessary. Seek help actively!
It's crucial not to rush blindly trying to recover your funds because many scam recovery agencies and individuals are stalking, aiming to double scam the victims. They ask for an advanced payment, but do nothing to help you recover your losses and simply pocket the money you've sent!
Share online your experience; it's important to protect others, as well. Be responsible!