Beware! ATradeFX is an offshore broker! Your investment may be at risk.
RECOMMENDED FOREX BROKERS
Don't put all your eggs in one basket. Open trading accounts with at least two brokers.
ATradeFX is an anonymous forex broker that obviously targets Arab or Muslim investors – their homepage features male images in traditional arabic clothing. They also advertise swap-free or Islamic Trading accounts for customers who are not allowed to receive swaps owing to their religious beliefs.
Overall, they offer 3 types of accounts, Classic, VIP and Islamic, but the most important details about these accounts – minimum deposit requirements, commissions and instruments offered – are missing. The broker does not provide a Demo account, which is a big red flag, since every respectable broker offers one.
We signed up for a real account – completed a form asking for First and Last name, Email address, Phone number and physical address. After submitting this personal information we were redirected to the client area but did not receive a confirmation email from the broker – another red flag.
ATradeFX Regulation and safety of funds
Throughout the website there is absolutely no information about the company that stands behind the website. Everywhere, including the Terms and Conditions, which consists of only a few paragraphs, it is simply referred to as "the Company."
ATradeFX has a London, UK address and a UK phone number listed on their website. On the screenshot of their home page above we see statements that are not only false or misleading, but grammatically incorrect too – "We work by the comply with international regulatory." Financial regulatory bodies are not international; on the contrary, regulations are jurisdiction-specific, so the agencies that authorise and license the entities practising such regulated activities are also separate for each jurisdiction.
On another page we see a different statement – "Global Regulation – EU and AU regulated company." This is also absurd, since being regulated in the EU and AU does not make you globally regulated, but at least it is something that can be easily checked.
We have to note also that when a broker is regulated in a certain jurisdiction, they will put the name of the regulator and the license number provided by this regulator, sometimes even an image of the certificate where the name of the company and the license number are clearly visible.
So we checked the databases of the top regulators in Europe and Australia – no such broker is authorised by any of them. We always advise traders to avoid unregulated companies and to invest with brokers regulated by reliable authorities such as the UK's Financial Conduct Authority (FCA), the Cyprus Securities and Exchange Commission (CySEC) or the Australian Securities and Investments Commission (ASIC). These watchdog agencies impose strict rules on the brokers they license – Client Account Segregation requires that clients' funds are kept separate from the broker's operating funds. while Negative Balance Protection ensures that traders cannot lose more money than what they invested. Other policies include a Minimum Capital Requirement of 730,000 EUR / AUD 1 million in order to guarantee the broker's good financial standing and, in Europe, participation in Compensation Schemes, which provide additional assurance for investors' funds up to a certain amount (85,000 GBP in the UK and 20,000 EUR in the EU).
ATradeFX, however, is not a regulated broker, but just a scam website. We would advise our readers not to invest funds with an anonymous and unregulated entity such as ATradeFX.
ATradeFX Trading Software
The broker claims to offer "the most advanced platforms" on their homepage. The "Platforms" tab in the horizontal menu has links to two pages – for Desktop and Mobile Trading platforms. These pages also have superlatives about the platforms' features and capabilities. They do not have what is most important, however – download links for the platforms.
In other words, ATradeFX does not have a working trading software. In their client area there is only a chart by TradingView, which is a charting web service with historical and real-time data, but it is just the first step towards a trading platform.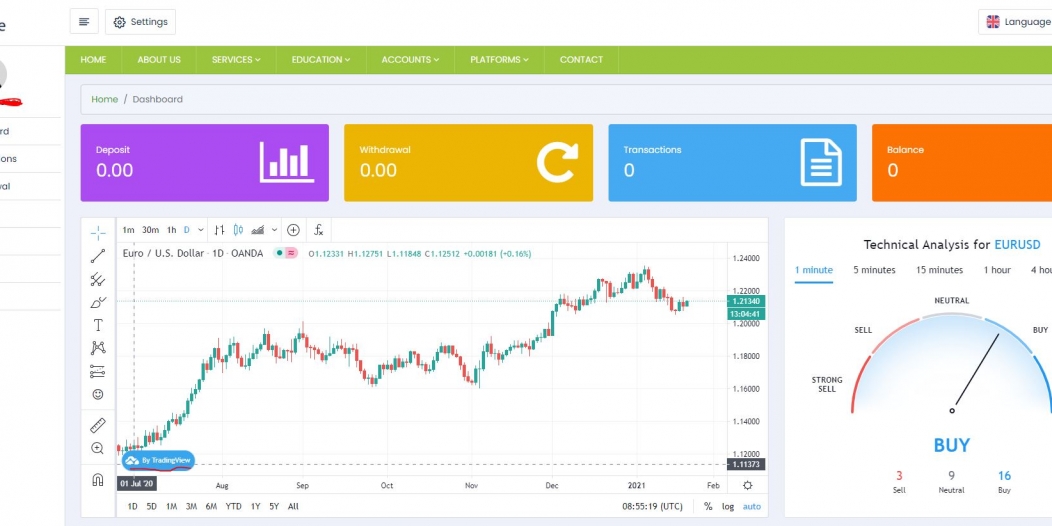 Respectable and recognized brokers offer established trading software to their clients, such as the MetaTrader 4 (MT4) or MetaTrader 5 (MT5) trading platforms, which are available as Desktop, Web and Mobile (Android and iOS) applications. MT4 is the world's number one platform, preferred by more than 80% of users worldwide. It offers an intuitive and user-friendly interface, advanced charting and analysis tools, as well as copy and auto-trade options. It can be further customized to create different trading strategies using its proprietary MQL4 programming language. Its successor, MT5, has some advantages – it allows traders to execute trades on different financial markets through a single account and there is a hedging option.
ATradeFX Finance Trading Conditions
It is hard to evaluate the broker's trading conditions when they do not even have a working trading platform. For their VIP account, they claim to offer "fixed spreads from 1 pip." Such spread is in line with what established brokers offer, but considering all the false claims we have seen so far, and the absence of a trading platform, there is no way to verify this statement.
There is no information about what leverage ATradeFX offers. Unregulated, offshore brokers enjoy no restrictions on leverage and often give rates of up to 1:1000. Such high leverage holds considerable risks to inexperienced traders. Yes, one can make big profits with leveraged trading, but in the event that you lose, your losses will be multiplied, and it may turn out you have lost much more than what you invested. For that reason most regulatory authorities impose leverage caps for non-professional traders: in the USA it is 1:50, while for brokers licensed in the EU and the UK it is 1:30. Even the Australian watchdog ASIC, which does not enforce such rules at the moment, recently announced that from 29 March 2021 it will restrict leverage for major currency pairs to 1:30.
ATradeFX Deposit/Withdrawal Methods And Fees
In the Terms and Conditions the broker states that deposits will be accepted by a Bank transfer, Debit/ Credit Card or any other Method of Electronic Money Transfer. In reality however, the client area Deposit interface offers only one option – Credit / Debit card. Popular payment methods, such as PayPal and preferred by traders e-wallets, eg. Skrill and Neteller, are not available.
We have no information regarding what the minimum amounts for deposit or withdrawal are. There are no concrete details about the fees ATradeFX charges too. There is an obscure statement that payment and transfer charges will be borne by the Client, but no specifics about their amounts or percentages. The processing times mentioned are excessive, however – 10 business days for both deposits and withdrawals.
To summarize, this broker is anonymous and unregulated, and does not even offer a working trading platform. Do not invest with ATradeFX because your money will not be safe!
How does the scam work?
Here we will outline the most common scamming scenario. The first step is to capture the users' attention with ads promising fast money. When they click on such an ad, they are redirected to a website that would ask to provide their email address and phone number. This personal information is then used by the scam brokers who will start calling and asking to invest with them. The initial deposit is usually around $250 from which these brokers will make a fat commission.
After that, users are transferred to senior brokers. These are expert con-artists who will sweet-talk them into putting even more money. When the traders decide to get out, however, it turns out it is not that simple. The scammers will talk them into postponing their withdrawals or will draw out various reasons to deny the request. All of this is with the objective to miss the limited time period for filing a chargeback with their bank and get their money back.
We should note that VISA and MasterCard have recently taken measures to combat online scams and are classifying all forex transactions as high risk. Furthermore, they have increased the period for filing a chargeback from 6 months to 540 days.
What to do when scammed?
In the event you become a victim of such a scam there are some things you should know. If you used a major credit card to fund the account you should immediately file for a chargeback with your bank or credit card provider. In case you supplied sensitive financial information to the scammers, such as account details and passwords, you should cancel your credit card or change your pass.
If you used bitcoin or bank wire, however, chances of recovering your funds are slim. Do not get hooked by any "recovery agents", who prey on scam victims, using their hopes of retrieving their money. These are just another type of scammers who will ask you for an upfront fee in order to get your money back, but once you pay them, you will not hear from them again.
Rich Snippet Data
Reviewer
Review Date
Reviewed Broker
Broker Rating