Beware! AlgoBlox is an offshore broker! Your investment may be at risk.
RECOMMENDED FOREX BROKERS
Don't put all your eggs in one basket. Open trading accounts with at least two brokers.
AlgoBlox sales pitch in its effort to attract potential clients relies heavily on its trading platform which "encourages the use of algorithms, AI and trading bots" that will provide high profit to newbies and veterans alike. How much of this is true, though? We check the facts to verify how beneficial it is to trade with this broker.
AlgoBlox Regulation and safety of funds
The whereabouts of this company are unknown as the address or any information regarding the company's registration are missing from the website. In the Terms and Conditions document, we found out only that the clearing and billing services are provided by G&D Tech Support Ltd. in Sofia, Bulgaria. After doing some research, we found out that this company does exist, however, it is not registered with the Bulgarian Financial Supervision Commission (FSC), therefore, it is not authorised to provide brokerage services.
We think that it is safe to assume that AlgoBlox is non-registered and non-licensed brokers and trading with it will expose your hard-earned money to risk.
As Bulgaria is a member of the EU, licensed Bulgarian brokers must abide by the regulations imposed by ESMA which means that they must have an initial capital of no less than 730,000 EUR, keep clients' funds segregated from their own, provide negative balance protection, report transactions on a regular basis for the sake of transparency, keep low leverage, allow external audits, etc. Same as the other EU brokers, they must participate and deduct funds towards the local investor compensation fund from which in case of bankruptcy clients can get reimbursed up to 20,000 EUR per client.
AlgoBlox Trading software
The trading software offered by AlgoBlox is the SIRIX trading platform (image below). On the left-hand side of the screen, you can see the trading products which in this instance show the major forex pairs and in the middle of the screen, you see displayed the chart of one of those pairs, namely the EUR/USD currency pair. From the bid/ask price for the same pair, we find out that the spread is 0.2 pips. Such spread is below the industry average of 1.5 pips which is beneficial for traders as the cost of transactions will be low and they will be able to achieve a sustainable profit. It is interesting to know that SIRIX is one of the platforms that offers social trading, as seen on the right-hand side of the screen. Traders can copy other more experienced broker's transactions. However, it does not mean that their profit is guaranteed and those who use the social trading option must be careful whom they follow as there could be some hidden traps.
Unfortunately, there is no data on leverage. However, be aware that in the EU, there is a cap on leverage for forex currencies and it cannot exceed 1:30. This is one of the preventive measures to protect clients' funds by preventing traders from trading recklessly with high leverage and suffering great financial loss.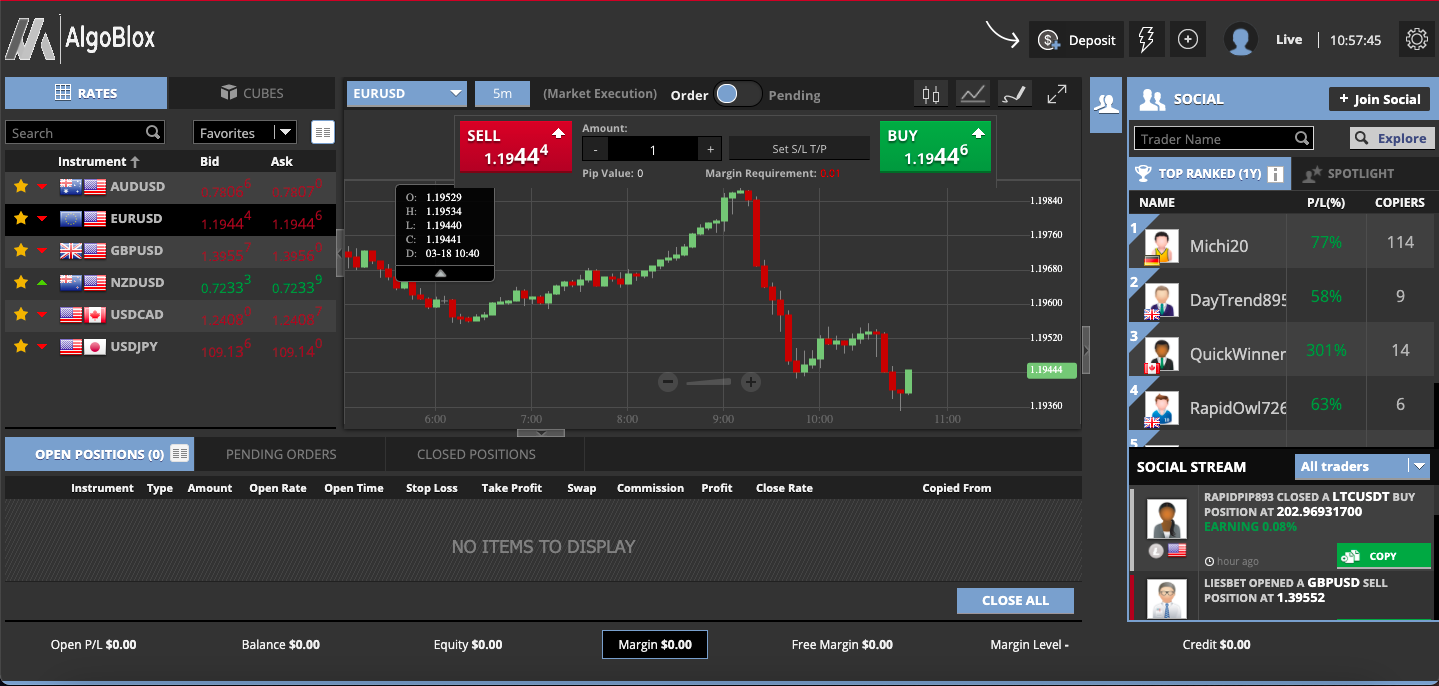 Although SIRIX is considered to be one of the good platforms, it cannot measure up to the MetaTrader 4 and MetaTrader 5 trading platforms which hold firm the first place in trading software. This is not surprising because both platforms offer a great package of trading tools and instruments that include an auto trading option, trading signals, code base with customs scripts, VPS, an app market, a financial calendar, etc. Worth mentioning are the many charting options which is one of the key features for these platforms, as well as the plethora of technical analysis indicators that help traders predict the future direction of exchange rates and make a profit.
AlgoBlox Deposit/Withdrawal methods and fees
The image below shows the trading accounts offered by AlgoBlox which are 6 – Mini, Standard, Gold, Platinum, Diamond and AI VIP account. The minimum initial deposit for the Mini account is $250. This may not look like a big amount of money, but just for your information, licensed brokers usually ask for as little as $1-5. The other accounts start at $1,000, $10,000, $50,000, $100,000 and $300,000 respectively.
The payment methods include credit card, bank wire and BTC. The minimum deposit via credit card is $250, via bank wire, $1,000 and via Bitcoin, 0.01.
The minimum withdrawal amount is $150 and it may take up to 7 business days to process a withdrawal request.

How does scam work?
No one wants to be duped by scammers, but it happens all the time because they know how to manipulate people. As they say in one popular song "sweet dreams are made of this" and this is what scammers rely on – creating in people's mind a sweet dream of being rich! Scams usually start by unsolicited telephone calls or ads on the Internet or social media promising quick and easy profit. It is easy to fall into scammers' trap and once you make a deposit, you are done for! Scammers won't let you get away easily even if you realise that you are being scammed. They will try to delay you when you try to withdraw your funds by asking you to provide this document or fill out this form, etc., in order to make you miss the deadline when you can file for a chargeback.
What to do if scammed?
You need to act very quickly. First of all, if you have made a deposit using a credit card, you must immediately file for a chargeback. Fortunately, VISA and MasterCard allow for 540 day period in which you can file for a chargeback. This is the good news. The bad news is that if you have made a deposit using bank wire or Bitcoin, the chances of you getting your funds back are nil!
Another thing you can do is cancel your credit card if the scammers have your CVV code. Check your PC and erase the software that gives scammers access to your personal data.
Be careful, because even doing all that we recommended, your unfortunate experience with scammers may not be over. There are so-called recovery agents. One of those may approach you offering to recover your funds for a fee. Do not trust them and always check the legitimacy of the recovery agent and the agency.
Also, be aware that some "victims" of scam may post comments after the review, saying how they lost money and how a recovery agent helped them retrieve their funds. They will even put the contact info for this so-called recovery agent. Do not trust them either as it is another case of scam!