Beware! Seven Capitals is an offshore broker! Your investment may be at risk.
RECOMMENDED FOREX BROKERS
Don't put all your eggs in one basket. Open trading accounts with at least two brokers.
We are reviewing Seven Capitals, a broker that's headquartered in Dubai but legally incorporated elsewhere. In fact, it's an offshore entity that's not obligated to follow any financial rules whatsoever, which makes them unreliable. Otherwise, they pretend to be focused primarily on Gold trading, but that's simply a marketing trick. The truth is: Seven Capitals delivers the standard pairs on the standard MT5 platform, so it's impossible to make a significant distinction considering the products offered. We can't recommend this broker, and we are going to explain why in the full Seven Capitals review.
Seven Capitals REGULATION AND SAFETY OF FUNDS
Seven Capitals is a brand name of an offshore IBC incorporated in St. Vincent and the Grenadines, and that itself is a problem. The Caribbean island is a tax haven notoriously famous for its loose financial regulation. The local authority SVGFSA doesn't even bother to license or control the brokers operating there, and as a result, the island is bustling with scammers.
On the other hand, Seven Capitals is presented as a Dubai based broker, but they hold no DFSA license, and it turns out that Seven Capitals knowingly mislead the public. That's evidence of a scam. They are even reluctant to admit that the legal entity standing behind this broker is an offshore IBC registered in St. Vincent and the Grenadines. Your funds are not safe if you deposit with Seven Capitals.  In the following paragraph, we'll concisely discuss what's needed to run a broker in Dubai.
First off, the FX companies need a license issued by the local financial authority DFSA, which "costs" 1 million AED or roughly $270 000. Also, there are some internal procedure rules brokers have to comply with, such as staff experience requirements and clients' account segregation, to name the two most comprehensible. Overall, Dubai's Forex market is regulated, but there isn't extensive customer protection, making DFSA brokers less secure than other counterparts. 
Better regulated are the EU brokers and British brokers, so have a look at the high-rated entities by following the links provided. We strongly recommend those companies because Europe is one of the few places where clients' funds are guaranteed by deposit insurance funds. For example, CySEC brokers' traders can claim 20 000 EUR in compensation, while the British protections are up to 85 000 GBP per person. If you can open an account with a European company, go ahead. It's a no-brainer.
Seven Capitals TRADING SOFTWARE
Seven Capitals provides MetaTrader5, which is a trading software that's dominating the retail FX market. We encountered a EUR/USD spread of 1.1 pips, which is a favourable Buy/Sell difference. Nevertheless, Seven Capitals is unregulated, so you shouldn't waste your time with this misleading broker. 
The high-rated MetaTrader4 brokers and MetaTrader5 brokers on these lists are adequately regulated and safe to trade with. We recommend those because both platforms are market leaders, also providing sophisticated trading tools such as Expert Advisors, Algo Trading and many complex indicators, to name a few. MetaTrader also features a marketplace where you can find more than 10 000 apps and third-party developed solutions you can deploy. 
The maximum leverage possible is 1:500, which is considered a ratio too risky for retail traders. If misused, 1:500 may inflict heavy losses very quickly indeed, so you need to be careful. Seven Capitals allows leverage adjustments, so play with it and make sure to find the best ratio for you.
In fact, some regulators even imposed regulations to restrict leverage usage. As a result, EU, British and Australian brokers are limited to 1:30, while the Canadian brokers and the US brokers can't provide more than 1:50. However, if you are risk-tolerant, you may as well have a look at Swiss brokers, which are reliable but not leverage restricted.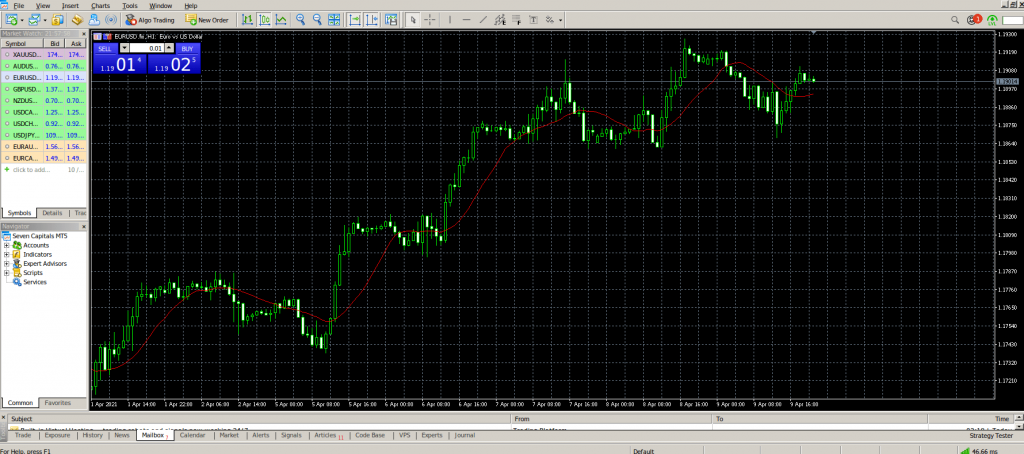 Seven Capitals DEPOSIT/WITHDRAW METHODS AND FEES
The minimum deposit with Seven Capitals is $100, which is actually in line with the regulated brokers' requirements. The funding methods are Credit/Debit cards, Wire Transfers and e-wallets, but Seven Capitals doesn't specify which ones are available. The safest among those are bank card deposits because it's possible to dispute transfers and eventually get a refund if things go wrong.
Anyway, see the lists with Skrill brokers, Neteller brokers, FasaPay brokers, Sofort brokers, and Bitcoin brokers if you have a preferred payment system. The high-rated companies on the lists are adequately regulated, so you won't stumble upon scammers.
There are no withdrawal restrictions, so theoretically, you can draw any sum that you want out. There are no charges determined, but Seven Capitals reserves the right to collect fees whenever they incur. The request processing time is 24 hours for free, which is a pretty favourable condition. However, there is a fee of 3% on the sum if a trader wants to withdraw but haven't placed a single trade. But we have to remind our readers that no financial authority is supervising Seven Capitals, so they may as well decide not to follow the rules they designated themselves. 
There are no provisions about inactivity fees or bonuses. 
Overall, Seven Capitals is an unregulated offshore broker, which is a solid reason to stay away.
HOW DOES THE SCAM WORK
New types of investment scams come about literally every day. However, most of the new schemes represent a modification of common fraud. These are not typical for the local markets but very similar from country to country.
Nowadays, scammers search for victims on the Internet and social media. Classical tactics, such as cold calling, became less widespread as the Internet got prevalent. The offers scammers make look legit and present exciting opportunities to invest money in the Forex market. Traders got reassured that the people behind the broker have an excellent track record, and they promise high returns, seamless trading and guaranteed profits. The scammers deliberately make people believe that the Forex market isn't a risky place, but actually, the opposite is true.
What usually happens is that scammers just pocket traders and investors money. Sooner or later, clients would ask for a withdrawal, but scammers would delay or straightforward refuse to send any money back. Whenever traders persist, the guys standing behind the fraudulent broker would usually cut the communication or even ask for additional deposits. Either way, traders are likely to lose some or all of the capital invested. The end is always the same. When fraud becomes evident, the scammers would simply rebrand and start afresh, creating a new scheme under a different name.
WHAT TO DO WHEN SCAMMED
Unfortunately, no one is immune to scam. If you get scammed, the first thing you need to do is to protect yourself from further risk. Deactivate your card immediately, contact your bank and ask for advice.
Report what happened to you, file a complaint, contact the financial regulator, contact other government institutions related to trading and investing, call the police if you feel necessary. Seek help actively!
Remember, it's crucial not to rush blindly trying to recover your funds because many scam chargeback agencies and individuals are trying to double scam the victims. They ask for upfront payment, take the money, but won't do anything to help you!
Share online your experience; it's important to protect others, as well. Be responsible!
Rich Snippet Data
Reviewer
Review Date
Reviewed Broker
Broker Rating