Beware! UAG Trade Asia is an offshore broker! Your investment may be at risk.
RECOMMENDED FOREX BROKERS
Don't put all your eggs in one basket. Open trading accounts with at least two brokers.
UAG Trade Asia is a broker that offers trading in Forex, Indices and Commodities – Precious Metals and Energies. They advertise 3 types of accounts – Micro, Standard and ECN. The first two have the same minimum deposit requirement, $10, but differ in terms of spread and commission, while the third one requires higher minimum deposit and offers lower spread:
The broker claims we should be able to open a Demo account, but clicking the button navigates to the same form as the one for a Live account. On the screenshot above we also see that "In order to open an account with UAG TRADE ASIA, its a MUST to have an introducer." In the form itself, however, the Introducer field is labelled as Optional which we can leave blank. As it turned out, the field is required so we were not able to create an account with the broker and our review is based only on information from their website.
UAG Trade Asia Regulation and safety of funds
UAG Trade Asia claims to be fully regulated in Cambodia under company number 00031021, authorized by the Securities and Exchange Commission of Cambodia (SECC) under Derivative License Number 014/SECC/SB. There is no contact telephone number or address on their website, however. The Cambodian SEC has a list of companies that are authorized as Derivative Brokers with it, and we find the broker's name there. They do not list the broker's website and / or trading name(s), so we cannot be sure it's the same company. What is more, the broker's email is from another domain – see for yourself: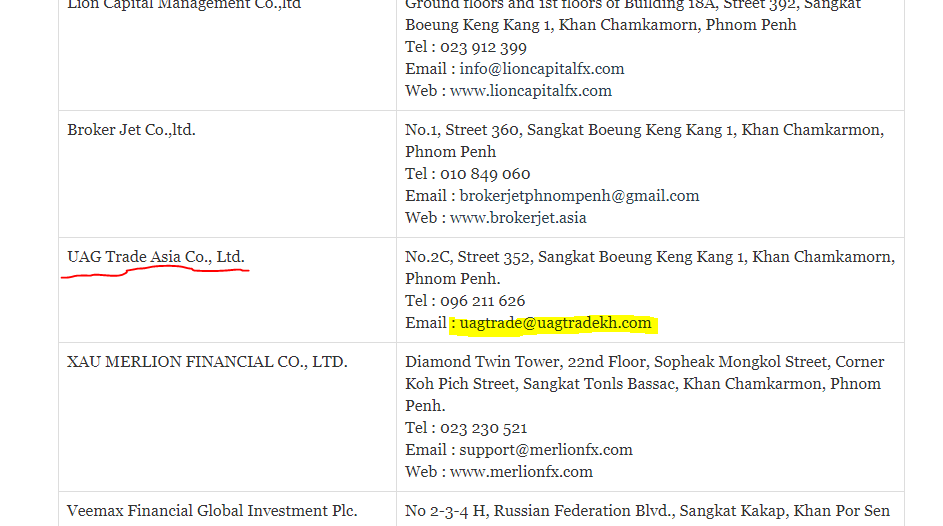 Considering that we believe the website might be a clone, so we would advise our readers not to invest with this broker.
Cambodia has regulated the forex and CFD market since 2016, but the licensing requirements are not very strict. There is a requirement for a minimum operational capital of $250,000, as well as a security bond equivalent to 15% of the firm's capital, but this is all. The broker's claims for security of clients' funds due their being held in segregated accounts are unfounded – they are not safeguarded by the regulatory framework.
If you are considering investing in Forex trading we would suggest finding a broker licensed by an established watchdog organization, such as the Financial Conduct Authority (FCA) in the UK, the Cyprus Securities and Exchange Commission (CySEC) or the Australian Securities and Investment Commission (ASIC).
In addition to the Segregation of Funds and Minimum Capital Requirements, these agencies have other rules designed to minimize the risk for traders and investors. European brokers have to participate in Compensation Schemes that provide additional guarantees to investors' funds in case the broker goes bankrupt – up to 85,000 GBP in the UK and 20,000 EUR in the EU, and they need to comply with a Negative Balance Protection policy, which ensures that the traders may not lose more than the total sum deposited, in this way effectively preventing indebted accounts.
UAG Trade Asia is not regulated by these authorities, so they are not bound by these rules and policies. Any claims regarding the good trading conditions and tight spreads they offer or the safety of clients' funds are not guaranteed by any regulatory agency, so we would warn our readers that there might be a risk to their money if invested with this broker.
UAG Trade Asia Trading Software
The broker offers the MetaTrader 4 (MT4) trading platform as a Desktop and Mobile (iOS and Android) application. MT4 is the world's number one platform, preferred by more than 80% of users. It offers an intuitive and user-friendly interface, advanced charting and analysis tools, as well as copy and auto-trade options. It can be further customized to create different trading strategies using its proprietary MQL4 programming language.
There is no download link for the desktop version, however, and since we were not able to register for a Live or Demo account, we cannot be certain if this is not another empty statement.
UAG Trade Asia Trading Conditions
UAG Trade Asia claims they are a Straight through Processing (STP) with No Dealing Desk (NDD) broker, which would mean there is no conflict of interest between them and their clients because orders are sent automatically directly from the trader to the liquidity provider without passing them through a dealing desk. Unlike market makers, which profit from the Buy/Sell difference (spread) they offer to the traders, STP brokers usually advance lower spreads, but charge commission on transactions.
The spreads the broker offers, from 2.5 pips, for the Micro account are very wide – respectable brokers usually extend 1.0-1.5 pips for major currency pairs. For the other accounts spreads look more competitive on paper, but they cannot be verified without a real account. A commission of $20/lot is also quite excessive, though, and the more acceptable $7 or $8/lot commissions are only available for the higher accounts.
UAG Trade Asia advertises leverage of up to 1:1000. Leveraged trading entails significant risks, especially to inexperienced traders. Although it allows for making bigger profits, one may incur great losses too, often much greater than the invested funds. That is why, most regulatory authorities impose leverage caps for non-professional traders: in the USA it is 1:50, while for brokers licensed in the EU and the UK it is 1:30. The Australian Securities and Investments Commission (ASIC) also started restricting leverage for major currency pairs to 1:30 from March 29 this year.
UAG Trade Asia Deposit/Withdrawal Methods And Fees
There is very limited information regarding financial transaction methods on the broker's website. They mention only Direct Bank Transfer. Standard options, such as credit or debit card are not advertised and popular methods, such as PayPal and preferred by traders e-wallets, eg. Skrill and Neteller are not supported also.
What we learn from their website is that the minimum deposit is $10 and deposits are processed within 24 hours. Withdrawal processing times of 1-3 working days are also not excessive. The broker also claims they do not charge any fees for deposits or withdrawals via Local Bank method, but this cannot be confirmed without a Live account.
Overall, we must say that UAGTrade is not like most scammers. They offer the MT4 trading platform and their trading and financial conditions are tolerable. What is most important, however, when choosing a broker to invest with, is whether they are regulated by a recognized authority, and UAG Trade Asia is NOT, so we would advise not to invest with them.
How does the scam work?
Users often fall prey to very simple but quite efficient scams. The first snare is usually an internet ad promising big profits over a short period of time, and all you need to do is provide your personal information, usually email address and phone number. If you do that, you will start getting calls from scam brokers who will continue with the pitches of quick and easy profits until you decide to make a first deposit of $200 to $300. On these funds the scammers get a fat commission and transfer you to senior "brokers".
These expert con-artists are smooth talkers who start talking you into putting even more money in, because "now is the perfect moment" or "the more money you invest, the higher your profits will be". Usually about this time most traders will start to feel the scam and will want to withdraw their money and get out fast.
Unfortunately, the scammers will not give in easily. First, they will try to persuade you not to withdraw right now because you will miss on "big profits", and if that does not work, they will find numerous reasons to deny or delay your request by asking you for additional documents or claiming that there are some other causes for not executing the withdrawal. The ultimate objective in such procrastination is to make the traders miss the crucial period in which a chargeback request can be filed, and thus lose the chance of getting their money back.
What to do when scammed?
If you used a credit card to make a deposit with the scammers you should immediately file for a chargeback. Both VISA and MasterCard have increased the time in which you can file to 540 days, in part specifically to fight such online scams.
If you used bitcoin or some other untraceable source, however, chances of recovering your funds are slim. You might get approached by so-called "recovery agents", but don't fall for their tricks. They will ask for payment up-front to recover your money, but this is just another scam and you will not get anything back.
Rich Snippet Data
Reviewer
Review Date
Reviewed Broker
Broker Rating