Beware! Aipirium is an offshore broker! Your investment may be at risk.
RECOMMENDED FOREX BROKERS
Don't put all your eggs in one basket. Open trading accounts with at least two brokers.
We are reviewing Aipirium, a so-called rating broker that's offering the most ridiculous instruments we've ever seen. Their clients can trade leaders ratings, which has nothing to do with financial services. It's tempting to buy or sell Donald Trump and Putin, but this is a hilarious opportunity. We'll explain why their offers are fraudulent in the full Aipirium review.
Aipirium REGULATION AND SAFETY OF FUNDS
Aipirium is a trading name of AAA Ratings LTD, a company purportedly registered in the Marshall Islands. This itself is a problem because the islands are non-transparent jurisdiction that's not regulating its financial sector. It's impossible even to check whether there is such a company in existence or not. Moreover, the Marshall Islands do not even have a regulator to supervise the financial sector, which leaves the local brokers' clients vulnerable to fraud. Taken together, your funds are not safe if you deposit with Aipirium because it's an unregulated business and a scam. We'll show you why later in the review.
You should avoid them and consider the high-rated EU brokers and British brokers instead. Europe is financially safe because the local authorities tightly regulate the financial markets, and it's improbable to get scammed by licensed companies. Above all, there are deposit insurance funds protecting clients' deposits in case of insolvency and fraud. If you are a client of a Cyprus regulated broker, you can claim up to 20 000 EUR in compensation, while the British guarantees are even up to 85 000 GBP per person. The unregulated companies can't ensure any protection whatsoever, and you'll most likely get scammed if you trade with them.
Aipirium claims to offer Negative Balance Protection, but that's a repulsively fraudulent contention. When NBP is available, indebted accounts are impossible, and when the balance goes below zero, the broker has to bring it back positive free of charge. Well, Aipirium will only reset the account if the clients make an additional deposit, which is actually no Negative Balance Protection. Such a requirement straight away proves that Aipirium is nothing else but a scam scheme!
Aipirium TRADING SOFTWARE
Aipirium claims to offer MetaTrader4, but that's a lie, which in turn is significant evidence of a scam. The broker simply tries to take advantage of the MT4 reputation to entice people into their fraudulent scheme. What they actually provide is Sirix trader– a fishy web-based platform that's quite primitive and, at the same time, challenging to use. But that's not the worse. The only instruments are world leaders rating so that traders can buy and sell Merkel, Putin, Macron etc. For more information, see the picture at the bottom of this section.
Now, let's discuss those instruments. Such ratings are not financial products, which makes price manipulation and fraud possible. There are no trustworthy grades like those ones, so traders are basically gambling against the broker. In other words, the company can alter the quotes to their own preferences and defraud clients. That's a scam! Avoid this sham enterprise and get a real broker; it's not challenging to find one because the market is overcrowded with reputable companies offering excellent trading conditions and funds' security.
To make it easier for you, we can offer the high-rated MetaTrader4 brokers and MetaTrader5 brokers on both lists, which deliver high-class software and realistic trading conditions. MetaTrader distributions provide advanced features such as Expert advisors, many complex indicators and outstanding charting tools. The platforms also include a marketplace where traders can browse through 10 000 apps and trading solutions, which can significantly enhance profit potential. 
So, it would be nonsense to discuss spreads for real. Nevertheless, Merkel's Buy/Sell difference is 2 pips, which is laughable. The maximum leverage is 1:500, an overly risky ratio that can cause severe instant-quick losses if not properly deployed.
In fact, leverage is so dangerous that various financial authorities worldwide even agreed on regulations to restrict its usage. As a result, EU, British and Australian brokers have to limit the retail clients to 1:30 for FX majors, while the Canadian brokers and the US brokers can't provide more than 1:50. Still, risk-tolerant traders can consider the Swiss brokers, which are highly reputable but not leverage restricted. 
Aipirium DEPOSIT/WITHDRAW METHODS AND FEES
The minimum deposit with Aipirium is $250, which is more than twice higher than most of the regulated brokers' requirements on average- $100. The only funding methods are Credit/Debit cards and Wire Transfers, out of which the first one is seen as safer because clients are allowed to chargeback and eventually get a refund.
Speaking of deposit methods, see the Skrill brokers, Neteller brokers, FasaPay brokers, Sofort brokers, and Bitcoin brokers if you have a preferred payment system. The high-rated companies on the lists are well-regulated, and you won't face scammers.
Aipirium neither set minimum withdrawal requirements nor specify transaction fees. However, there are bonuses starting from 10% on the deposit, potentially modifying the withdrawal conditions, but Aipirium fails to give any further information.
Like most unregulated offshore brokers, Aipirium introduces a highly detrimental dormant policy. After 120 days of inactivity, an account becomes dormant and will be charged 10%/100 USD per month (whichever higher). That's a scam clause! 
Overall, Aipirium is a scam scheme we exposed in this review, so make sure to avoid this fraudulent entity.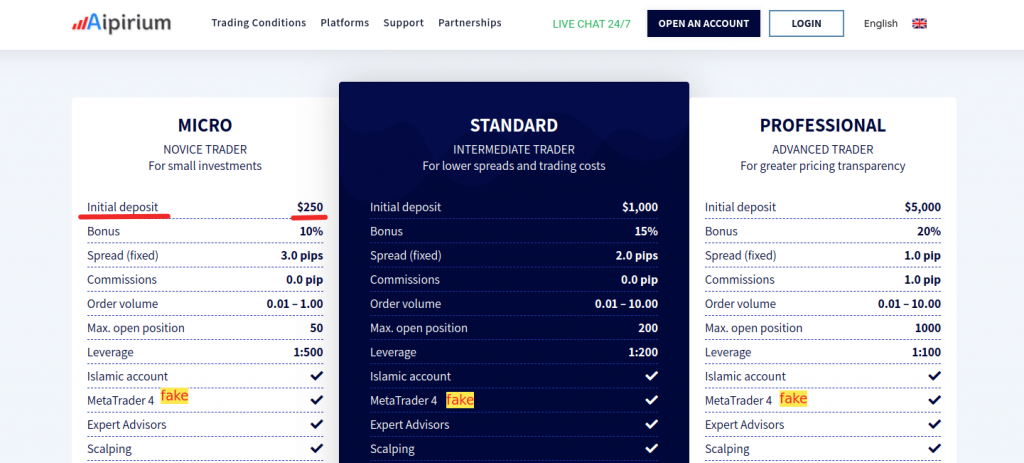 HOW DOES THE SCAM WORK
More and more swindling brokers and fraudulent websites appear literally every day. However, most of the new schemes represent a modification of common fraud. These are not typical for the local markets, but very similar from country to country and repeat well-known models.
Nowadays, scammers search for victims on the Internet and social media. Classical tactics, such as cold calling, became less widespread as the Internet got prevalent. The offers scammers make look legit and present exciting opportunities to invest money in the Forex market. Traders got reassured that the people behind the broker have an excellent track record and promise high returns, seamless trading and guaranteed profits. The scammers knowingly make people believe that Forex trading is risk-free, but actually, the opposite is true.
In the usual scenario, scammers just steal traders and investors money and won't send a dollar back. Sooner or later, clients would ask for a withdrawal, but the con artists would delay or just refuse the transaction. Whenever traders persist, scammers would find all sort of excuses to ask for more money or would simply cut the communication. No matter the case, traders are going to lose some or all of the capital invested. In the end, when fraud becomes evident, the scammers would simply rebrand and start afresh, creating a new scheme under a different name.
WHAT TO DO WHEN SCAMMED
Unfortunately, no one is immune to scam. If you get scammed, the first thing you need to do is to protect yourself from further risk. Deactivate your card immediately, contact your bank and ask for advice.
Report what happened to you, file a complaint, contact the financial regulator, contact other government institutions related to trading and investing, call the police if you feel necessary. Seek help actively!
Remember, it's crucial not to rush blindly trying to recover your funds because many scam chargeback agencies and individuals are trying to double scam the victims. They ask for upfront payment, take the money, but won't do anything to help you!
Share online your experience; it's important to protect others, as well. Be responsible!
Rich Snippet Data
Reviewer
Review Date
Reviewed Broker
Broker Rating