Beware! Exobit is an offshore broker! Your investment may be at risk.
RECOMMENDED FOREX BROKERS
Don't put all your eggs in one basket. Open trading accounts with at least two brokers.
We are reviewing Exobit, a brokerage that's allegedly a trading name of a Latvian company. At the same time, they offer leverage levels Latvian brokers are no longer allowed to provide, so we reasonably put them on the list of scam suspects. Also, they work with cryptocurrencies only, and even if traders deposit US dollars, the fees payable are determined in UST. It's an unreliable broker, and you can see why in the full Exobit review.
Exobit REGULATION AND SAFETY OF FUNDS
Exobit claims to be a brand of SwellTech LLC, a company allegedly incorporated in Latvia. However, there is a massive problem because there is no such entity registered in the Baltic country. Nevertheless, we researched but found no licensed businesses associated in any way with this suspicious brokerage. Therefore, your funds are not safe if you deposit with Exobit because it's an unregulated broker and most probably a scam.
You'd better avoid them and consider the high-rated EU brokers and British brokers, instead. Europe is financially safe because the local authorities tightly regulate the financial markets, and it's highly unlikely to get scammed by licensed companies. Above all, there are deposit insurance funds protecting clients' deposits in case of insolvency and fraud. If you are a client of a Cyprus regulated broker, you can claim up to 20 000 EUR in compensation, while the British guarantees are even up to 85 000 GBP per person. The unregulated companies can't ensure any protection whatsoever, and you may as well get scammed if you trade with them.
Exobit TRADING SOFTWARE
Exobit claims to offer MetaTrader4, but that's a lie. The broker simply aims at exploiting the platform's spotless reputation to entice people into this sham enterprise. In fact, the only trading software delivered is a web-based platform that can't in any way compare with MetaTrader. The EUR/USD spread is seemingly great – 0.1 pips, which is a highly competitive Buy/Sell difference, but given the inferior platform, you shouldn't get fired up. Spreads form some of the trading costs, so the lower the difference, the better for traders. It's not worth wasting your time with Exobit when the FX market is butling with reputable brokers offering great trading conditions.
To help you choose, we can offer the high-rated MetaTrader4 brokers and MetaTrader5 brokers on both lists, which deliver much better trading software. MetaTrader distributions provide advanced features such as Expert advisors, many complex indicators and outstanding charting tools. The platforms also include a marketplace where traders can browse through 10 000 apps and third-party developed solutions you can utilise to achieve better results.
The maximum allowed leverage is 1:400 for professional traders, but the basic account comes with 1:100 for retail traders by default, which is a ratio prohibited long ago in Latvia. The offer once again confirms Exobit is a fishy broker that's not regulated and actually a suspected scam. Nevertheless, both 1:100 and 1:400 are very risky and can cause significant losses if not carefully used.
In fact, leverage is so dangerous that various financial authorities worldwide even agreed on regulations to restrict its usage. As a result, EU, British and Australian brokers have to limit the retail clients to 1:30 for FX majors, while the Canadian brokers and the US brokers can't provide more than 1:50. Still, risk-tolerant traders can consider the Swiss brokers, which are highly reputable but not leverage restricted.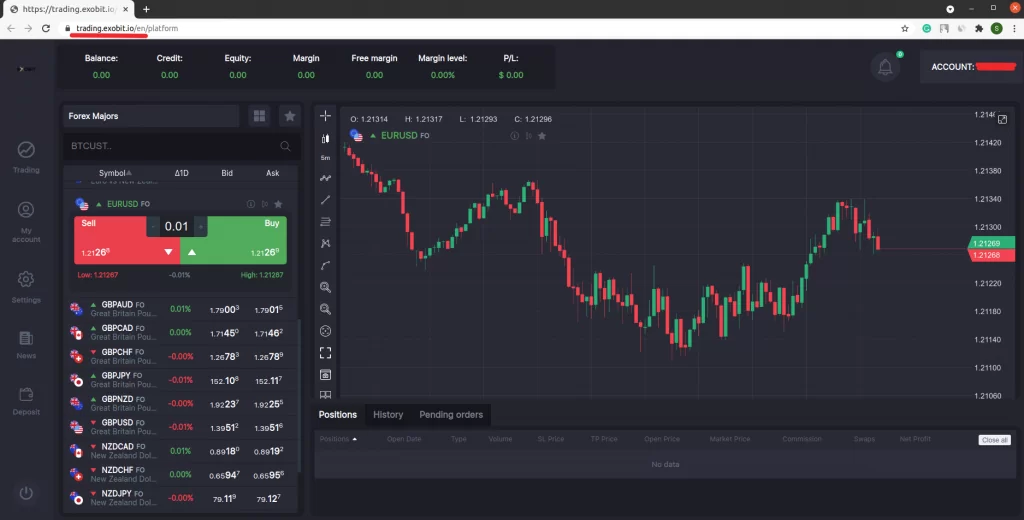 Exobit DEPOSIT/WITHDRAW METHODS AND FEES
The minimum deposit with Exobit is $250, which is higher than the regulated industry standard of $100 on average. The single funding method is Credit/Debit cards. In fact, it's considered the safest deposit system because it's possible to chargeback for an extended period of time and eventually get your money back if things go wrong.
Speaking of deposit methods, see the Skrill brokers, Neteller brokers, FasaPay brokers, Sofort brokers, and Bitcoin brokers if you have a preferred wallet. The high-rated companies on the lists are well-regulated, and you won't face scammers.
The minimum withdrawal amount is 50 UST for Credit/Debit card and 100 UST for Wire Transfers. Suspiciously, the broker determines all charges in cryptocurrencies, which we can reasonably consider evidence of a scam. Also, each withdrawal requests will be subject to a 5% fee- a highly unfavourable provision. In comparison, most regulated brokers do not impose withdrawal restrictions and process the transactions for free.
However, the withdrawal conditions would alter if traders accept trading incentives from the broker called Credit Tokens. When a bonus is applied, clients need to reach a minimum trading volume that's not actually comprehensively specified. If the requirements are not met, traders would have to pay an additional 10% of the withdrawal amount. A scam clause whatsoever.
The inactivity fees are also favourable for the broker only. According to the clause, after just 60 days, the account becomes dormant and will be subject to a 10%/100 UST handling fee per month. For more information, see the screenshot at the bottom of this section.
But that's not the end because there are even more fees. Each account will be subject to an annual handling fee of more than 10%, which is scandalous. No reputable broker would pillage traders' accounts so ruthlessly. According to the clause, each account will be charged "at a rate of three per cent per annum above LIBOR (at a minimum of 10% per annum)". Eventually, trading with Exobit is exceptionally costly, so make sure to stay away from this unregulated business.

HOW DOES THE SCAM WORK
More and more swindling brokers and fraudulent websites appear literally every day. However, most of the new schemes represent a modification of common fraud. These are not typical for the local markets, but very similar from country to country and repeat well-known models.
Nowadays, scammers search for victims on the Internet and social media. Classical tactics, such as cold calling, became less widespread as the Internet got prevalent. The offers scammers make look legit and present exciting opportunities to invest money in the Forex market. Traders got reassured that the people behind the broker have an excellent track record and promise high returns, seamless trading and guaranteed profits. The scammers knowingly make people believe that Forex trading is risk-free, but actually, the opposite is true.
In the usual scenario, scammers just steal traders and investors money and won't send a dollar back. Sooner or later, clients would ask for a withdrawal, but the con artists would delay or just refuse the transaction. Whenever traders persist, scammers would find all sort of excuses to ask for more money or would simply cut the communication. No matter the case, traders are going to lose some or all of the capital invested. In the end, when fraud becomes evident, the scammers would simply rebrand and start afresh, creating a new scheme under a different name.
WHAT TO DO WHEN SCAMMED
Unfortunately, no one is immune to scam. If you get scammed, the first thing you need to do is to protect yourself from further risk. Deactivate your card immediately, contact your bank and ask for advice.
Report what happened to you, file a complaint, contact the financial regulator, contact other government institutions related to trading and investing, call the police if you feel necessary. Seek help actively!
Remember, it's crucial not to rush blindly trying to recover your funds because many scam chargeback agencies and individuals are trying to double scam the victims. They ask for upfront payment, take the money, but won't do anything to help you!
Share online your experience; it's important to protect others, as well. Be responsible
Rich Snippet Data
Reviewer
Review Date
Reviewed Broker
Broker Rating