Beware! Worldtradecenter is an offshore broker! Your investment may be at risk.
RECOMMENDED FOREX BROKERS
Don't put all your eggs in one basket. Open trading accounts with at least two brokers.
Worldtradecenter is a scam – the broker has a warning against it, issued by the British government. This means that we need to take a closer look at it – so let's do that:
Worldtradecenter regulation and safety of funds
Worldtradecenter is not only an unregulated broker, but also one that has drawn the ire of the Financial Conduct Authority – the overseer of the UK financial markets. Here is the warning the FCA has published against Worldtradecenter: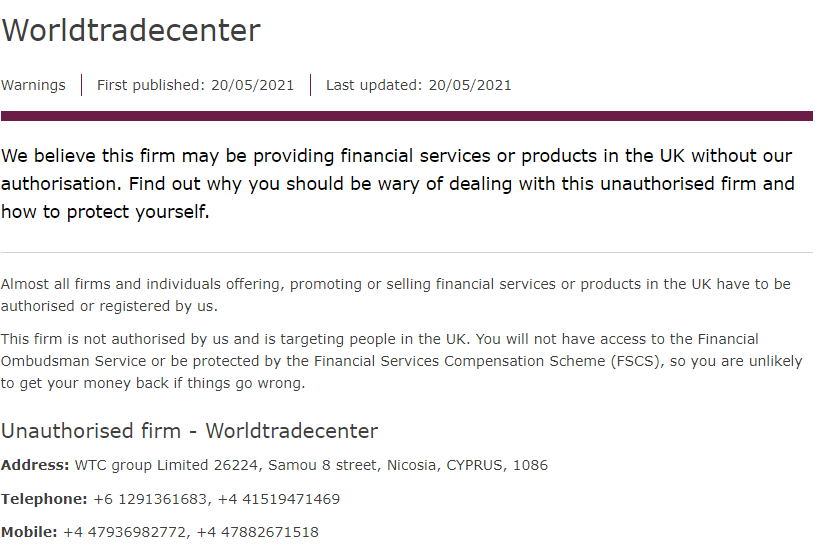 It seems that Worldtradecenter has been offering its services to UK citizens without the authorization of the FCA. To get a license from the regulator, a broker must prove definitively it is not running a scam – for example, it needs to report on a daily basis on open and closed trades so it can be held accountable for any sort of price fixing. There are a lot more protections towards you that trading with an FCA licensed broker affords – if you are interested you can learn more about them here, as well as pick of our top-rated FCA-licensed brokers.
However, you should remember that Worldtradecenter can offer you no protections or guarantees, as it holds no license.
Worldtradecenter trading software
Worldtradecenter provides access to the Metatrader 4 platform – one that is rightfully regarded as the industry standard due to its comprehensive interface and powerful automated trading features. Here is what Worldtradecenter's distribution looks like:
The spreads displayed on it are quite nice, moving well under 1 pip for major FX pairs like EURUSD. What is not nice is the fact that Worldtradecenter offers a leverage of up to 1:400 to retail trades – this is a direct contradiction to the leverage policies in a lot of jurisdictions all over the world. In fact, most regulators have agreed that leverage over 1:30-1:50 is too much. So if you see one that is higher in the wild, know that you are most likely dealing with an unlicensed broker!
Worldtradecenter deposit and withdrawal methods and fees
Worldtradecenter accepts deposits only through credit cards – that is rather beneficial, as they are eligible for a chargeback within 540 days of any transaction. The minimum deposit is set at 250 euro – an absurdly high amount, as Worldtradecenter's competition can open you an account for as little as $10.
There are a lot of fees and complications associated with withdrawals for clients of Worldtradecenter – let's take a look at the inactivity fee that Worldtradecenter has in place:
After a month of not depositing or withdrawing, you will be charged $99 – that is simply too much for such a fee – though dormant account fees are common legitimate brokers never charge as much, even in a year! There are also withdrawal fees, outlined below:

When brokers waive their fees outright as a sign of good faith, Worldtradecenter charges at least $30 for withdrawals – not a competitive condition at all. Notice the high withdrawal minimum as well – this is a part of a tactic to prevent you from withdrawing – check out the following bonus policy:
It states that unless you achieve a turnover of 50 000 times the bonus you were issued – which is an impossible to meet condition – you can only withdraw up to 20% of your money, or all of your profits and bonuses will be revoked. But that amount also needs to be over $100. Furthermore, you will be charged the hefty withdrawal fee. As you can see, that makes withdrawals quite complicated and expensive – but that does not surprise us, as Worldtradecenter is running a scam.
How does the scam work?
By now it should be obvious – Worldtradecenter is a scam. And we believe the broker is running on a very efficient and ruthless scam model, which follows the following script:
Someone stumbles upon an ad promising them incredibly profitable investment opportunities – and should they click it, they are led to a website like Worldtradecenter's own. From there, they are prompted to make an account, leaving a phone number in the process. Once they do that, the scammers will reach out – and will start calling constantly, demanding that person deposit with them. If they do, more and more money will be demanded under various creative justifications. This will keep going until the victim realizes what is going on – and either stops depositing or tries to get a withdrawal. At that point, the scammers simply drop them and never contact them again.
What to do when scammed?
So, you have been scammed by Worldtradecenter or another fake broker like it. The good news is that there are some ways in which you can stop your future losses and maybe even get a refund – read on to find out how:
First off, you need to get all desktop sharing software the scammers had you install off your PC – programs like Team Viewer can be used to snoop around without your consent. You will also want to issue new IDs, credit cards and pretty much any such document the scammers had access to – they have been known commit identity theft or simply sell them to other shady actors online, so it is important to restore your privacy.
Once that is done, it is time to look for a refund – the best way to do so is by contacting your bank and explaining your predicament. But even if a refund is not possible, you should watch out for further scams – if contacted by a recovery agency that demands upfront payments for its services, know that it will not restore your losses, but instead it will simply add to them.
Finally, do not hesitate to speak up – there is no shame in falling prey to scammers, as it can happen to anyone! The only way to protect people from the scam is by raising awareness of it – so leave a comment, or share the review with someone you think is vulnerable to such schemes.