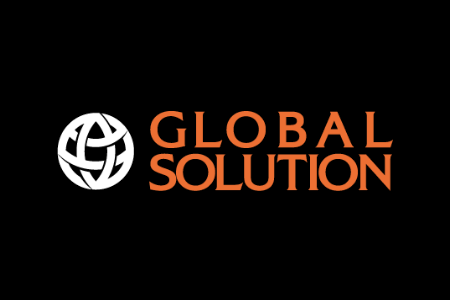 Beware! Global-Solution is an offshore broker! Your investment may be at risk.
RECOMMENDED FOREX BROKERS
Don't put all your eggs in one basket. Open trading accounts with at least two brokers.
In this review, we are going to look through a broker that was recently blacklisted by a European financial authority. The regulators occasionally issue warnings that show traders which entities they have to avoid. Otherwise, the broker claims to provide a full package of trading services to expand traders' knowledge and boost their trading confidence. The rest of the details you need to be aware of are in the full Global-Solution review.
Global-Solution REGULATION AND SAFETY OF FUNDS
Global-Solution is allegedly headquartered in the Commonwealth of Dominica, a shady tax haven that's not at the least transparent. The companies registered there are anonymous, and it's too challenging to find anything about the people standing behind. FSU, the local financial authority, does not even bother to regulate its Forex market, so the Dominican brokers operate under no supervision. The absence of control and regulation makes them risky to deal with because they can involve in fraudulent or other criminal activities, thus way inflicting harm on the clients.
However, the shady origin of the broker is just the beginning of the story. The UK financial authority FCA issued a warning against Global-Solution, exposing the broker as a scam scheme. Your funds will be in danger if you deposit, and you should avoid it.
Instead, consider the EU brokers and British brokers topping both lists provided. The European markets offer high-grade security, with companies covered by deposit insurance funds inaugurated to protect clients' money. Hence, CySEC brokers' traders can claim up to 20 000 EUR in compensation, while the British guarantees are up to 85 000 GBP per person. If you are eligible to open an account with a European company, you can safely go for it.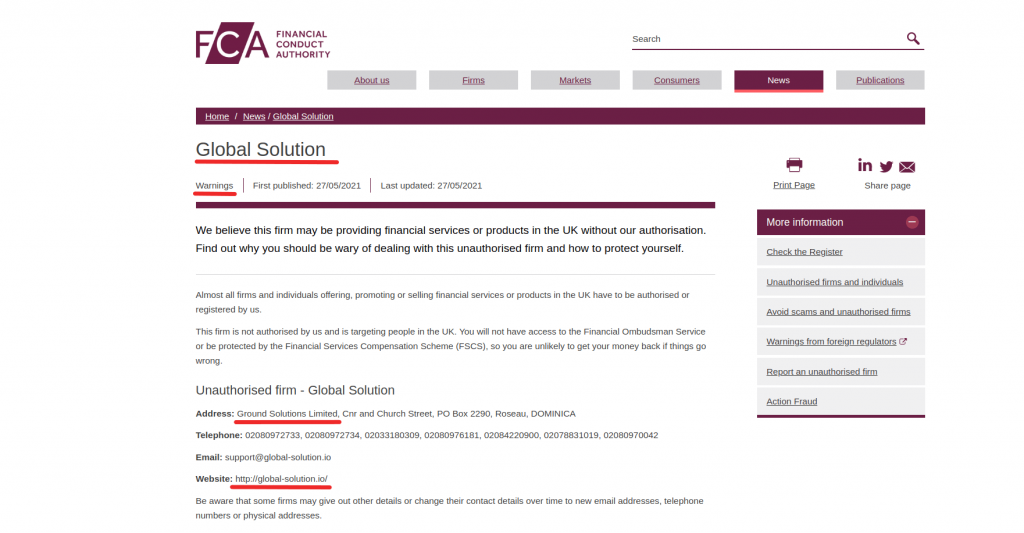 Global-Solution TRADING SOFTWARE
Global-Solution's trading software is presented as a top-notch platform, but that can't be further than the truth. In fact, it's a web-based terminal named Webtrader, which we've seen many times before. It's unreliable, having too few indicators, not enough charting tools and no advanced features whatsoever. The EUR/USD spread is 3 pips, which is no longer a competitive Buy/Sell difference, so the Global-Solution's services are costly, which is a good reason alone to stay away. The spread forms some trading costs, so the lower it is, the better for traders. Luckily, the FX market is overcrowded with acclaimed and well-regulated brokers, and it's easy to find better opportunities.
That said, the high-rated MetaTrader4 brokers and MetaTrader5 brokers on both lists are safe, delivering upper-class software and a much better trading environment. The MT distributions are packed with sophisticated tools such as Expert Advisors, many complex indicators, sophisticated charting tools and even a marketplace featuring more than 10 000 apps. MT is definitely the best choice for traders.
Global-Solution mentions nothing about leverage on the website, but upon accessing the platform, we saw it's 1:100. A ratio that's not recommended for retail traders due to the increased risk of loss. Moreover, adjusting is not allowed, so the broker knowingly throws its clients into too risky an environment. We can confirm Global-Solution acts as a market maker and whenever traders lose, the company makes profits. Beware!
In fact, leverage is dangerous, and many financial authorities even imposed a cap, forcefully restricting its usage. As a result, EU, British and Australian brokers' clients are limited to 1:30, while Canadian brokers and US brokers can't provide more than 1:50. Most of the high-leverage ones are poorly regulated offshore businesses, so be cautious.
Global-Solution DEPOSIT/WITHDRAW METHODS AND FEES
The minimum deposit with Global-Solution is $250, which meets the offshore brokers' standards, but it's twice higher than the regulated ones' requirements- $100 on average. However, market-leading brokers ask for as little as $5 to $10 initial deposit, which makes it possible for anyone to at least try FX trading. The funding methods are supposedly Credit/Debit cards, Wire Transfers and e-wallets, but we can't validate this information. Due to ID verification issues, we couldn't test the broker's deposit system. Of course, we would not submit personal documents to an exposed scam scheme!
While talking about funding, have a look at the top-rated Skrill brokers, Neteller brokers, FasaPay brokers, Sofort brokers, and Bitcoin brokers if you have a preferred payment system. The companies on top of both lists are adequately regulated, and it won't happen to face scammers.
The minimum withdrawal amount depends on many factors, including transfer methods and bonuses, if accepted. According to the clauses, a minimum withdrawal is $250 for Wire Transfers and $100 on other methods. Wires will be charged $50 per transaction, which is an oversize fee and a scam sign. The other methods are cheaper, but not as much- $25 plus another $10 processing fee. However, the broker will eat another 10% of the sum if traders do not meet the minimum trading requirements- 200 in turnover. Well, no one knows what 200 stands for, so it's a great excuse for Global-Solution to make interpretations and delay withdrawals. It's a scam.
The trading incentives offered by Global-Solution also have an impact on withdrawals. If traders accept bonuses, they will have to reach a minimum volume of 30 times the bonus plus the deposit to become eligible for withdrawal. Yet another scam clause.
The inactivity procedures are not much more favourable either. After 6 months of inactivity, an account becomes dormant and will be subject to a 10% deduction each month. That's a clause we've encountered hundred times already, and it's always in suspected scams' legal documentation.
Overall, Global-Solution is a scam scheme the UK regulator FCA exposed, so you have to avoid it, no matter what.
HOW DOES THE SCAM WORK
The Forex scam is a popular type of fraud that's rather distinctive because it's actually a process. In the usual scenario, the victim clicked on an ad, then received a phone call, and at some point got convinced to deposit money. To make people accept fraudulent offers, scammers would present deals that sound too good to be true, bonuses, get-rich-quick schemes, and so on. Their imagination is rich, and they would invent as many stories as possible to get the deposits wanted.
Unfortunately, the initial deposit is not the end but the beginning. Gradually, scammers would manipulate victims and would urge them to invest again and again. For example, the con artists would not allow people to trade but would pretend to manage the account instead of the traders. They'd then falsify the results to show victims massive profits and would ask for more money, promising to get even more profits.
However, if the victim asks for a withdrawal, that won't happen. Scammers would come up with a story that the unfortunate trader needs to deposit again if they're going to pull money out. Those criminals won't stop asking for more, no matter what. In the worst case, the victim would believe in the scammers' falsehood and deposit repeatedly. Sooner or later, though, the scam would become evident, and that would be a signal for the fraudsters to cut the communication and disappear. They would abandon the website and would create a new one, carrying on with their criminal activities.
WHAT TO DO WHEN SCAMMED
Unfortunately, no one is immune to scam. If this unfortunately happens, the first thing to do is to protect yourself from further risk. Contact your bank and explain what happened to you so that they can give you instructions and help you, if possible, recover your money.
Report what happened to you, file a complaint, contact the financial regulator, contact other government institutions related to trading and investing, call the police if you feel necessary. Seek help actively!
Remember, it's crucial not to rush blindly trying to recover your funds because many scam chargeback agencies and individuals are trying to double scam the victims. They ask for upfront payment, take the money but won't do anything to help you!
Share online your experience; it's important to protect others, as well. Be responsible!