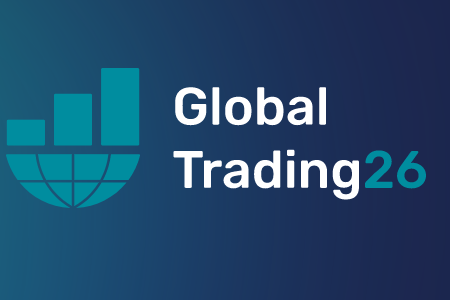 Beware! GlobalTrading26 is an offshore broker! Your investment may be at risk.
RECOMMENDED FOREX BROKERS
Don't put all your eggs in one basket. Open trading accounts with at least two brokers.
GlobalTrading26 was a hard broker to decipher, but in the end, we got it into a tight corner where it spilled all its secrets. More than once it got the upper hand as well as the best of us, but we prevailed. Read the review, and please, bear with us.
We easily created an account, and there was no need to check our email for a verification code or similar. This seemed a little bit suspicious to us because, usually, brokers tend to require new users to verify their emails- legit brokerages wouldn't let just about anyone in. The resulting user area was very simple but it possessed a distinctive style that we found to be enjoyable.
We immediately opened a web trader and discovered that the EUR/USD spread was at 4 pips, which is unacceptable. This cost of trade is in no way favorable to clients. The leverage is capped at 1:150, while the available trading assets are forex currency pairs, stocks, indices, cryptocurrencies, and commodities.
The website is available only in English.
GLOBALTRADING26 REGULATION AND SAFETY OF FUNDS
The company behind the broker, i.e the parent firm, is, allegedly, Formula Investment House Ltd. It is located in Cyprus but regulated by the British Virgin Islands Financial Services Commission. GlobalTrading26 provided us with an official Investment Business License from the regulatory commission,
and the regulator's website gave us results that the broker is regulated by it:
The British Virgin Islands Financial Services Commission requires from its licensed brokers a minimum paid up capital ranging between $100 000 and $1 000 000. Other than that, it operates much in the same way as most offshore FX overseers do: it covers the basics, and at times it may overlook certain irregularities or non-compliances on the part of its brokers.
That is why we say that if the user has the chance to trade with either an offshore regulated broker or an EU/US one, we firmly encourage the client to go for the latter!
However, the footer reveals that the Formula Investment House is actually located in Cyprus while having an offshore license. Moreover, the contact page gives the user two phone numbers: one in Australia and the other in the UK, suggesting that the broker has some business branches in both nations. Now, we don't know what the deal is here, but we do know that the broker is definitely not regulated in Cyprus, nor in the UK or Australia. This is a very suspicious move on the part of the broker, which makes us doubt its legitimacy.
Last but not least, the terms and conditions reveal a clause disclosing that the broker-user agreement is governed by the laws of Saint Vincent and the Grenadines,
a nation that does not have an FX regulator, and thus has little power in being an intermediary between FX broker and its users.
We have our doubts on whether the license we revealed actually belongs to the GlobalTrading26. Now that we think about it, this broker might be a clone firm, or it may be using the Formula Investment House Ltd company name as a disguise. Further evidence of this is when we Google searched the company name and got no results of an FX broker.
Moreover, all other elements of the company fall into the scammer category of thngs- the high spread, the insufficient web trader, and as you will see the suspicious payment conditions, and not to mention the mess created by the alleged regulation(s).
We find ourselves in a very tight spot, and in a predicament. Yet, as objective reviewers, we will have to consider the entire package and take it from there. From this view, GlobalTrading26 seems completely illegitimate, and most probably a scam, albeit a well-crafted scam!
Thus we will deem GlobalTrading26 UNLICENSED, and treat the review accordingly!
Better to invest in an FCA or CySEC regulated broker than throwing it to a scammer/unlicensed broker that will spend it on its own indulgences. Unregulated brokers will not return your funds, and users of these companies will face other issues! That is why we always say to readers that they should always check and double-check for a legitimate license. The FCA or CySEC are preferable regulations, but there are dozens of other equally capable regulators. Check our list for all of them. Crucially, though some FX watchdogs offer compensation schemes that apply to users of brokers that cannot deliver their financial duties. For example, CySEC guarantees up to €20 000 per person, while the FCA guarantees up to £85 000.
GLOBALTRADING26 TRADING SOFTWARE
Honestly, the web trader used by the broker is rather limited, more so when considering that the broker is licensed.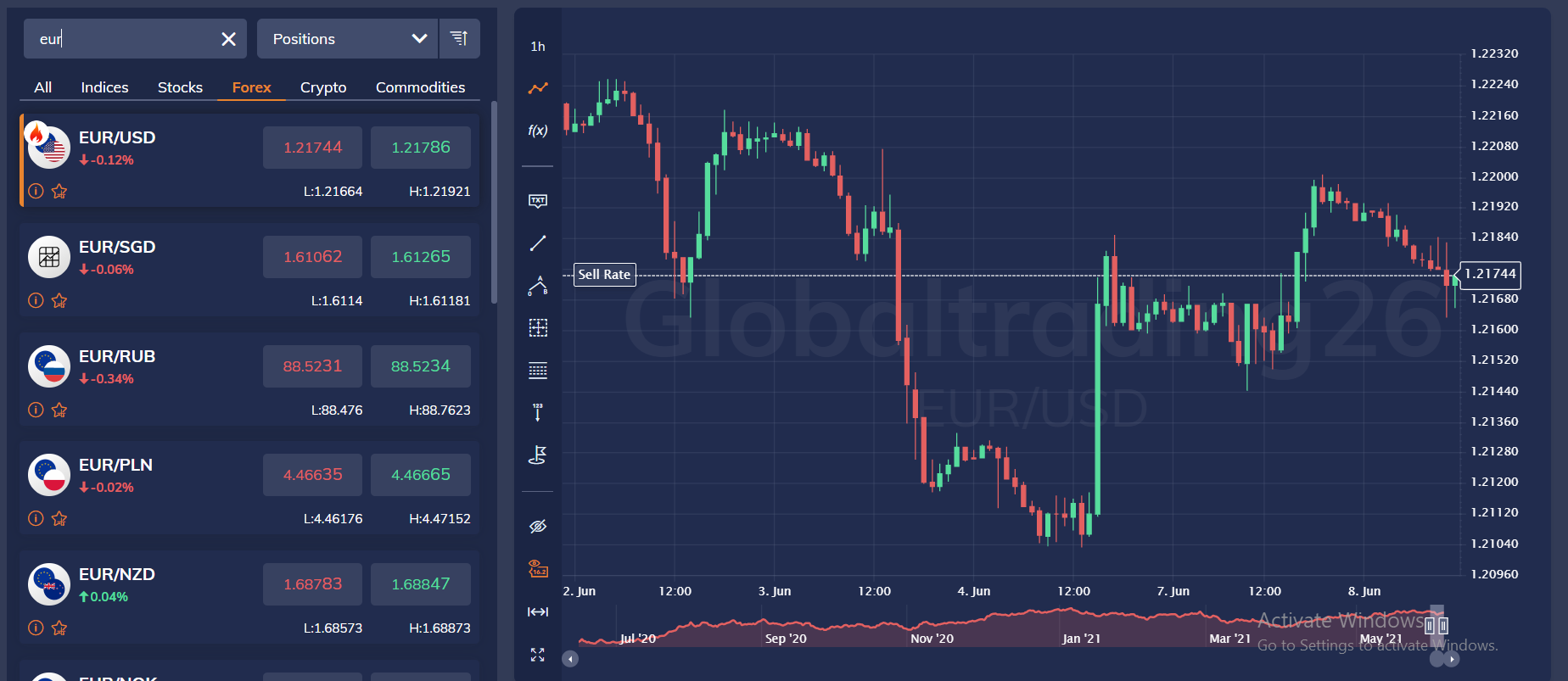 The main features of the software are stop-loss, take-profit, time frames, and a bunch of chart customization tools. There isn't too much to be done here; this platform will get old very fast.
GLOBALTRADING26 DEPOSIT/WITHDRAW METHODS AND FEES
The depositing area in the client dashboard claims that clients have to contact support in order to deposit. The only thing we learn from the semi-withdrawal section is that the minimum withdrawal amount is €100.
However, the website holds some ludicrous and very suspicious payment details. For one., the minimum deposit is said to be €10,001 which is absolutely ludicrous, adding to the pile of suspicious features.
The Withdrawal, Refund & Cancellation Policy reveals the following: the payment methods are credit cards, wire transfers, and a bitcoin wallet. There is confusion around the minimum withdrawal amount. Moreover, a 1% (min $30) withdrawal fee is applied.
Last but not least, we learn that deposits are non-refundable!
This is definitely the mark of a scam!
By the end of the review, we had discovered enough of the broker to conclude its illegitimate nature. We seriously doubt that GlobalTrading26 is licensed in the British Virgin Islands. Even an offshore regulator would not allow for such unprofessional conduct of both business and user relationships. Everything we have revealed in the review is 100% applied to a scammer broker, and not a regulated one. And we cannot ignore the possibility that GlobalTrading26 simply "borrowed" the copm[pnay name from somewhere else.
In conclusion, we honestly think that this broker is a scam and a risk to all investments! Stay away!
How does the scam work?
The crucial moment for scammers happens when a random user decides to click on an ad that promises high profit, luxury goods, a care-free lifestyle, or any other too-goo-to-bee-true prospect.
Said user will be redirected either to the scammer investments site directly or to an intermediary site. There, she will be asked for her phone number and email address, through which the broker's representatives will contact her. The goal is for the user to deposit the initial deposit.
Once this happens, in come the expert scammers, whose job is to keep the user as invested in the scam as possible, by initiating further deposits and, if possible, extracting sensitive ID documents.
At some point, the user will want to see results. She might see a couple of impressive profit sessions, but these are devices to keep her invested. The crucial part arrives when the client want's to actually withdraw this money.
At this time, the broker will delay the request, block the account, stop calling the user, shit down the website, or do whatever it can so as to keep the user's money for itself!
What to do if scammed?
Filling for a chargeback with your credit or debit card is crucial. That is if you have invested by means of a credit card. The good news is that MasterCard and VISA have a chargeback period of 540 days.
Bank deposits are harder to recuperate, but not impossible. Your best bet is to contact the bank and see with the institution itself if it can somehow get the money back. It's crucial to always change your bank details – user name and password – if you have been defrauded by means of a wire transfer.
Last are deposits made by some kind of crypto method. These are untraceable, and therefore impossible to retrieve. That is why users should never invest by means of any digital currency.
The last line is the recovery agent or agencies. These promise to retrieve all the lost funds, using questionable techniques. Do not trust these for they will take a commission from you and leave you at an even bigger loss!
Rich Snippet Data
Reviewer
Review Date
Reviewed Broker
Broker Rating