Beware! CEMX International is an offshore broker! Your investment may be at risk.
RECOMMENDED FOREX BROKERS
Don't put all your eggs in one basket. Open trading accounts with at least two brokers.
We are reviewing CEMX International, a broker boldly claiming to be the best in the world. However, we came across too many issues that surely indicate it's nothing else but a fishy enterprise. CEMX International is a dangerous business and we'll explain why in the following review.
CEMX International REGULATION AND SAFETY OF FUNDS
CEMX International claims to be NFA licensed, but at the same time gives an address in St. Vincent and the Grenadines. Anyway, we researched the US regulator to find out that the broker is actually registered. However, it's not an NFA member, meaning it's not licensed and cannot offer services in North America. The US regulation is very strict and brokers need to provide 20 million USD in paid-up capital to get a license, so CEMX International apparently hasn't spent anything and it's cheating.
On the other hand, St. Vincent and the Grenadines is a shady tax haven that's not regulating Forex brokers registered on the island. So, CEMX International is not regulated and your funds won't be safe if you deposit.
Avoid it, and better consider the high-rated EU brokers and British brokers on both lists if you are interested in trading and investments. The European companies are adequately regulated, but most importantly, covered by deposit insurance funds protecting traders and investors' money. For example, CySEC brokers' clients can claim up to 20 000 EUR in case of bankruptcy, while the British guarantees are even up to 85 000 GBP. CySEC (Cyprus) and FCA (Britain) licenses are dependable, and you should bear this in mind when looking for investment opportunities.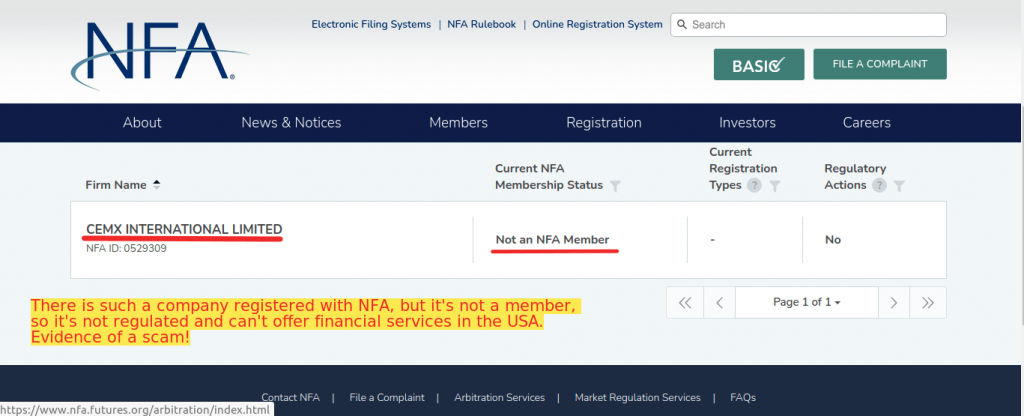 CEMX International TRADING SOFTWARE
CEMX International purportedly delivers MetaTrader4, but there are two major problems. Yes, it's possible to download the platform and install it, but Demo trading is impossible. Actually, clients can open a training account neither directly in MT4 nor in the Client Area. Demo trading is mandatory and each MetaTrader broker declining to provide practice accounts can be labelled as a scam.
Then, to open a real account clients needs to upload ID verification documents, which is actually not so unusual. However, CEMX International is too shady, so we refused to submit anything whatsoever. The identity theft risks are indeed real.
As CEMX International is very likely a scam, we can offer the high-rated MetaTrader4 brokers and MetaTrader5 brokers on both lists. MetaTrader distributions are reliable and provide advanced features such as Expert advisors, many complex indicators, and excellent charting tools, to name a few. The platforms also include a marketplace where traders can discover more than 10 000 apps and third-party developed solutions.
Conclusively, we can't even guarantee that there is a functional platform available. As a result, we can't discuss spreads and leverage levels either. Still, we need to note that leveraged trading is utterly risky and can result in severe losses if traders are not careful enough.
In fact, leverage is so dangerous that most financial authorities regulate it to help reduce losses. Thus, EU, British and Australian brokers limit retail clients to 1:30 for FX majors, while the Canadian brokers and the US brokers can't provide more than 1:50. Swiss brokers are reputable but not leverage restricted, so risk-tolerant traders eligible to open an account can safely go for it.
CEMX International DEPOSIT/WITHDRAW METHODS AND FEES
The minimum deposit with CEMX International is unknown. The broker didn't care to reveal anything about the matter. The funding methods– also unknown. In fact, the broker doesn't even present legal documentation, which doubtlessly proves it's a scam scheme. Documents such as T&Cs, User Agreement, Client Agreement and so on, serve as a contract between both parties. Traders can't form a legal relationship with brokers unless they sign a copy of such a paper and submit it back to the broker. Therefore, CEMX International is an illegal broker and a scam.
Anyway, we'd like to propose our lists with Skrill brokers, Neteller brokers, FasaPay brokers, Sofort brokers, and Bitcoin brokers if you have a preferred e-wallet or a trusted payment system. The high-rated companies are well-regulated, and you won't face scammers, so you can safely open accounts.
The absence of legal documents also means that there is no information about withdrawals, fees, inactivity procedures, bonuses etc.
Overall, CEMX International is a scam scheme we exposed in this review, so make sure to stay away from this fraudulent business.
HOW DOES THE SCAM WORK
Swindling brokers and fraudulent websites appear literally every day. Still, most of the new schemes represent a modification of common fraud that's not typical for the local markets but similar from country to country.
Nowadays, scammers are overcrowding the Internet and social media. The offers scammers make look legit and present exciting opportunities to invest money in the Forex market. Traders would get reassured that the people behind the broker have an excellent track record, who can secure high returns, seamless trading and guaranteed profits. The scammers intentionally make people believe Forex trading is risk-free, but actually, the opposite is true.
In the usual scenario, scammers just steal the money and won't send a dollar back. Sooner or later, clients would ask for a withdrawal, but the con artists would delay or downright refuse transactions. If traders persist, scammers would find excuses to deny and would even ask for more money or directly cut the communication. Whatever the case, traders are going to lose some or all of the capital invested. In the end, when fraud becomes evident, the scammers would simply rebrand and start afresh, creating a new scheme under a different name.
WHAT TO DO WHEN SCAMMED
Unfortunately, no one is immune to scam. If you get scammed, the first thing you need to do is to evade further risks. Deactivate your bank card immediately, contact the bank and ask for advice.
Report what happened, file a complaint, contact the financial regulator, contact other government institutions related to trading and investing, call the police if you feel necessary. Seek help actively!
Remember, it's crucial not to rush blindly to recover funds because many scam chargeback agencies and individuals are trying to double scam the victims. They ask for upfront payment, take the money but won't do anything to help you!
Share online your experience; it's important to protect others, as well. Be responsible
Rich Snippet Data
Reviewer
Review Date
Reviewed Broker
Broker Rating