RECOMMENDED FOREX BROKERS
Don't put all your eggs in one basket. Open trading accounts with at least two brokers.
We are reviewing TradedWell, a regulated broker offering pretty much standard CFD instruments- Forex, Metals, Indices, Shares, Commodities etc. However, the services provided may as well be considered expensive for some traders, so make sure to read the full TradedWell review.
TradedWell REGULATION AND SAFETY OF FUNDS
TradedWell is a brand of iTrade Global (CY) Ltd, a company licensed in 2016 by the Cyprus financial authority. As a CySEC broker, it can legally offer Forex services throughout the entire EU and other countries around the world, too. The regulations in Cyprus are compliant with the EU MiFID 2 guidelines, so the companies need to meet many customer protection rules if they want to get a license. For example, each broker has to provide at least €730 000 in paid-up capital, keep clients' funds in segregated accounts, guarantee negative balance protection and follow many internal day-to-day procedures. Also, CySEC brokers are part of the Investor Compensation Fund (ICF), so their clients can claim up to €20 000 in case of insolvency.
TradedWell is regulated and your funds will be safe if you deposit, but you'd better also consider the high-rated EU brokers and British brokers on both lists if you are interested in trading. The British regulations are pretty much the same as the Cypriot ones, but clients are entitled to up to £85 000 in compensation under the Financial Services Compensation Scheme in the UK.
TradedWell TRADING SOFTWARE
TradedWell offers MetaTrader4, Webtrader, Android and iOS trading apps. We accessed the Webtrader and the MT4 Desktop distribution and just as expected the latter one is much better. While we were reviewing, the EUR/USD spread on both platforms was fixed at 3.2 pips, which is around 3 times worse than the industry standards- 1 pip and below. The spreads form some of the trading costs, so the lower it is, the better for traders. Well, TradedWell is costly and that's a good reason to reconsider before making any deposits with the broker. Many regulated brokers offer spreads as low as 0.1 pips with their starter accounts, so there are loads of opportunities.
That said, we can offer the high-rated MetaTrader4 brokers and MetaTrader5 brokers on both lists. MetaTrader distributions are reliable and provide advanced features such as Expert advisors, many complex indicators, and excellent charting tools, to name a few. The platforms also include a marketplace where traders can discover more than 10 000 apps and third-party developed solutions.
The maximum possible leverage for retail clients is 1:30, the highest ratio CySEC allows. However, professional traders can get up to 1:400, which is indeed allowed by most regulators. In fact, leverage is so risky that it's been regulated in many jurisdictions worldwide. For example, EU, British and Australian brokers limit retail clients to 1:30 for FX majors, while the Canadian brokers and the US brokers can't provide more than 1:50. Swiss brokers are reputable but not leverage restricted, so risk-tolerant traders eligible to open an account can safely go for it.
TradedWell DEPOSIT/WITHDRAW METHODS AND FEES
The minimum deposit with TradedWell is €215, which is more than twice more than the industry standards- $100 on average. However, the broker would readily accept our deposits without ID verification, so they are knowingly breaching the AML and KYC rules. That's unacceptable for a regulated broker and a major red flag. TradedWell was not abiding by the law, so can we really trust this broker?
Anyway, the funding methods are Credit/Debit cards, Wire Transfers, Skrill, PayPal, Trustly, PayRetailers and SafeCharge. While discussing deposits do not miss to see our lists with Skrill brokers, Neteller brokers, FasaPay brokers, Sofort brokers, and Bitcoin brokers if you have a preferred e-wallet or a trusted payment system. The high-rated companies are well-regulated, and you won't face scammers, so you can safely open accounts.
There is no minimum withdrawal requirement, but clients will have to pay additional taxes if they take less than $100 at a time. Well, the broker doesn't specify any of their charges, so that's indeed a downside. We only know that if traders withdraw and haven't placed a trade, they need to pay a $50 fee. That's pretty unfair.
However, the dormant fees are even worse. According to the clause, after 60 days of inactivity, the account will be put dormant and will be subject to constantly increasing fees. The first charge is €160, and that's totally unacceptable. In contrast, most regulated brokers take 5 to 10 dollars per month on average.
Overall, TradedWell is a CySEC regulated broker, but the services provided are pretty expensive. We can't recommend the broker due to the deposit procedure, huge spreads and unjustified inactivity fees.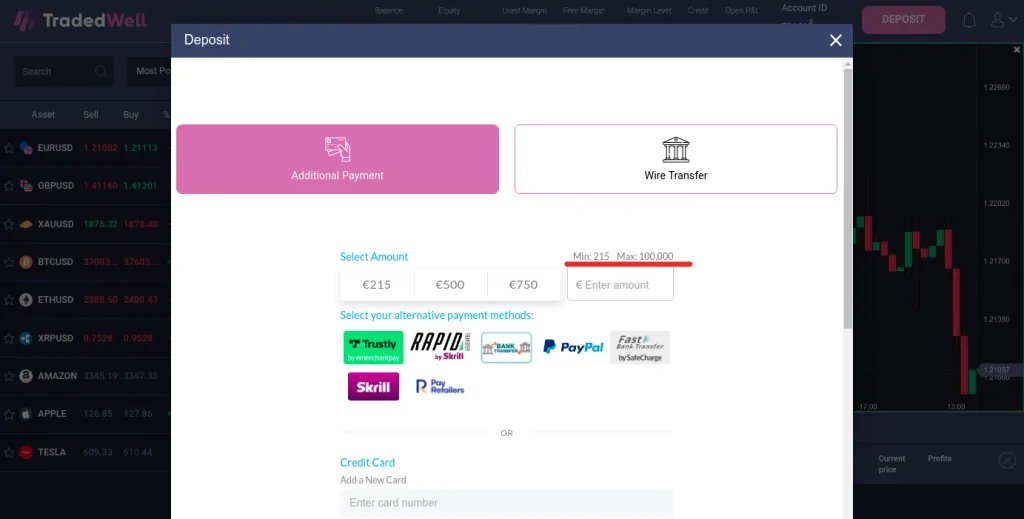 HOW DOES THE SCAM WORK
Swindling brokers and fraudulent websites appear literally every day. Still, most of the new schemes represent a modification of common fraud that's not typical for the local markets but similar from country to country.
Nowadays, scammers are overcrowding the Internet and social media. The offers scammers make look legit and present exciting opportunities to invest money in the Forex market. Traders would get reassured that the people behind the broker have an excellent track record, who can secure high returns, seamless trading and guaranteed profits. The scammers intentionally make people believe Forex trading is risk-free, but actually, the opposite is true.
In the usual scenario, scammers just steal the money and won't send a dollar back. Sooner or later, clients would ask for a withdrawal, but the con artists would delay or downright refuse transactions. If traders persist, scammers would find excuses to deny and would even ask for more money or directly cut the communication. Whatever the case, traders are going to lose some or all of the capital invested. In the end, when fraud becomes evident, the scammers would simply rebrand and start afresh, creating a new scheme under a different name.
WHAT TO DO WHEN SCAMMED
Unfortunately, no one is immune to scam. If you get scammed, the first thing you need to do is to evade further risks. Deactivate your bank card immediately, contact the bank and ask for advice.
Report what happened, file a complaint, contact the financial regulator, contact other government institutions related to trading and investing, call the police if you feel necessary. Seek help actively!
Remember, it's crucial not to rush blindly to recover funds because many scam chargeback agencies and individuals are trying to double scam the victims. They ask for upfront payment, take the money but won't do anything to help you!
Share online your experience; it's important to protect others, as well. Be responsible