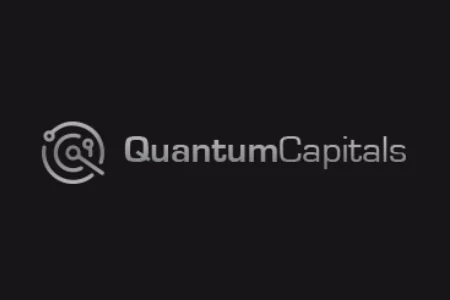 Beware! Quantum-Capital.com is an offshore broker! Your investment may be at risk.
RECOMMENDED FOREX BROKERS
Don't put all your eggs in one basket. Open trading accounts with at least two brokers.
Quantum-Capital.com boasts a common offshore website design and feel. The mood conveyed by this broker is not a happy one, nor is it a positive one. It is expressed through a range of scammer broker elements that we will talk about in the following review. Everything that we are about to mention is common scammer broker stuff, so users which have been defrauded or experienced issues with other illicit brokers will find themselves in familiar territory. As for the rest of the clients, those that are looking for their next investment opportunity, we say: keep looking. This broker is not for you. Read the review to find out why.
Creating an account was incredibly easy, and the resulting user area was one of the simplest we have seen in a while. It seems that it was put together in minutes. It seems to have been rushed into place.
We opened a rather interesting trading software, on which we gathered the following asset categories: forex currency pairs, cryptocurrencies, commodities, indices, and stocks. We discovered that the EUR/USD cost of trade is around 3.1 pips, which is twice the industry standard spread for this specific asset and is thus unacceptably high. Our leverage was capped at 1:100.
The website of the broker is available in both English and German.
QUANTUM-CAPITAL.COM REGULATION AND SAFETY OF FUNDS
The main thing one needs to absolutely know about Quantum-Capital.com is that it is registered in the Commonwealth of Dominica, and if you have read any of our previous reviews, you will know that not only does the country not have an FX regulator, but it also is home to a ton of unlicensed broker. Quantum-Capital.com is thus not licensed there, even if its main offices are located there.
However, if any conflicts arise while using the website, any legal disputes will be handled with the courts of the UK, which suggests a connection between Quantum-Capital.com and the United Kingdom. If such a connection exists, it must be regulated by the FCA, right? Technically, yes, but Quantum-Capital.com has not been granted a license from the agency, and is thus not regulated in the UK. As for the legal part, we assume that Quantum-Capital.com has just added this detail to make it seem more professional than it actually is.
Another, more obscure, sign that the broker is unregulated is expressed in the, not one but three, remote access softwares that are clearly offered on the website. These are TeamViewer, AnyDesk, and ScreenLeap. These types of programs allow any person or people to access your PC remotely, basically taking control of your computer. You might see how bad things may get.
Overall, Quantum-Capital.com is NOT LICENSED and is a risk to all investors.
There is no reason whatsoever to invest in an unregulated broker. You will be faced with a ton of issues and will waste your time, not to mention money. Best rely on FCA or CySEC regulated entities, although any broker regulated by a legit agency will do. The crucial thing is to always make sure if the current broker you are willing to invest in has a license. Investing in a regulated broker will not only bring you safety and security, but it may also give you an advantage. For example, both the FCA and CySEC have a financial compensation scheme, each, meaning that they will pay back users who cannot get their money back from their broker, due to the latter's insolvency or any other monetary issue. CySEC guarantees up to €20 000 per person, while the FCA guarantees up to £85 000.
QUANTUM-CAPITAL.COM TRADING SOFTWARE
It's rare to see a unique web trader being used by a scammer broker, but here we are. It does not really offer any debth, but its look is worth praising.

The live news and pending orders seem to be the crown jewels. With that said, one major issue plagues this software: the third-party chart, which might represent the trading conditions of another entity, which makes us question the legitimacy of Quantum-Capital.com's own spreads and tradeable assets.
QUANTUM-CAPITAL.COM DEPOSIT/WITHDRAW METHODS AND FEES
The payment area reveals two payment gateways: wire transfer and credit cards. The minimum deposit is $250.
The withdrawal area did no open for us. According to the terms and conditions, the typical processing time for withdrawals is 3 days. Credit card withdrawals are charged a 3.5% fee, wire transfer with $20. Moreover, any withdrawal amount less than $100 will be issued an automatic levy of $20. One section on the website claims that the minimum withdrawal amount is $50.
There is nothing here for users. Quantum-Capital.com is unregulated and probably a scam. All invested capital is at a risk!
How does the scam work?
The scam is simple, and it can be sub-divided into a couple of steps.
The first one is actually falling for the scam. This happens when a user clicks on an ad that promises any of the following: an unrealistic profit gain; luxurious items and houses; a carefree lifestyle; and anything and everything in-between these. It's easy to see why so many still fall for investment scams.
Next, the client will be asked to provide an email, or a phone number, or both. These are essential for the scam, as they will be used by the fraudsters to contact you in the next step.
Which is actually to convince users to deposit. Some might throw themselves in, while others might be more skeptical. It is the job of the scammers to make up the minds of the skeptical bunch. Once a first deposit is made, the user has lost her first deposit!
The final step is simple. The pers have solicited an initial deposit; now they want as many investments as possible until the client realizes the true nature of it all. Once this happens, the broker will block all withdrawals.
What to do if scammed?
File for a chargeback if you have used a credit or debit card to pay the scammers! MasterCard and VISA have a chargeback period of 540 days.
Call your bank if the transaction happened through a wire transfer. And make sure to change your bank account user name and password ASAP!
Unfortunately, crypto deposits are lost and cannot be retrieved. That is why we urge readers to never deposit through any crypto method!
And let us not forget NOT to trust the recovery agencies or agents who are also just as fraudulent as the investment scammers, sometimes even more!