Beware! Access Direct Markets is an offshore broker! Your investment may be at risk.
RECOMMENDED FOREX BROKERS
Don't put all your eggs in one basket. Open trading accounts with at least two brokers.
Access Direct Markets is a broker claiming to make Forex trading as easy as it's never been before, which indeed creates a false sense of confidence. They also say to offer the world's #1 Forex and CFD trading app, which is partly a correct statement. The broker holds an offshore Securities dealer license, and in the following review, you'll see if that's enough to call it legit.
Access Direct Markets REGULATION AND SAFETY OF FUNDS
Access Direct Markets is licensed by FSC in Mauritius, but that doesn't necessarily mean it's properly regulated. In fact, the offshore jurisdiction poorly controls its Forex market and indeed does not have reliable legislation or a concept for brokers. In Mauritius, customer protection is missing, and the financial companies authorisation costs 1 000 000 MUR, which is around 30 000 USD only. That being said, we can reasonably conclude your funds won't be safe if you deposit with Access Direct Markets, notwithstanding the license it has.
As Access Direct Markets is not a broker you can trust, check the high-rated EU brokers and British brokers on both lists if you are interested in trading and investments. The European companies are well regulated, but most importantly, covered by deposit insurance funds created to protect investors' money if things go wrong. For example, CySEC brokers' clients can claim up to 20 000 EUR in case of bankruptcy, while the British guarantees are up to 85 000 GBP. CySEC (Cyprus) and FCA (Britain) licenses are trustworthy, and you should keep this in mind when looking for opportunities
Access Direct Markets TRADING SOFTWARE
Access Direct Markets provides MetaTrader5, a web-based terminal and mobile apps, but none of those is actually functioning, as you can see in the screenshots at the bottom of this section. Well, we said the broker is unreliable, and now we show you why we did so. Imagine that you put money there, and your trading terminals remain frozen for an indefinite time period. Would you care about their offshore license?
As trading with Access Direct Markets is impossible, you'd better see our high-rated MetaTrader4 brokers and MetaTrader5 brokers on both lists, which indeed provide the best platforms. The MTs are packed with advanced features such as Expert advisors, many indicators, and excellent charting tools. The software also includes a marketplace with more than 10 000 apps and third-party developed solutions, which happens to be an unrivalled advantage.
So, we can't talk about real spreads and leverage levels, but Access Direct Markets claims to provide 1:400 leverage, which is a risky ratio having the potential to cause instant quick losses if mishandled. In fact, leverage is utterly dangerous, and that's why many authorities regulate it to restrict its usage. As a result, the licensed EU, British and Australian brokers have to cap clients to 1:30 for FX majors, while Canadian brokers and US brokers to 1:50. Swiss brokers are reliable but not leverage restrained, so risk-tolerant traders who can open an account in Switzerland can safely go for it. However, the rest of the high-leverage companies are unlicensed or poorly regulated and very likely a scam, so you'd better stay alert.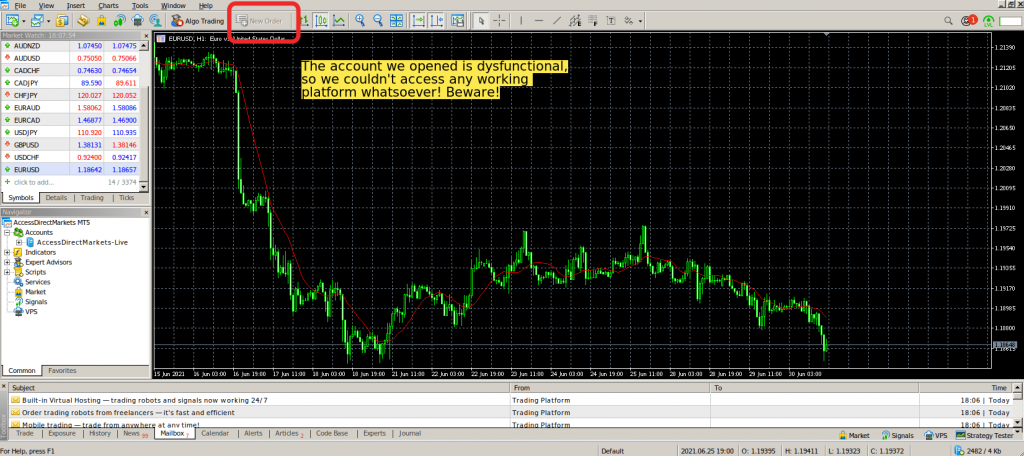 Access Direct Markets DEPOSIT/WITHDRAW METHODS AND FEES
The minimum deposit is $250, or around twice higher than the regulated brokers' demands on average. However, many regulated companies will let clients begin with as little as 5 to 10 dollars, which is a good reason alone to avoid Access Direct Markets and give it a try somewhere else.
The funding methods are many- Credit/Debit cards, Wire Transfers, UnionPay, SticPay, Skrill, Neteller, FasaPay and ThaiQRPayment, out of which the first one is seen as the safest option. That's because bank card issuers such as Visa and MasterCard grant chargeback rights, so clients can dispute transactions and eventually get a refund if things go wrong. Depending on the case, they can get their money back for up to 540 days after the funding, so keep this in mind whenever you intend to deposit.
Minimum withdrawal amounts are not specified, but the transactions costs can be fearsome, so we can quickly dismiss Access Direct Markets as a costly broker. A Credit/Debit card withdrawal will be charged 5.5% of the sum, while a Wire costs $30 flat. Fees on other methods are significantly lower, but it may turn out that those may as well be unavailable. We claim so because many companies, including legit ones, have additional policies about profits redistribution and do not send money on any wallet whatsoever. Overall, you need to pay a fortune if you want to claim your money back from Access Direct Markets, which is an argument enough to find better brokers.
So, see our lists with Skrill brokers, Neteller brokers, FasaPay brokers, Sofort brokers, and Bitcoin brokers if you have a preferred e-wallet or a trusted payment system. The high-rated companies are well-regulated, and you won't face scammers, so you can safely open accounts.
On the other hand, the inactivity fees are bearable. According to the clause, an account becomes inactive after 180 days of inactivity and will be charged $8 per month, which is not too bad. After 5 years, the account will be archived and put dormant, and the broker reserves the right to keep your money for itself. Well, that's unacceptable, and it shows how worthy the Mauritius license actually is. Properly regulated businesses can't simply pocket your money as easy as that. Beware!
Overall, Access Direct Markets is a licensed but poorly regulated broker, so you'd better trust more reliable companies if you are interested in trading and investments.
HOW DOES THE SCAM WORK
Fraudulent brokers and fishy websites come forth every single day. Nevertheless, most new scam projects represent a modification of common fraud that's similar from country to country.
Nowadays, scammers are stalking victims mainly on the Internet and social media. Their offers look legit and present thrilling opportunities to put your money in the Forex market. To get enticed, people will be reassured the broker can secure high returns and risk-free trading guaranteed by seasoned financial professionals. The scammers intentionally make people believe Forex is harmless, but precisely the opposite is true- you can lose everything if not careful enough.
In the usual scenario, scammers just pocket victims' deposits and won't send a dollar back. Sometime after the deposit, clients would ask for a withdrawal or a refund, but the con artists would delay or downright refuse to pay back. Make no mistake, scammers would find excuses to deny withdrawals and would even shamelessly ask for more money to let clients get their money. At the end, when fraud becomes evident, the scammers would simply cut the communication, leaving the victims defrauded. Then, sooner or later, the fraudulent broker will be abandoned, and another one will appear in its place. Scammers are professionals and will carry on creating fraudulent schemes, so you need to stay alert and always double-check.
WHAT TO DO WHEN SCAMMED
Unfortunately, no one is immune to scams. If you get scammed, the first thing you need to do is to consider the secondary risks. Deactivate your bank card immediately and contact your bank and ask for advice.
Then, report what happened to you, file a complaint, contact the authorities, call the police if you feel necessary. Seek help actively!
Remember, it's crucial not to rush blindly to recover funds because fraudulent chargeback agencies and individuals are stalking, trying to double scam the victims. They ask for upfront payment, take the money but won't do anything to help you!
Share online your experience; it's important to protect others, too. Be responsible